The Irishman's Paris
Find the perfect spot for a pint in Paris at these Irish pubs.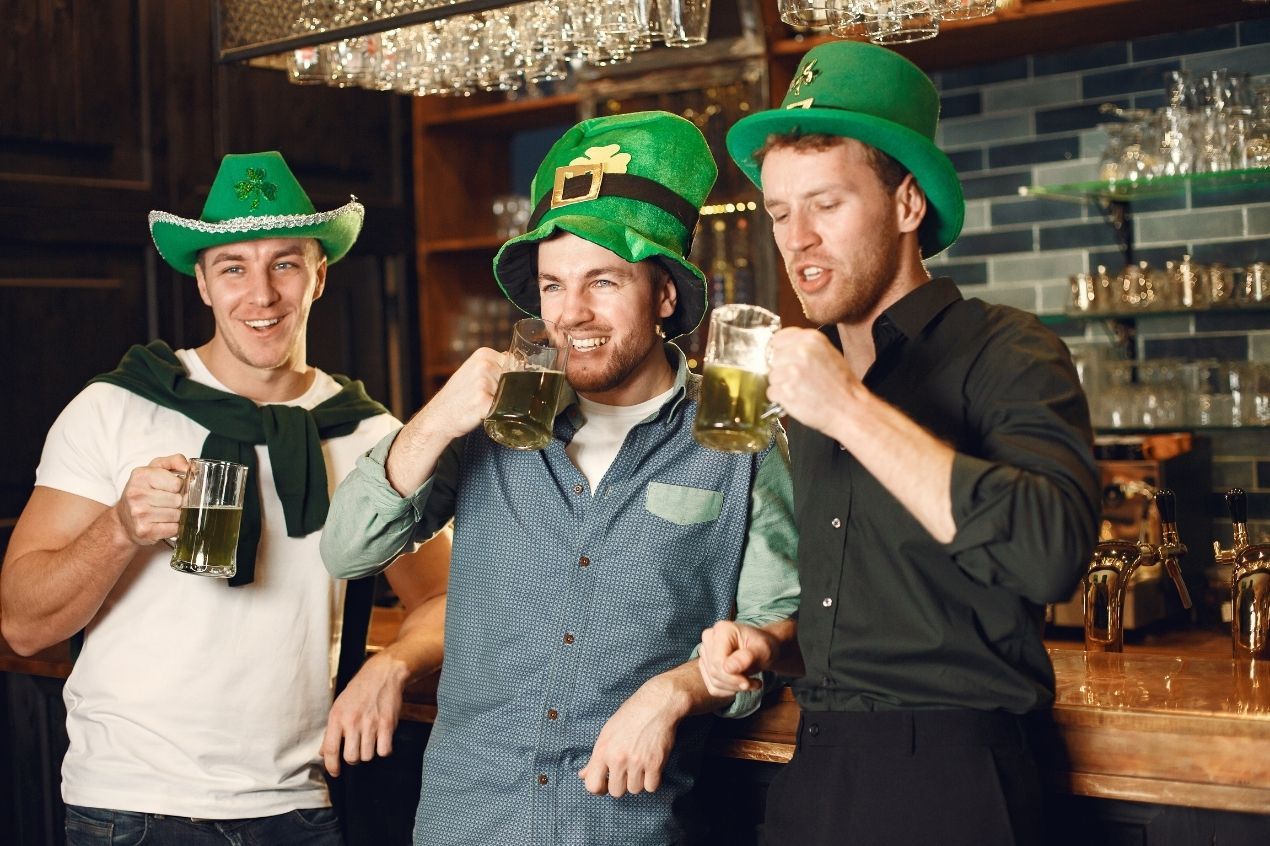 Paris has a host of Irish pubs. They may be hidden from plain sight as many of them are tucked away into side streets while a few are on the main streets. Whether you want to enjoy a live sports match or rock concert, these Irish pubs have got everything for you. From Irish beers to whisky and pub grub, find your happy place here.
The Irishman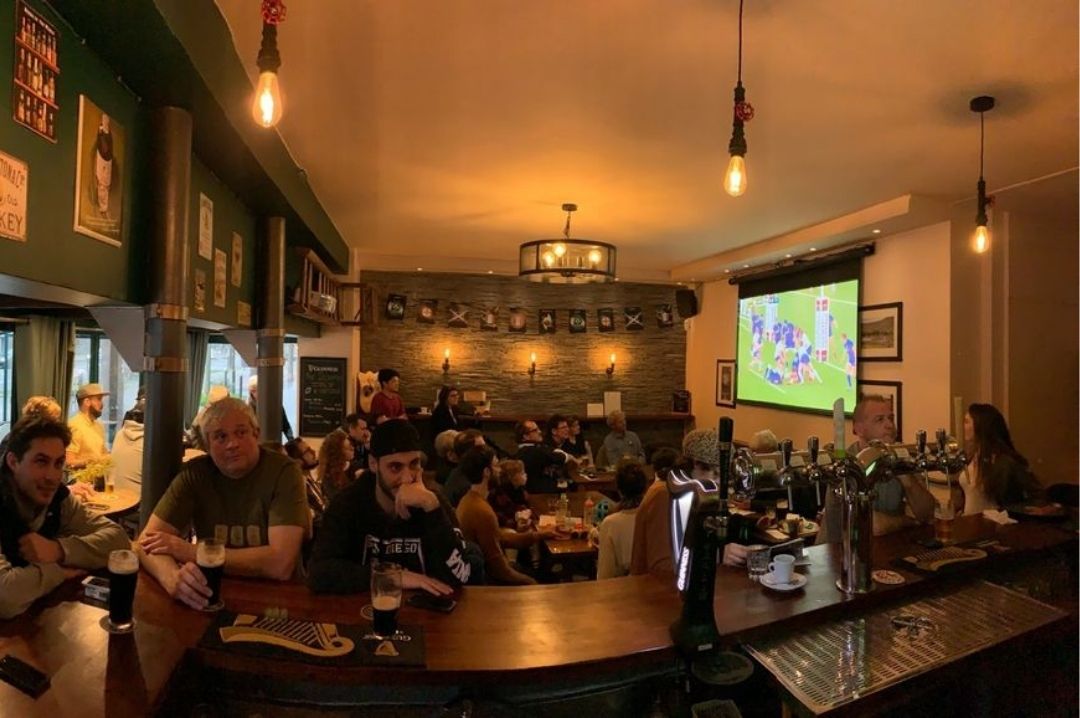 Patrons enjoying a live match at The Irishman, source: website
This is an Irish watering hole by an Irishman and a Moroccan guy. The Irishman is just the place for those who want to relax and watch a live sport while sipping on a beer or few. The pub has a lot to offer for everyone who walks in. Cocktail heads, you must try the house special, the Irish Alexander or the Moroccopolitian. The foodies in the house must get a special filet mignon de porc and for dessert, a homemade pear & chocolate crumble. The Irishman offers the standard Jameson or Redbreast Irish Whisky. Or enjoy a live match of Six Nations Rugby or the European Champions League on their 4k big screen with an Irish cider.
Happy hours - Mon-Fri (5 pm - 9 pm)
Where - 40 Bd Arago, 75013
Hours - Mon-Sat (4 pm -2 am)
Galway Irish Pub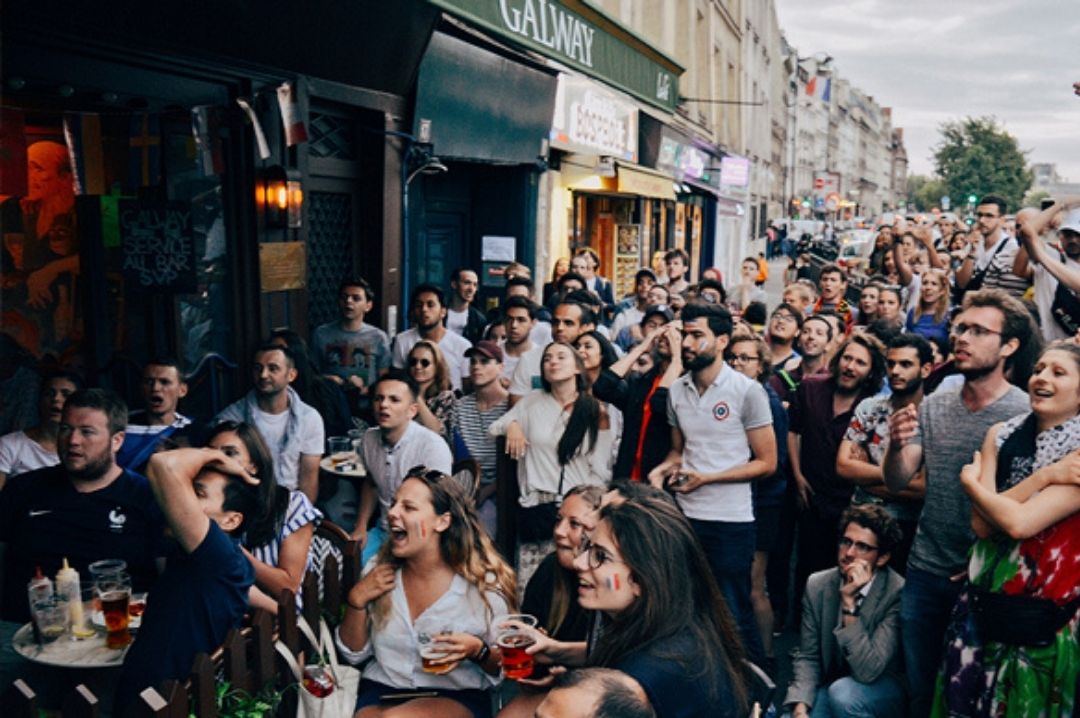 Live match entertainment at Galway Irish Pub's out patio, source: website
In the center of Paris lies this authentic Irish pub. Le Galway is known for the everyday events they organize. On Mondays, they have an open mic along with a hamburger special with fries and a salad for € 9.90. Tuesdays are for tequila shots for € 2.50 and the Tequila Sunrise for € 5 all day. Student night is planned for Wednesdays where you can get € 4 per pint with a student ID card all evening. You can start the weekend off with a musical Thursday, sip on a pint and enjoy the musician performing live. Enjoy the weekend happy hour on Fridays from 4 pm - 8:30 pm with Thomas Burn live. Saturdays are with Brislee Adams performing live blues and rock 'n' roll. On Sundays, they serve a roasted free-range chicken with carrots, peas, baked potatoes, mash, Yorkshire puddings, and a homemade sauce. Enjoy your Carlsburg with live matches of either rugby or soccer.
Where - 13, Quai des Grands Augustins, 75006
Hours - Monday, Wednesday, Thursday, Sunday (12 pm - 2 am)
Tuesday, Friday, Saturday (12 pm - 5 am)
McBrides Irish Pub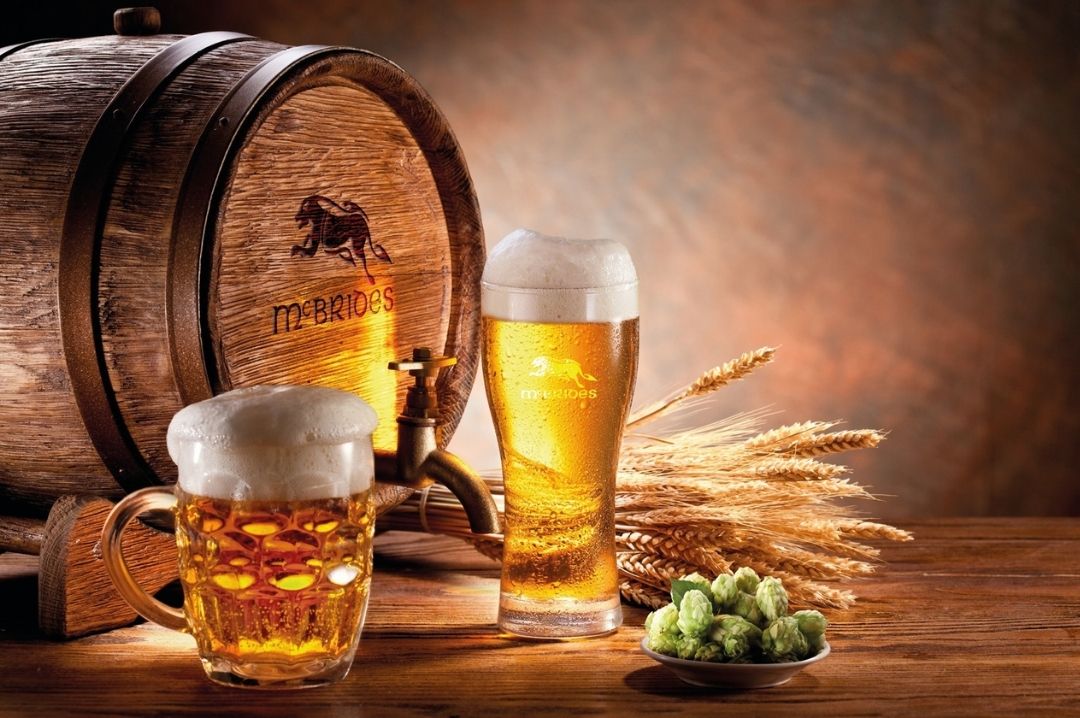 Beer at Mcbrides Irish Pub, source: website
Le McBrides is the sister pub of the Corcoran's Irish pub. It brings a taste of Ireland to Parisians. Set across two floors, it has flags of the two countries hanging from its ceilings. The pub features many television screens which include a giant one to catch any sporting event and a nice selection of O'Hara beer. Your focus must be on their chef's special fish and chips, and the perfect crispy fries and enjoying the Guinness.
Where - 54 Rue Saint-Denis, 75001 Paris
Hours - Monday (9 am - 2 am)
Tue - Sun (10 am - 2 am)
O'Brien's Irish Pub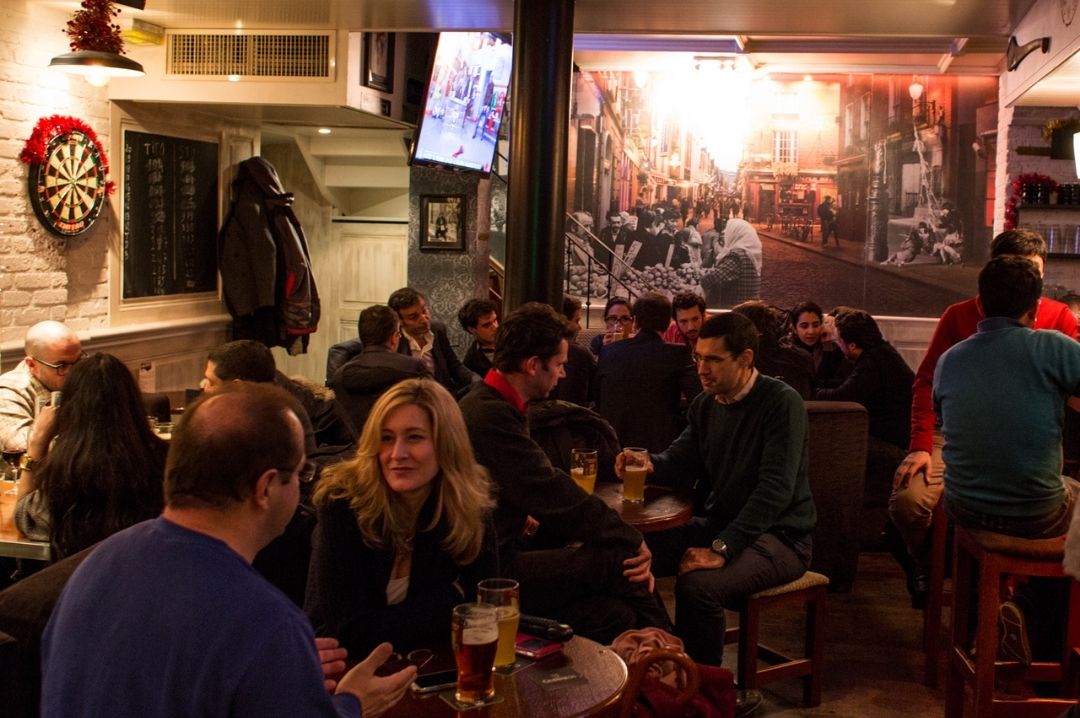 Peak hours at O'Brien's Irish Pub, source: website
O'Brien's is a typical Irish pub located close to the Eiffel Tower and the Invalides. This pub offers a great selection of Irish beers, cocktails, and whiskeys. The pub is open every day from noon till 2 am. Their chef is pleased to serve you a daily "Plat du jour" along with generous burgers, bagels, and tapas. If you are headed to this place then you must try their 'Grill of the Day' served with french fries and pepper sauce or the 'Curry of the Week' served with basmati rice and raita. Experience live sports like rugby, football, or tennis with a Guinness!
Where -77 Rue Saint-Dominique, 75007
Hours - Mon-Thu (noon - 2 am)
Fri-Sat (noon - 3 am)
Sunday (5 pm - 2 am)
Guinness Tavern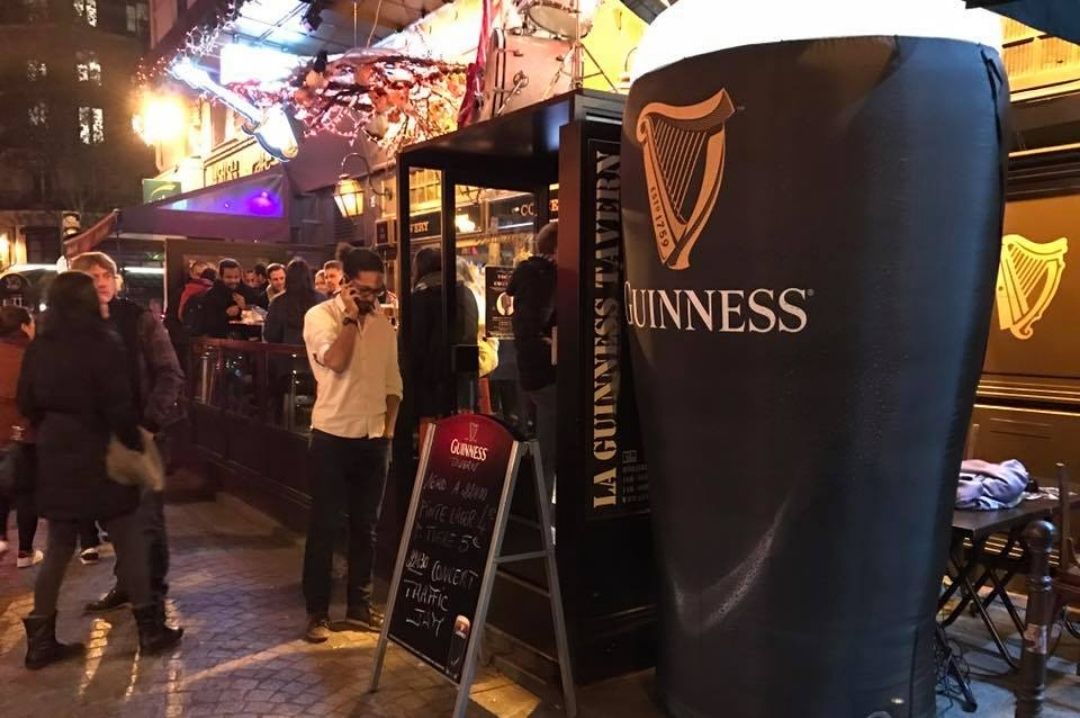 Out patio of Guinness Tavern, source: website
Guinness Tavern is a fun place with live rock music every night. They have been open for 35 years. And every single night there is a live rock concert organized for the patrons. The drinks here aren't too expensive. You must ask for the beer of the month. Currently, they have numerous options for draft beers but 'Tiger Bock' is recommended. The kitchen serves fresh and hot food including their special French-style hot dogs on baguettes with melted cheese on top. They broadcast Rugby, Champions League, and Moto GP Grand Prix. Whether you are a music lover or interested in sports just head onto this place and relax with a pint.
Where - 31bis Rue des Lombards, 75001
Hours - Mon-Fri (4 pm - 5 am)
Sat-Sun (2 pm - 6 am)
Little Temple Bar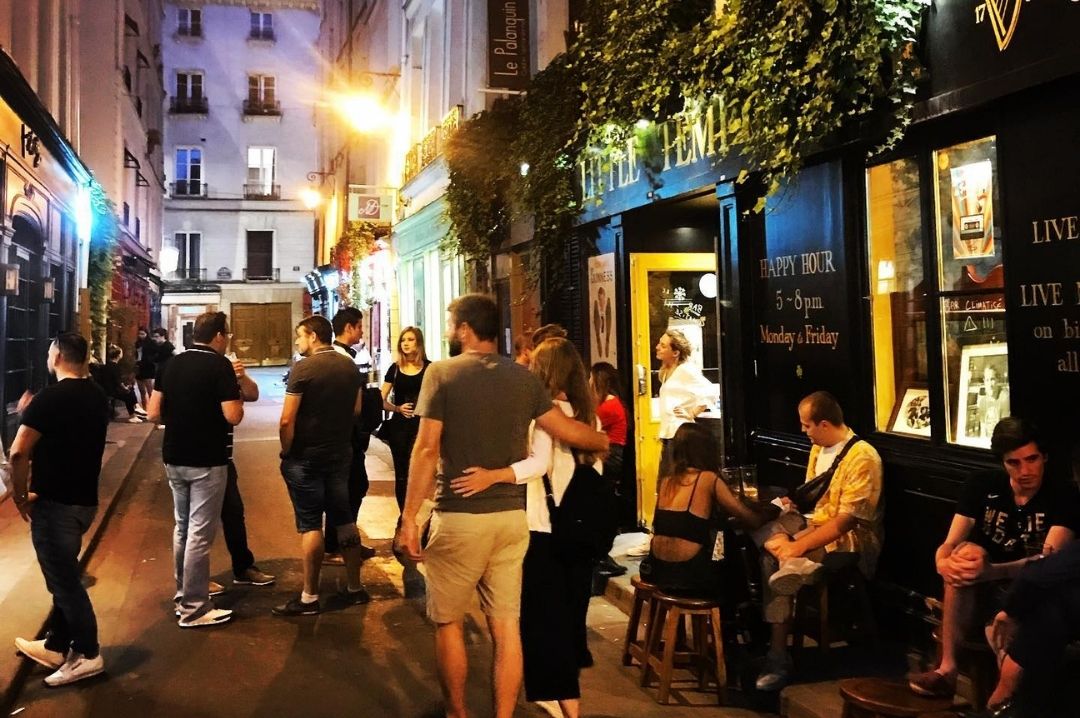 Front entrance for Little Temple bar, source: website
The Little Temple Bar is a French-managed Irish Pub located in Saint Germain des Prés, a must-see on Princess Street and a tribute to Dublin's "Temple Bar". The decor is a classic long wooden bar with a cozy and warm atmosphere. This Irish club is the meeting place for fans of sports, football, futsal, basketball, and rugby. The bar serves excellent Irish beers and other drinks like whiskey, champagne, and cocktails. You can play darts and different board games on the counter with the staff sometimes joining in. Dance your heart out until 2 am on Fridays and Saturdays. Televisions screen the latest sporting action, so get going and order your favorite libation. Cheers!
Happy hours - Mon-Fri (5 pm - 8 pm)
Where - 12 Rue Princesse, 75006
Hours - Mon-Sun (5 pm - 2 am)
O'Sullivans Grands Boulevards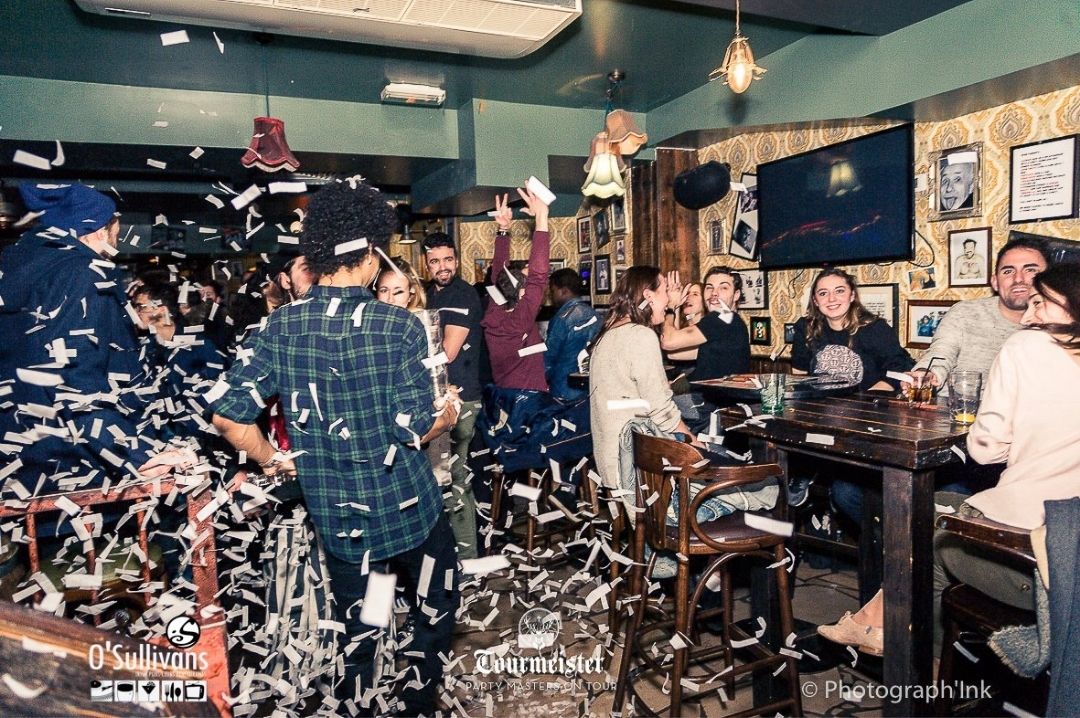 Celebrations at O'Sullivans Grands Boulevards, source: website
This famous modern Irish pub restaurant on two floors is located on the Grands Boulevards. O'Sullivans has become a Parisian nightlife institution. It offers food service to be enjoyed on the terrace or indoors, as well as happy hours from Monday to Friday. The many screens broadcast football, rugby, NBA, and the NFL. The kitchen offers varieties of burgers, pub classics like fish and chips, and huge platters for you to share. The bar's list includes draft beers like Carlsberg, Guinness, and also has options for bottled beers like Corona and Heineken.
Happy hours - Mon-Fri (8:30 pm - 11:30 pm)
Where - 1 Bd Montmartre, 75002 Paris
Hours - Mon-Fri (12 pm - 2:30 pm, 5 pm - 8:30 pm)
Sat-Sun (12 pm - 8:30 pm)