Where to drink in 16th Arrondissement
Revel in the history and culture of the 16th arrondissement by grabbing a drink at one of the spots.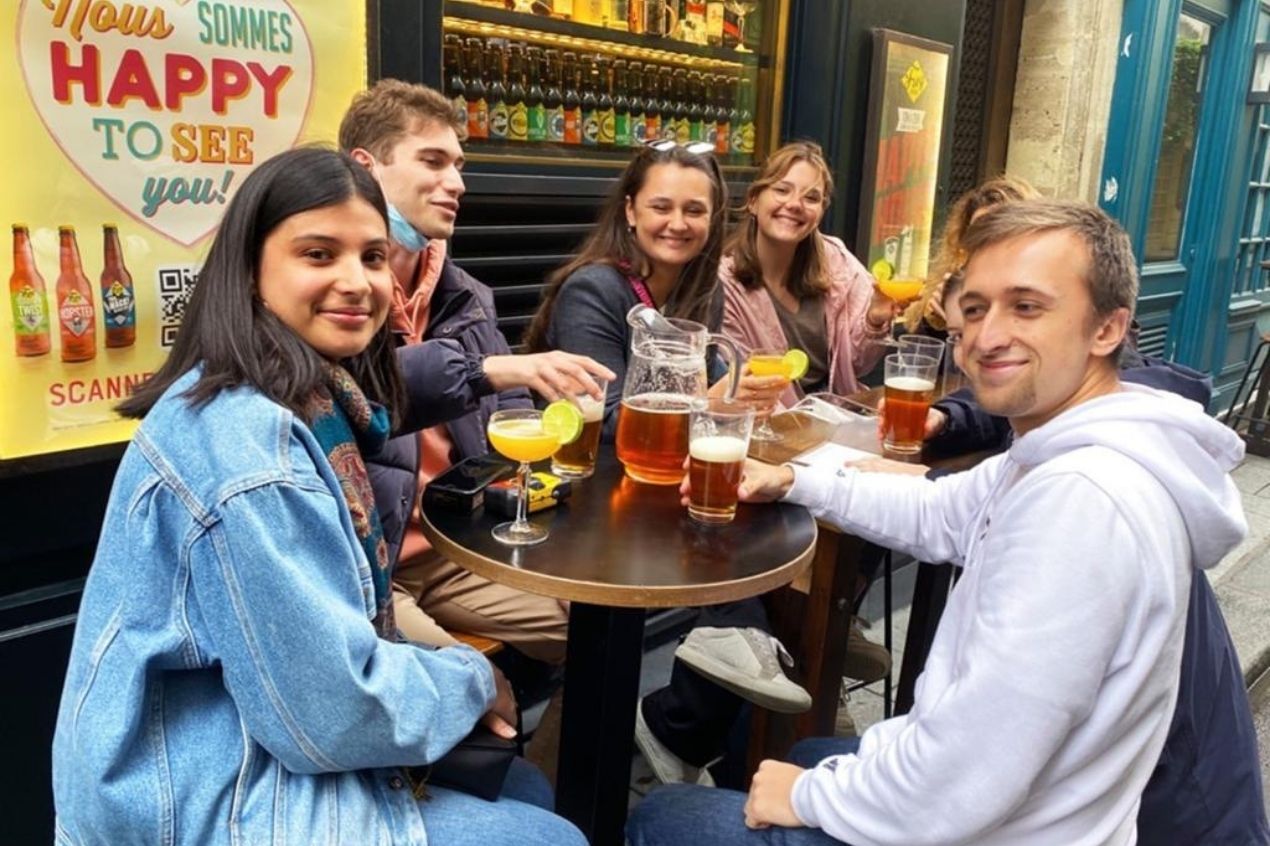 Just minutes away from the Eiffel tower, the 16th Arrondissement boasts foreign embassies and renowned museums, including the Fondation Louis Vuitton and the Palais de Tokyo with its contemporary art. Along with this, the place also hosts a wide selection of trendy restaurants and bars, loved by tourists and locals alike. From historic palace bars to tiny cocktail bars, Paris' 16'eme has it all.
Frog XVI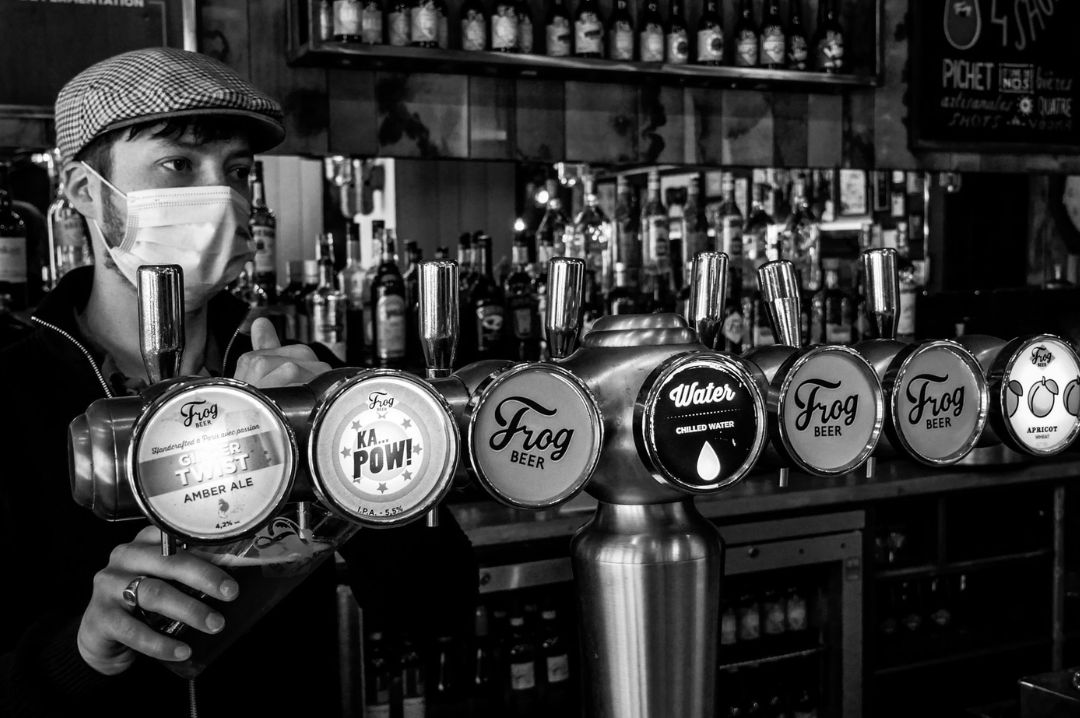 At Frog XVI, source: Facebook
Frog XVI, one of the city's most global hubs, boasts a splendid micro-brewery and a restaurant/bar on two levels. Owned and managed by FrogPubs, they have been brewing, serving, and selling beer and food in France since 1993. Today, FrogPubs have seven microbreweries, restaurants, and bars in France. The Frog XVI is a stylishly decorated pub, but at the same time conserving the warmth and comfort of an English pub.
Frog XVI is a popular destination amongst tourists, Parisians, sporting enthusiasts, international students, business people, families, and a young professional party crowd. From the kitchen, you can get pub classics like fish n chips, burgers, nachos, sandwiches, snacks, and a few desserts like cheesecake and waffles. Their bar features beers from their own microbrewery, varieties of Gin & Tonic, wines, and classic cocktails like the Mai Tai (our personal favorite here). Turn up during their happy hours and avail drinks at much-discounted prices.
Happy Hours - Mon-Fri (5 pm - 8 pm)
Where - 110 bis Av. Kléber, 75016 Paris
Hours - Mon-Wed (11 am - 12:30 am)
Thursday (11 am - 1:30 am)
Fri and Sat (11 am - 2 am)
Sunday (11 am - 12:30 am)
Auteuil Brasserie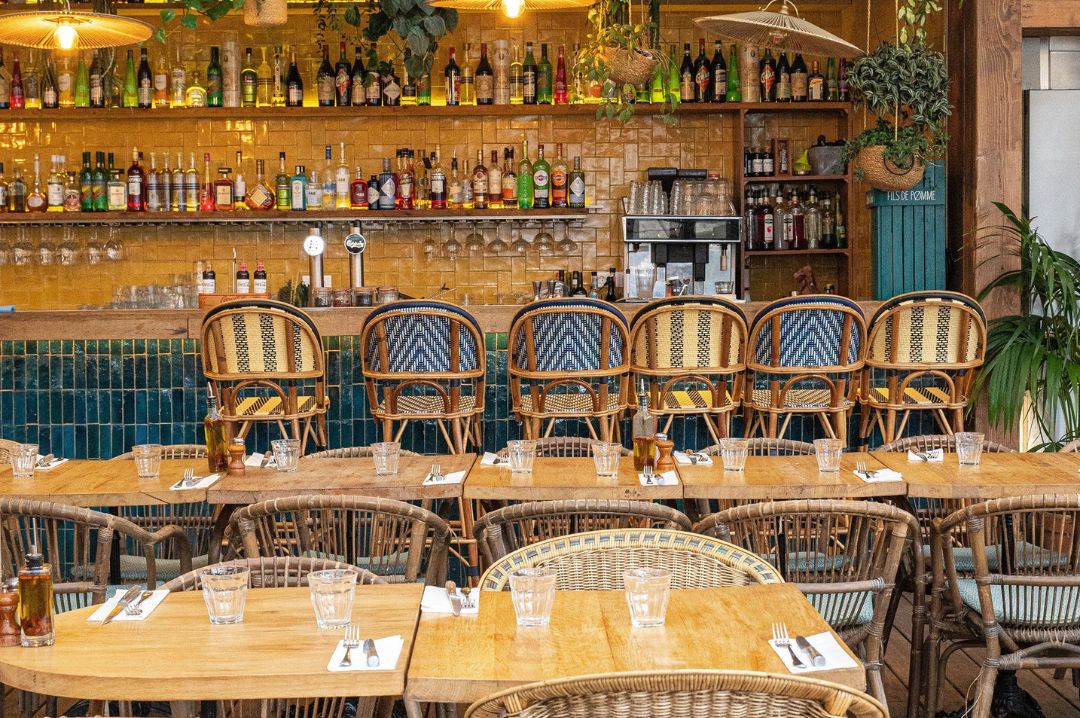 At Auteuil Brasserie, source: Facebook
Auteuil Brasserie, located in the heart of the 16th Arrondissement at Porte d'Auteuil, is a classic Italian restaurant and brewery. The place features a spacious rooftop for classic Italian fares and a terrace for al fresco cocktails. During winters their heated, covered rooftop offers warmth, a setting where the benches and cushions give this place a sense of comfort.
They specialize in making pizzas, different kinds of pasta, and burrata. Try the Capriccio pizza made with white ham with herbs, Ricotta di Bufala cream, mozzarella fior di latte, homemade candied cherry tomatoes, arugula, and Parmesan 22 months.
Don't forget to check out their bar menu, they have a variety of alcoholic and non-alcoholic drinks. Starting from aperitif, cocktails to beers and ciders, and various types of wines, their list is never-ending. Try their house special, Caraibico Mule made with Plantation Original Dark rum, fresh lemon juice, ginger & lemongrass cordial, La French organic, French ginger beer, and vanilla bitters. Head out to Auteuil Brasserie with your friends or colleagues and discover Italian-influenced cuisine in a friendly atmosphere.
Where - 78 Rue d'Auteuil, 75016 Paris
Hours - Mon-Sun (9 am - 2 am)
UC-61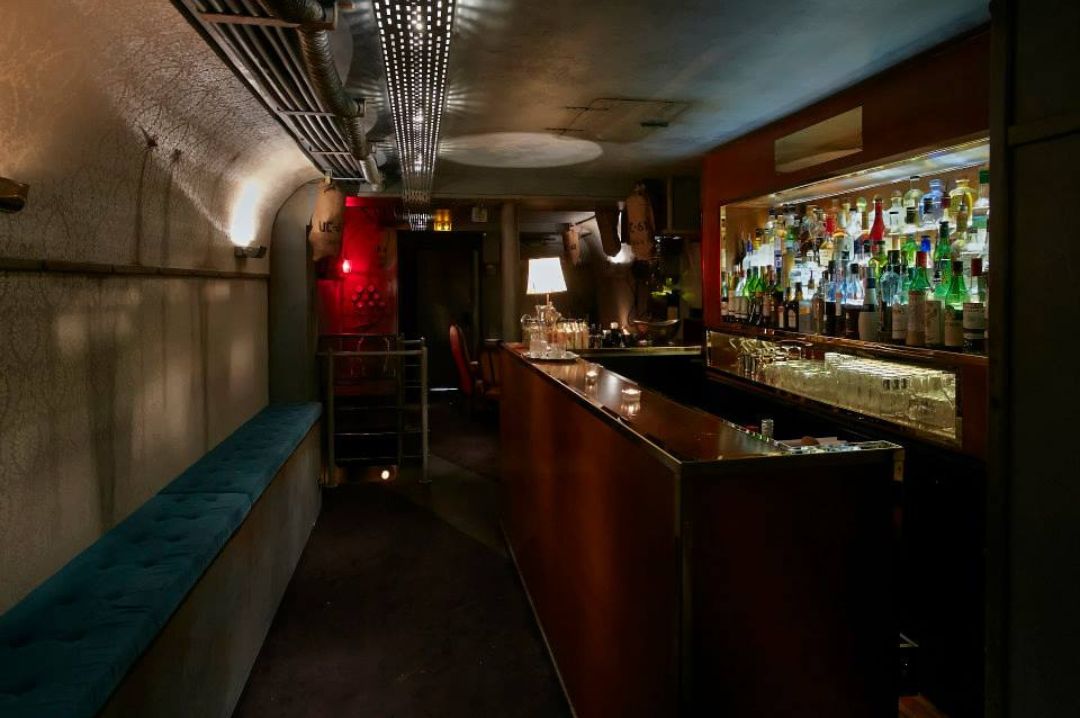 At UC-61, source: Facebook
As the name might suggest, UC-61 is a nautical-themed bar inspired by a World War I submarine. This tiny cocktail bar features various nautical bits and pieces, vintage furniture, some antiques, an old telephone switchboard that resembles the hull of a submarine, and even a captain's quarter.
The team mixes up some great contemporary cocktails like Cucumber & Basil Martini, Pink Honey Snyder, etc. Classic cocktails are not on the list but you can surely ask for one. Try the La Vie en Deux; it is made from a potent mix of whisky, sherry, and maple syrup.
Where - 4 Rue de l'Arc de Triomphe, 75017 Paris
Hours - Wed and Thu (6 pm - 12 am)
Friday (6 pm - 4 am)
Saturday (8 pm - 4 am)
Le Botaniste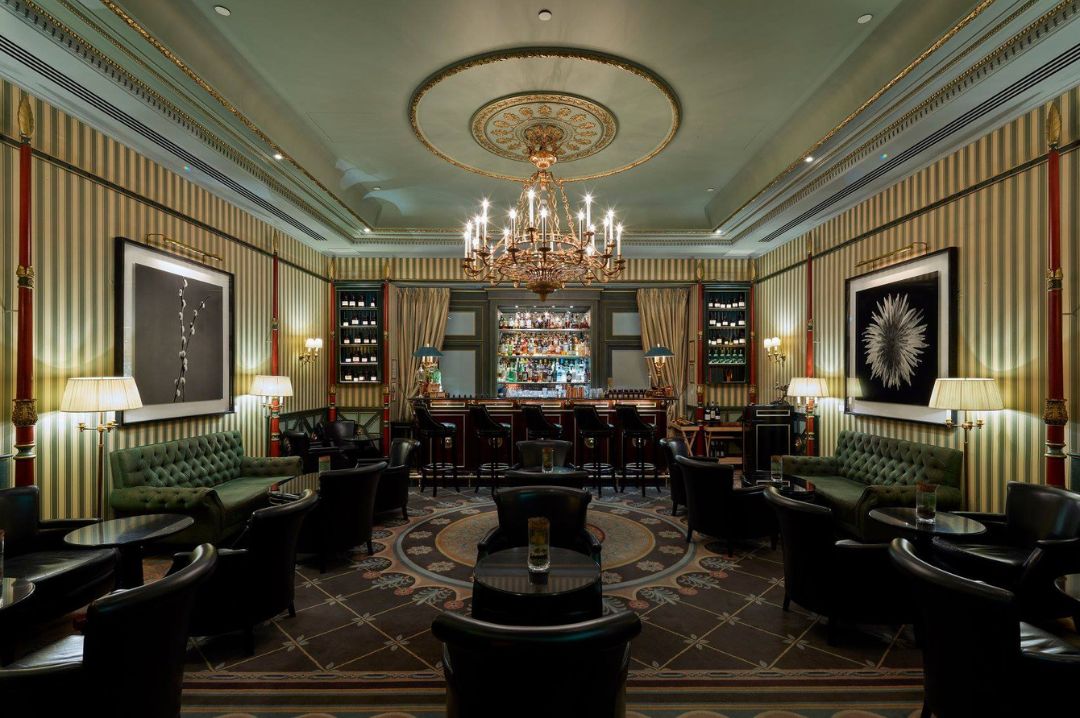 At Le Botaniste in Shangri-La, source: Facebook
Le Botaniste is an ode legacy of the actual owner of the palace, Prince Roland Bonaparte. While sipping your favorite drink, you will find yourself in a very sophisticated and cozy atmosphere surrounded by massive paintings, comfortable couches, and sofas, and one enormous chandelier.
Discover their sophisticated cocktails and spirits menu, curated to pay tribute to the prince of the palace. Recently they started champagne sabering to offer their patrons a new experience. The dedicated team of Le Botaniste demonstrates the art of champagne sabering; a historic technique that became popular during the reign of Napoleon Bonaparte. Show up at this place and experience the royalty and history.
Where - Shangri-La, Lobby level, 10 Av. d'Iéna, 75116 Paris
Hours - Mon-Sun (6 pm - 2 am)
Le Passy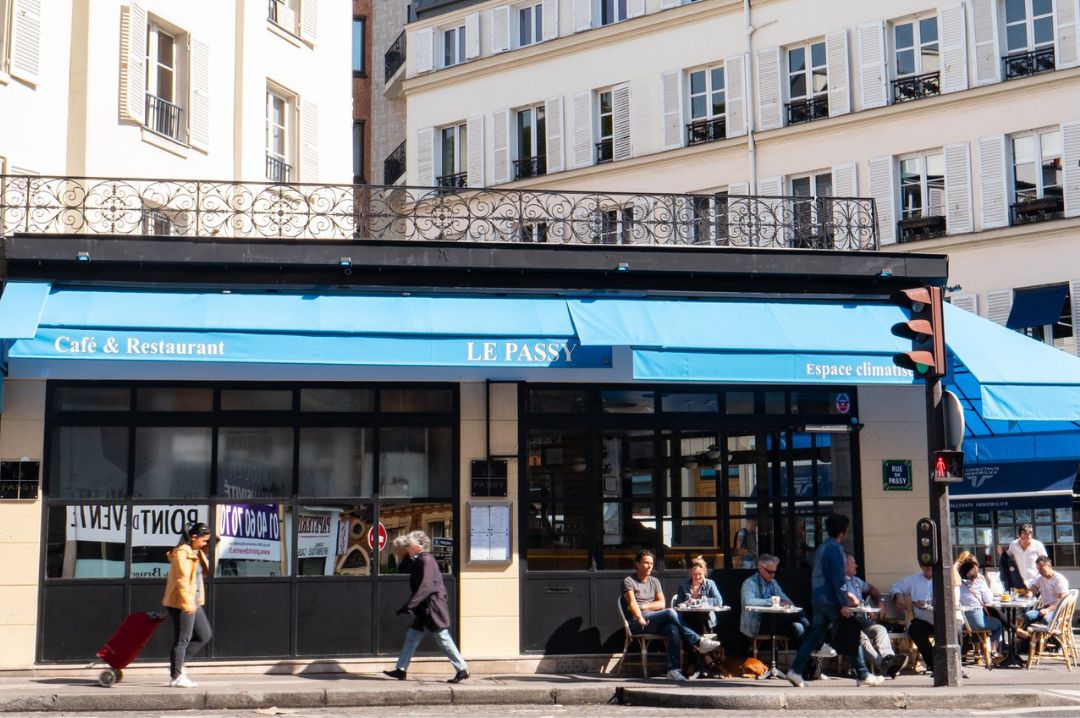 Le Passy, source: Facebook
Just minutes away from Eiffel Tower, Le Passy is one of those few places where you can turn up for your early morning coffee and late-night drinks as well. The place has both a chic and a trendy atmosphere with stylish decor. Here you can order traditional French cuisine, cheese platter, meat & fish à la plancha, and desserts. Well if you are here for a party then Le Passy offers you drinks from its beer, wine, and cocktail bar.
Where - 2 Rue de Passy, 75016 Paris
Hours - Mon-Sat (7:30 am - 1 am)
Le Belair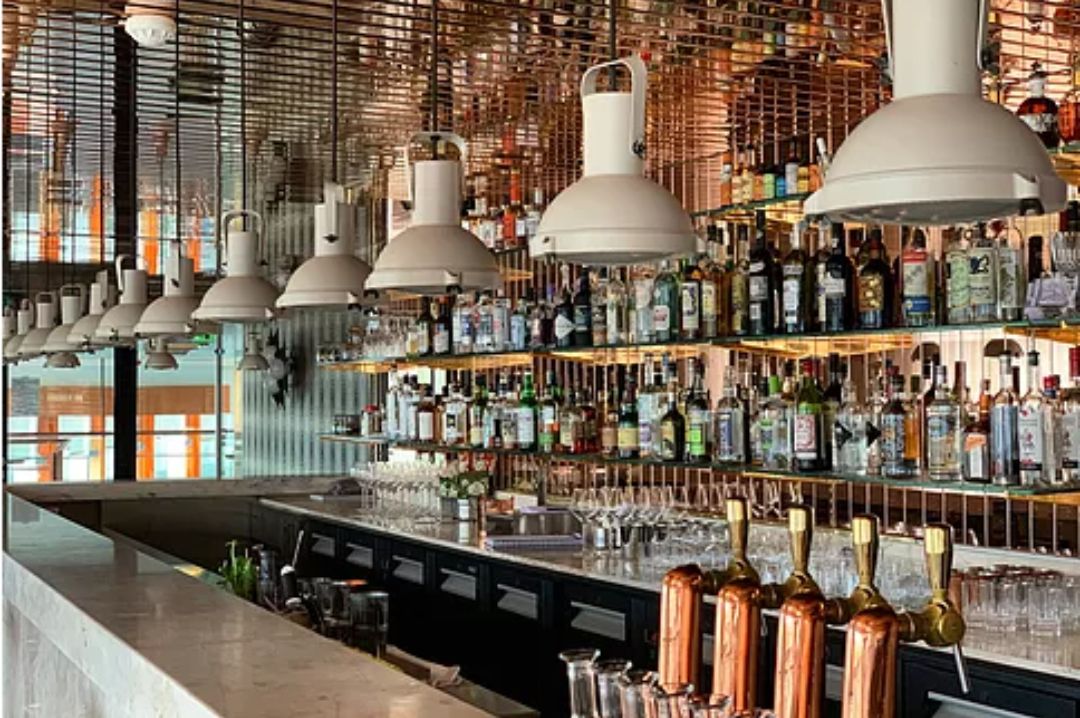 At Le Belair, source: Website
A hip nightspot, Le Belair is located on the second floor of the radio house. The place creates a very magical and cozy atmosphere within, all thanks to its mirrored interior and metal slats on the ceilings, creating a balance between the history of the place and its contemporary architecture.
At Le Belair, you can find fine wine and beer list and also an unusual cocktails menu curated by the imagination of the Belair team. Hit the dance floor when the DJ rolls up his sleeves. Lately, we've been loving the Trois Petits Singes made with Monkey Shoulder whiskey, Chartreuse, lime, and homemade berry syrup.
Where - 116 Av. du Président Kennedy, 75016 Paris
Hours - Fri and Sat (6 pm - 2 am)
Daroco 16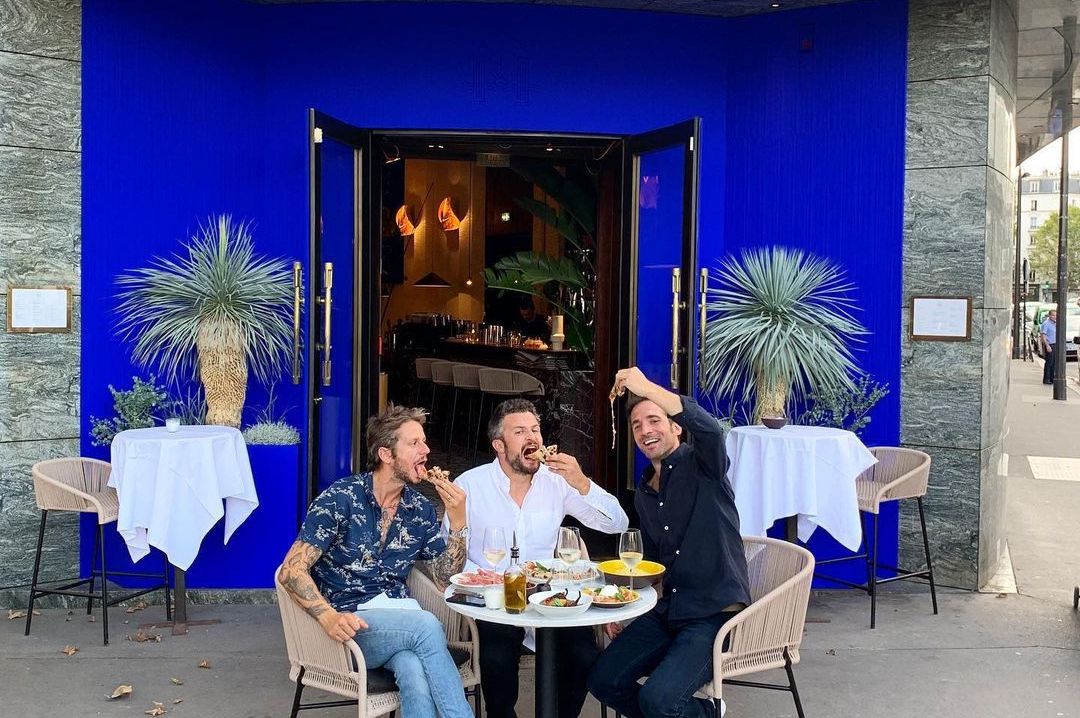 Current partners of Daroco 16, source: Instagram
Daroco 16 brings Italy to Paris with their mouth-watering Italian affairs. Their partners Alexandre Giesbert, Julien Ross, and Romain Glize recently moved the restaurant to 16th Arrondissement with its vibrant and festive neo-trattoria atmosphere. The decor is filled with brass, a marble cocktail bar, an open kitchen in black granite, and an impressive ceiling (mirror in the shape of a diamond tip).
Upon tasting the food, you can't deny that Chef Federico Schiavon pays homage to the best Italian cuisine with his antipasti, creamy risotto, well-sauced pasta, and pizza. If you wish to get boozy, head straight to their terrace and find a seat at the cocktail bar with plenty to choose from. We recommend trying the Pandemilk cocktail, made with rum, pineapple, Island Coconut syrup, lemon, whey, and clarified with plenty of Pandan.
Where - 3 Pl. Clément Ader, 75016 Paris
Hours - Mon-Sun (12 pm - 11 pm)
Header image, source: Facebook FrogPubs