The ultimate guide to Paris' Christmas markets
Here's your Paris Christmas market checklist for the Holiday Season.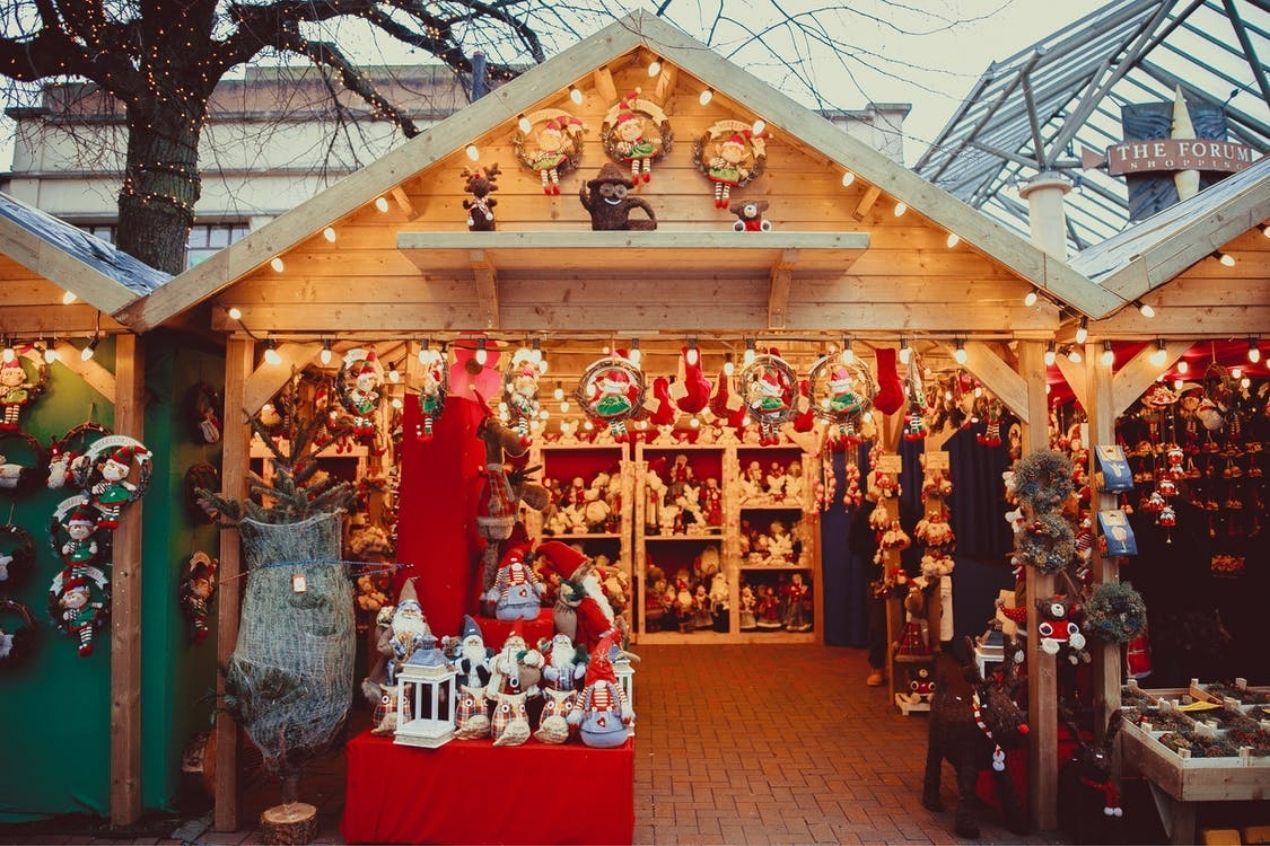 It's that time of the year when Paris is donned with sparkling lights, the smell of mulled wine, and some of Europe's most sought-after Christmas markets. Whether you're at Champs-Élysées or strolling through the Latin Quarter, there's a Christmas market filled with artisanal goodies, drinks, food, and of course, the festive spirit of Paris!
[[relatedPurchasesItems-30]]
The Magic of Christmas at Tuileries Garden
(November 20, 2021 to January 2, 2022)
The much-awaited pop-up Christmas market, The Magic of Christmas is back again at Tuileries Garden with more dazzling lights and decorations. But this time Champs-Élysées no longer hosts this popular Christmas market. The market stretches for almost half a mile along the north side of the garden between Place des Pyramids and Place de la Concorde.
The Magic of Christmas bursts into fun activities with a huge Ferris wheel and dozens of carnival rides such as bumper cars and even an ice skating rink. For patrons, this Christmas market offers a Champagne bar, traditional onion soup in steaming copper vats, hot mulled wine, cheese kiosks, and confectionaries, and many more.
Where - Pl. de la Concorde, 75001 Paris
Paris Christmas Market at Canopée des Halles
(Late November to late December)
A few years ago, the Canopée des Halles Christmas market was known to be one of the largest Christmas markets in Paris. Now, the city hosts many others, but the Canopée des Halles market still retains its charm.
There are chalets offering sausages, Belgium waffles, and some seasonal specialties. Inside the Canopée you can find an enormous glittering Christmas tree and this multi-storied complex also offers various dining and shopping options.
This festive market features Bavarian-style chalets and they sell everything, from vin chaud (mulled wine) to crafts and gifts. You can also shop in Forum des Halles, visit adjacent Église Saint-Eustache, or explore market street Run Montorgueil and when hungry stop by Alain Ducasse's Champeaux restaurant in the Forum and fill yourself with a snack, full meal, or a glass of wine.
Where - 101 Rue Berger, 75002 Paris
Saint Germain-des-Prés Christmas Market
(Early December to early January)
This Christmas market's 40 or so chalets are set on Boulevard St-Germain, right near to the famed St-Germain-des-Prés Church. It is one of the best mid-sized marketplaces in the city and specializes in excellent leather wallets, lovely jewelry, French culinary products, and handcrafts. You will also find scented candles, leather-bound notebooks and bags handcrafted in France, and liquor-filled chocolates.
As you walk by the kiosks, get ready for mouth-watering displays of artisanal macarons, mulled wine, marrons glacés (candied chestnuts) from Southern France, caviar, smoked salmon, truffles, foie gras, and jewel-like jars of fruit preserves. This year's additions include Guadeloupean and Tibetan food, as well as freshly prepared hot and cold ginger beverages and a chalet serving Christmas brioche and French toast.
Where - Blvd Saint-Germain, next to Saint-Germain-des-Prés Church, 6th Arrondissement
Paris Notre-Dame Christmas Market at Square Viviani
(December 10, 2021 to December 26, 2021)
Possibly one of the most beautiful Christmas markets in the city, the Notre-Dame Christmas market is set up across the famous cathedral, in Square Viviani on the Left Bank's Quai Montebello.
With medieval towers as a backdrop, Notre Dame's cheerful market offers the usual vin chaud and roasted chestnuts as well as other food and drink kiosks. The place creates an elegant, relaxed, and holiday-focused vibe with occasional appearances by musicians.
If you make it at the right time, you might just see Santa's appearance as he strolls through with a mug of mulled wine. Other specialties of this Christmas market include high-quality arts and artisan crafts made in France, gift-worthy clothing and accessories, and some fancy gourmet foods.
Where - 25 Quai de Montebello, 75005 Paris
Eiffel Tower Christmas Market on Champs de Mars
(Mid-December to early January)
The Eiffel Tower Christmas Market on Champs de Mars is decorated with dozens of Christmas trees, fake snow, and the close-up views of the famed "Iron Lady" offer an unforgettable experience.
This market highlights delectable gourmet delicacies and freshly prepared local cuisine. Watch out for the Alsatian and Savoyard kiosks with their delicious regional delicacies, and as you explore and shop in the market, you can sip on mulled wine.
Except over 35 food trucks serving food and drinks and lots of Instagrammable moments thanks to the famed Iron Lady and the nighttime glittering show of lights.
Where - Near the Eiffel Tower - probably at Quai Branly
Montmartre Christmas Market at Place des Abbesses
(Late November to end December)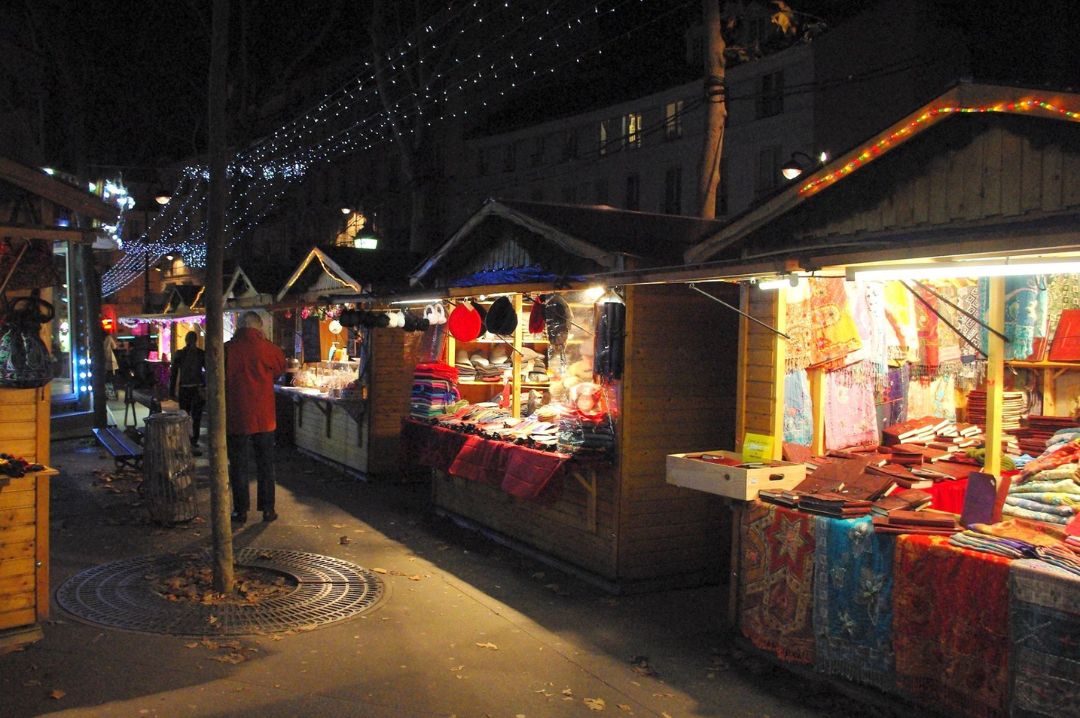 Montmartre Christmas Market, source: French Christmas
Right next to the Place des Abbesses Metro station, Montmartre Christmas Market is a must-visit. While the market hosts only 15-20 chalets, it is filled with local artisans, designers, and creators. Oh, and the Christmas Tree is worth a picture!
Look out for Vin Chaud and Marrons Chaud signs through the market, and fill yourself with a cup of warm spiced wine and a packet of roasted chestnuts. There will also be other food stalls serving traditional fares like escargot, mushrooms, and raclette (yum!).
And did we mention there's a Champagne bar around too? So once you're done shopping and admiring the beauty that is Montmartre, stop by for a glass of bubbly.
Where - Next to the Abbesses Butte Montmartre Métro station in Montmartre, 18th Arrondissement
Header image, source: Humphrey Muleba