The ultimate drinking guide to Paris' 10th Arrondissement
Sip on delectable cocktails and chill at some of the best watering holes in Paris' 10th arrondissement.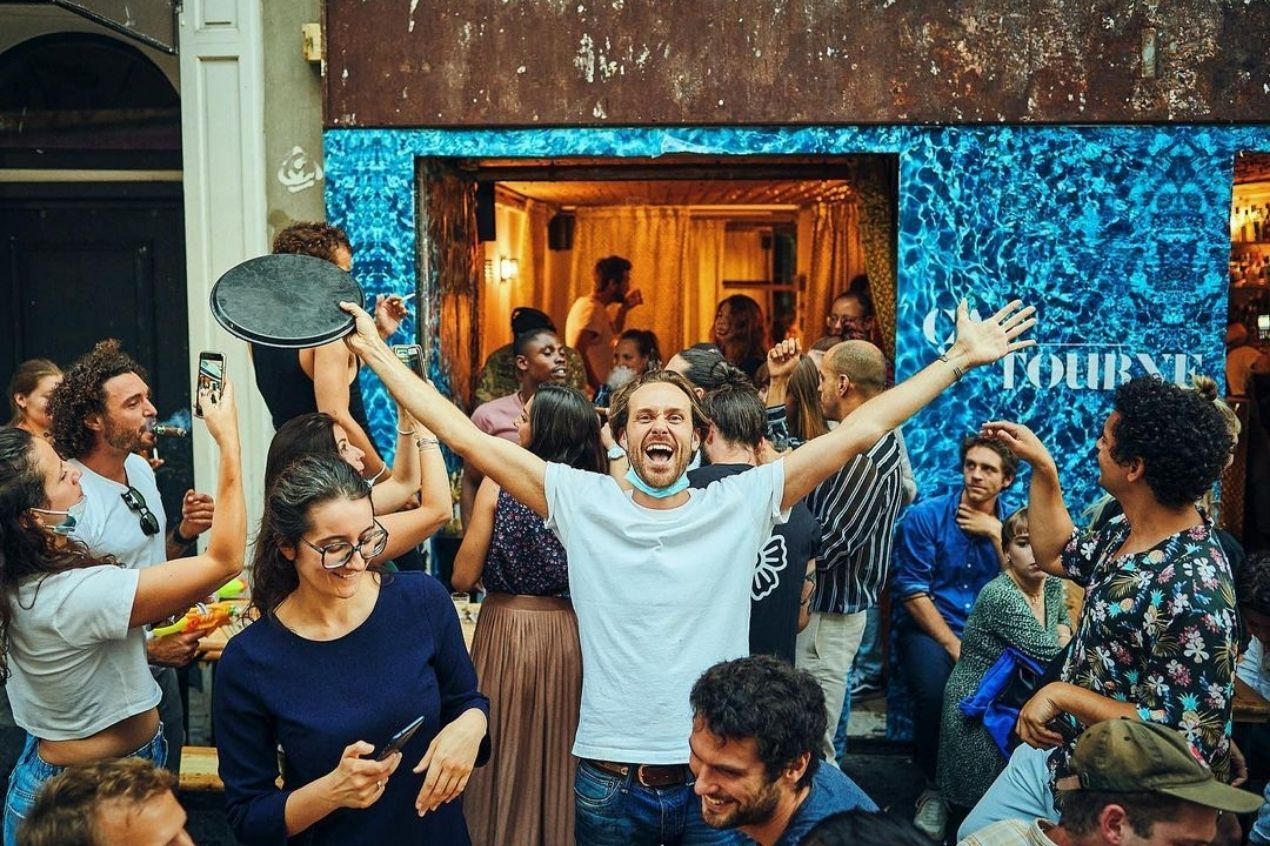 The 10th arrondissement of Paris is close to being one of the busiest neighborhoods in the city. The area is just a stone's throw from the bustling city center of Paris and is increasingly attracting the young and enthusiastic crowd of Paris. From cocktail lovers to foodies and beer bustlers, the 10'eme can vibe check all of them. Add these bars to your must-drink-at lists for the next time you're out and about in the 10th arrondissement.
Divine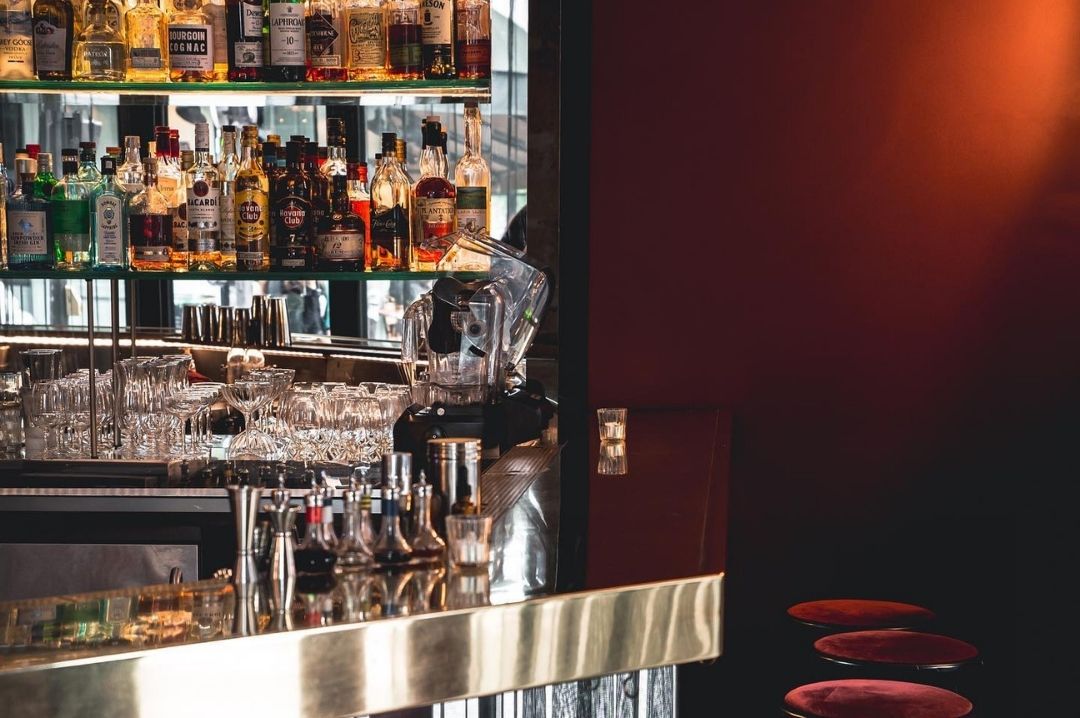 Bar counter at Divine, source: Facebook
Divine is a trendy cocktail bar discreetly set in the 10th Arrondissement. This elegantly edgy bar serving small plates provides the perfect scene for a night of revelry or a cozy evening with friends. Each creative cocktail, with names ranging from Bananarama to Divine Highball, boasts a bouquet of flavors and comes served in its own art deco glass. Even the ice cubes are customized! If you're a lover of all things mezcal, we recommend the Fleur cocktail made with mezcal, sake, vermouth rose, and RinQuinQuin. To complement the sweet or spicy libations, savory snacks include a fried chicken sandwich, a plentiful plate of nachos, or vegetable samosas, among other globally-inspired tasty treats.
Brunch every Saturday and Sunday (12 pm - 4 pm)
Where - 61 Rue d'Hauteville, 75010
Hours - Mon-Sun (6 pm - 2 am)
Copper Bay
Bartenders at Copper Bay, source: Instagram
A spot of difference in a city filled with dark speakeasies, Copper Bay is bright and expensive, with light wood paneling and large front windows. The interiors glisten in shades of blue and green, with ropes draped from the ceiling and wooden ores hung as wall art. The kitchen offers snacks like charcuterie, burrata, marinated zucchini, and eggplant and rillette spreads (duck, mackerel, and mustard, etc.) served with slices of pan de Campagne (country bread). From the bar, you can order a Petit Artichaut made with a nut butter-infused whisky, bitters, Pedro Ximenez sherry, and Guinness. They also have a selection of beers from local Parisian brewery Demory, ciders from Apple, and natural white or red wine by the glass or bottle. The backroom would make a great place for a private party or event since it's quiet and separate from the rest of the space.
Where - 5 Rue Bouchardon, 75010
Hours - Mon-Wed (6 pm - 1 am)
Thu-Sat (6 pm - 2 am)
Sunday (6 pm -1 am)
Le Syndicat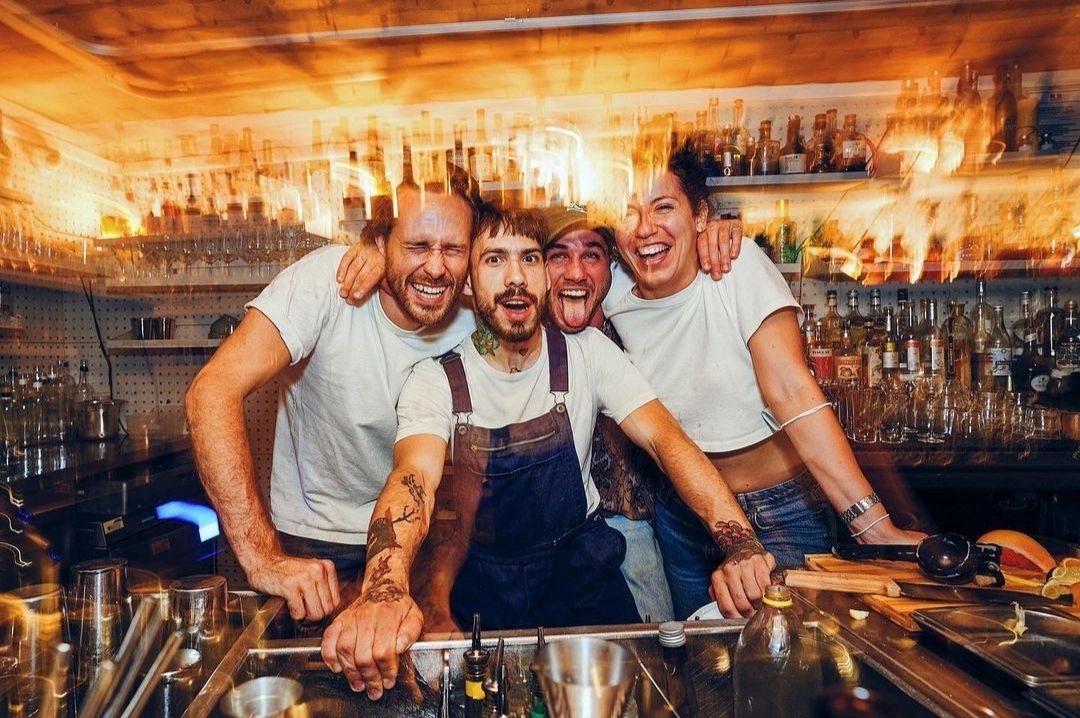 The team behind Le Syndicat, source: Instagram
It's all about French ingredients and hip-hop at this patriotic Parisian haunt, Le Syndicat. This self-described 'Organisation de Défense des Spiritueux Français', with its metallic curtains, gives off an urban, industrial feel. The place stocks only French spirits with inventive house creations including ingredients like Marc de Bourgogne, absinthes, and gentian-based bitters. In addition to their original creations, the bar puts a French twist on classic drinks.
Where - 51 Rue du Faubourg Saint-Denis, 75010
Hours - Mon-Sat (6 pm - 2 am)
Café A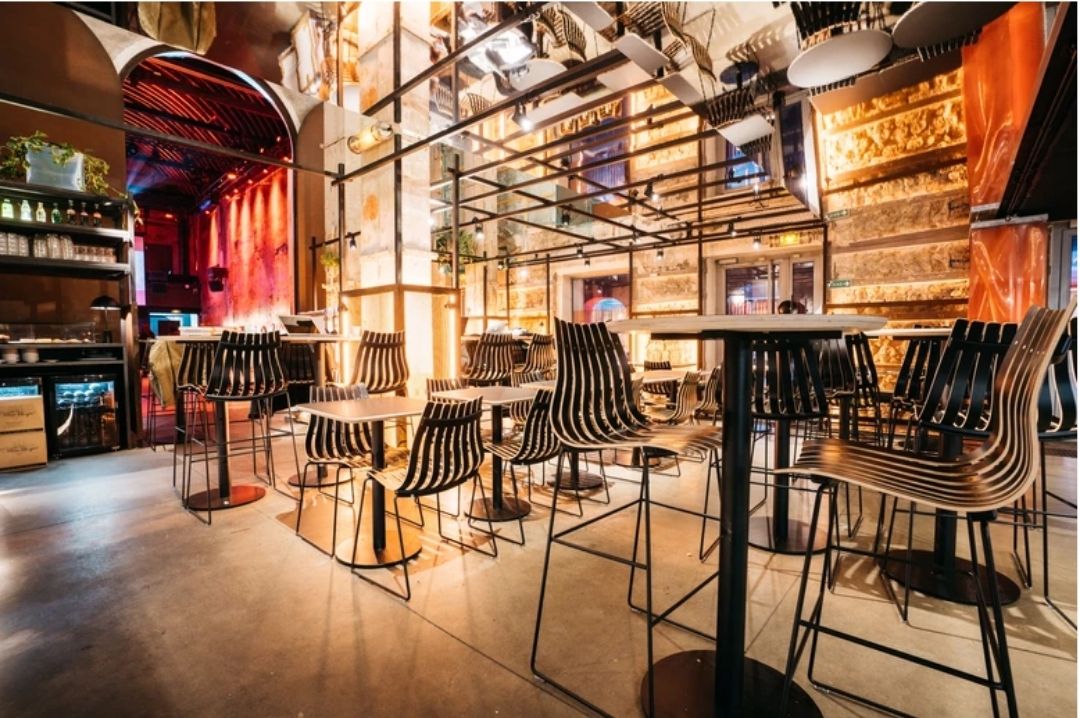 Interior of Café A, source: Website
Nestled in the Maison de l'Architecture in Paris's 10th Arrondissement, Café A is a stylish bar, café, and restaurant that hosts delicious brunches in its beautiful garden with live music, and a chic after-work atmosphere. On the menu, there are organic and biodynamic wines, as well as bruschetta, salads, charcuterie, and cheese plates. Ask your server for the day's specials. If you appreciate architecture and good acoustics, then this is the place to go!
Where - Maison de l'Architecture, 148 Rue du Faubourg Saint-Martin, 75010
Hours - Mon-Sun (10 am - 2 am)
Gravity Bar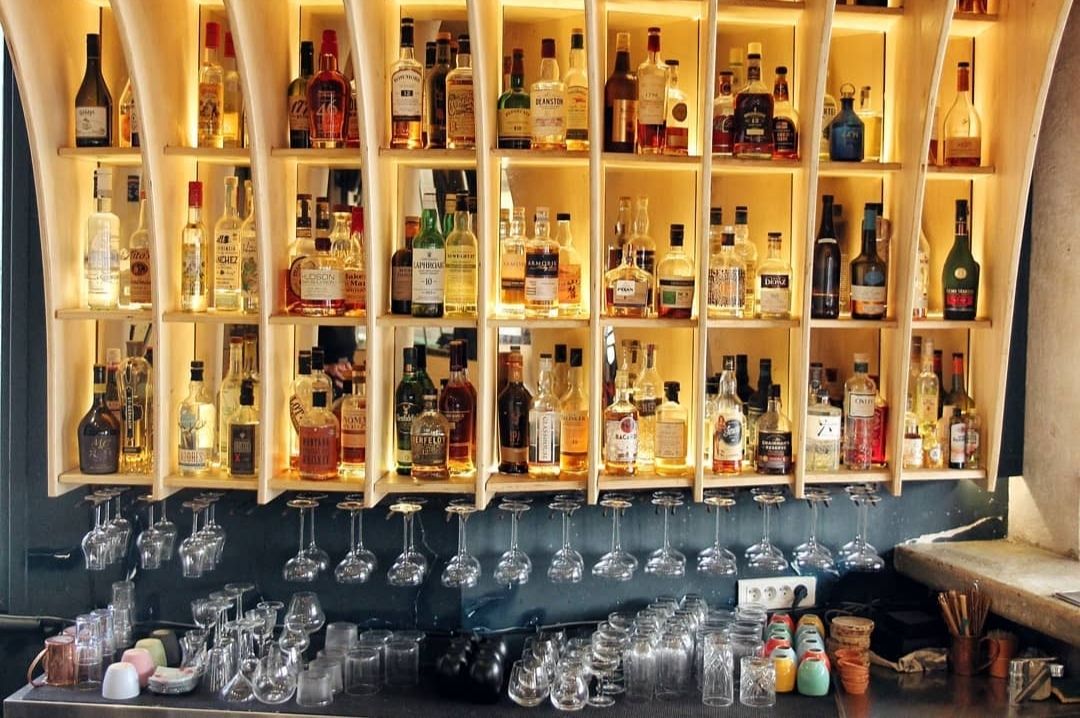 The bar counter at Gravity Bar, source: Instagram
Gravity is the new cocktail bar that has quickly bedded in as one of the hippest in the city. The interior of Gravity is stylish with a large, light space with white wave-shaped slats covering the ceiling. The bar's huge steel counter adds a bit of a theatrical effect to the ambiance. There's also a little terrace area outside. Cocktails are similarly impressive, complex, and vibrant. But your euros should buy you something special like the Fruit du Passé, a layered blend of Strega liquor, Genepi Dolin, their own-made celery syrup, lemon juice, licorice powder, and fennel seeds. It is a herbal and textured drink, full of surprises. The food menu, even though it's small, is still full of treats, including duck tataki with fig and pistachio.
Where - 44 Rue des Vinaigriers, 75010
Hours - Thu-Fri (7 pm - 1 am)
Experimental Cocktail Club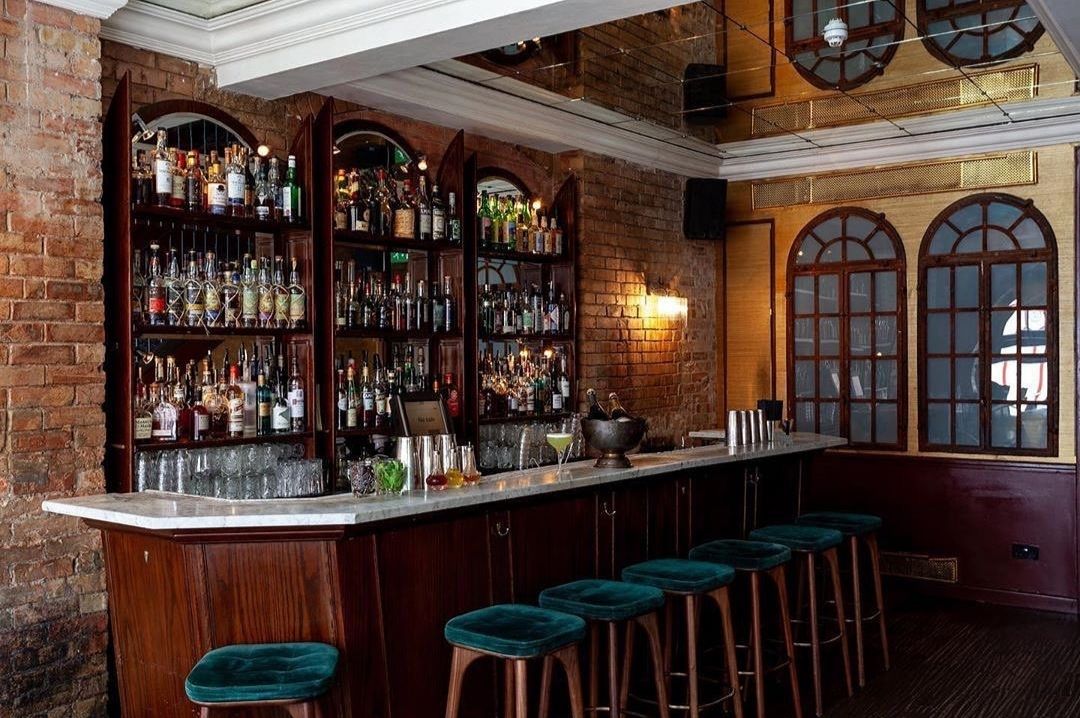 Experimental Cocktail Club's bar counter, source: Facebook
The idea behind L'Experimental Cocktail Club is that Paris could rediscover its own lost heritage of mixed drinks. The club was opened in 2007 by The Experimental Group and is hidden on the side street of Paris. The Experimental Group was founded by Olivier Bon, Pierre-Charles Cros, and Romée De Goriainoff, three childhood friends with a taste for innovation. The place features high wood beam ceilings, seating at the bar counter, a cushiony lounge, classic rock 'n' roll tunes, and provides a cozy retro vibe. There is no food menu here, but jars of salted almonds are refilled on the regular. As the name suggests, the cocktails are the highlight of the bar. We've been loving the Pomme d'Happy, which is made with French Calvados, two types of bitters, lemon juice, and simple syrup. Because the place is small, it's best to come in smaller groups or come early to ensure a seat.
Where - 37 Rue Saint-Sauveur, 75002
Hours - Mon-Thu (7 pm - 2 am)
Fri-Sat (7 pm - 4 am)
Sunday (8 pm - 2 am)
The 46 Bar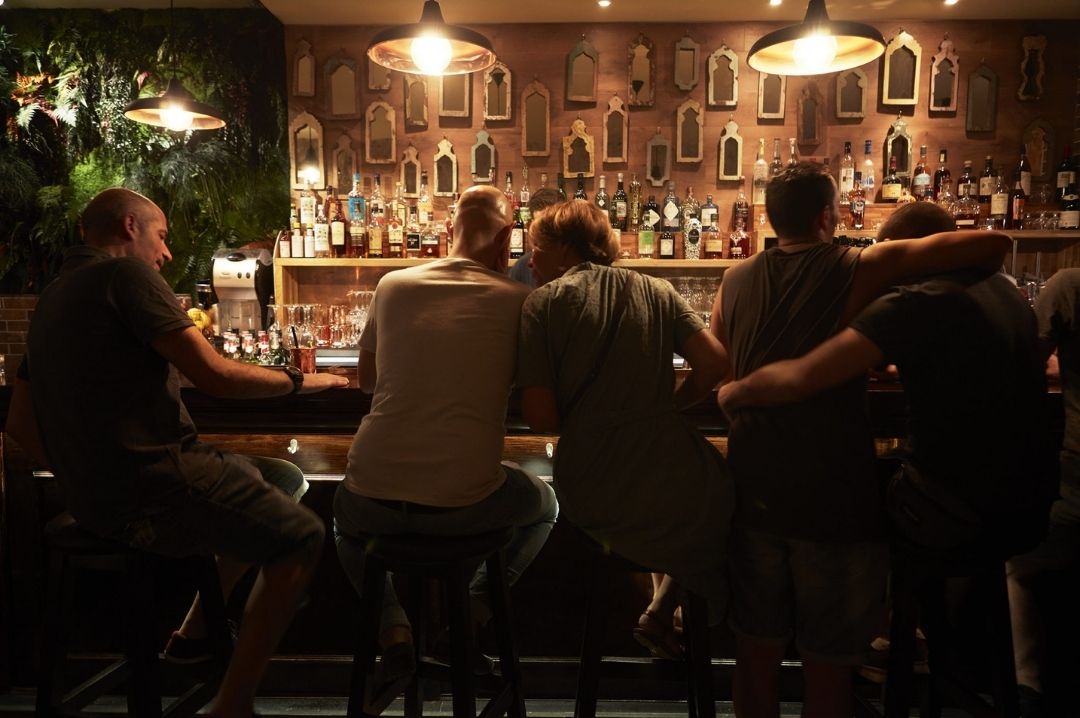 The 46 Bar, source: Website
The Forty-Six (46) Bar comes with an ideal concept for a New York bar in Paris. The place is filled with raw wood furniture, fabricated sofas, and armchairs with a vast green wall in contrast to the long and classy bar counter. The lights are dim and the 46 Bar organizes musical evenings in the folk-rock, jazz, blues theme to complete its very own New York atmosphere. From the kitchen, you can try the classic American hot dogs with pickles and grilled onions. The drinks menu provides 16 choices for cocktails from classics, to some revisited, to exotics, and of course, a selection of beer and wine chosen to please everyone. You should try the famous 'Porn Star Martini' made with vodka infused with vanilla, lime, sugar, and passion fruit puree. If you're looking for something off-the-menu, ask the bartender to whip you up one of his secret specials.
Happy Hours - (6 pm - 8 pm)
Where - 46 Rue René Boulanger, 75010
Hours - Mon-Sat (5 pm - 2 am)
Header image, source: Le Syndicat