Sip Some Fine Cocktails from the Prettiest Rooftop Bars of Paris
Visit the prettiest rooftop bars in the City of Light where you can sip your next St-Germain spritz while viewing the mesmerizing sights.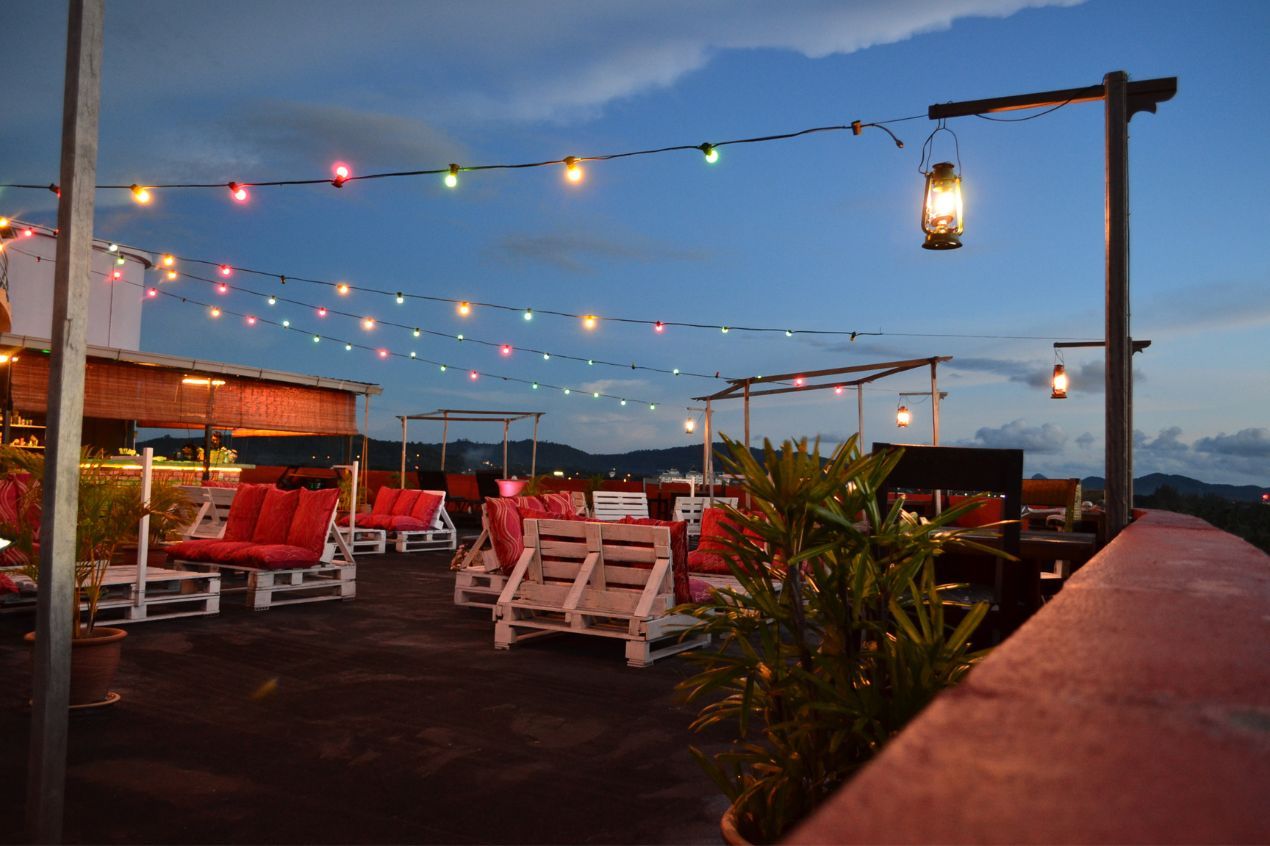 Rooftops in Paris floating between the infinite azure sky above and gray cobblestone streets below have already stirred up images of privacy and romanticism. You can get something of a rarity in the city just by adding a Dry Martini on the side: the rooftop bar. Thankfully, a number of rooftop bars have opened this summer to relieve our pedestrian worries with the refreshing promise of altitude, beautiful sights, and a cocktail or two.
For a long time, Paris was not popular in its bars, let alone the ones on rooftops. But in recent times, Parisian bar culture has evolved, with new venues featuring creative cocktail menus. Cocktail bars have recently become so famous that they have started emerging from the iconic zinc roofs. The rooftop bars have already opened for the summer season, allowing guests to rise above the stone streets and enjoy the sunset over an ocean of roofs.
Whether you're looking for ritzy roofs that transport guests to the fields of Provence or more independent places that feature innovative cocktails and quirky music here are some of the best rooftop bars in the City of Light where you can sip your next St-Germain spritz right away.
ROOF de Madame Rêve
Image Source- ROOF de Madame Rêve
Before the elevator doors open, you can hear the conversation of the people. Music played by a bearded DJ sounds more like a night out in Ibiza than a bar in the heart of Paris. Well-heeled Parisians assemble at ROOF, where they play pool, smoke at the bar, and rest on lounge chairs artfully angled toward the golden sunset.
This is not your typical rooftop. You will find ROOF at the recently opened Madame Rêve Hotel and it is a stunning bar to visit this summer, with views of St. Eustache cathedral, Notre Dame (currently being repaired), and a distant Eiffel Tower. Arrive early in "stylish fine clothes," as recommended by the restaurant, to secure a table with the greatest views. At the massive marble bar (yep, there's an on-site sushi master), order a Paloma Picasso (ROOF's unique twist on an old favorite) and fresh sushi rolls. Sounds amazing!
Address:
ROOF de Madame Rêve
48 rue du Louvre, 75001 Paris
Séquoia at the Kimpton St. Honoré
Image Source- Séquoia at the Kimpton St. Honoré
Séquoia, located between the majestic Place Vendôme and the stunning Paris Opéra, is unsurprisingly beautiful. Despite its small size, the bar provides some of the amazing sights of Paris; you can see almost every significant monument. You can also enjoy different types of music at the bar starting from jazz covers to contemporary buzz.
While the bar's customers are mostly tourists than locals (many of these are hotel guests), the views, friendly atmosphere, and good cocktails are very good reasons to visit. The finger food supplied is limited and costly, but it is tasty and well-presented. The My Ta, Séquoia's signature drink is a blend of whiskey, Chartreuse, Cointreau, orgeat syrup, and lime juice. The drink is the best representation of what guests may anticipate at Séquoia: a mix of French and foreign flavors that don't seem to belong together but delight with surprising pleasure.
Address:
Séquoia at the Kimpton St. Honoré
27-29 Boulevard des Capucines, 75002 Paris
Kitchen Garden Rooftop at Brach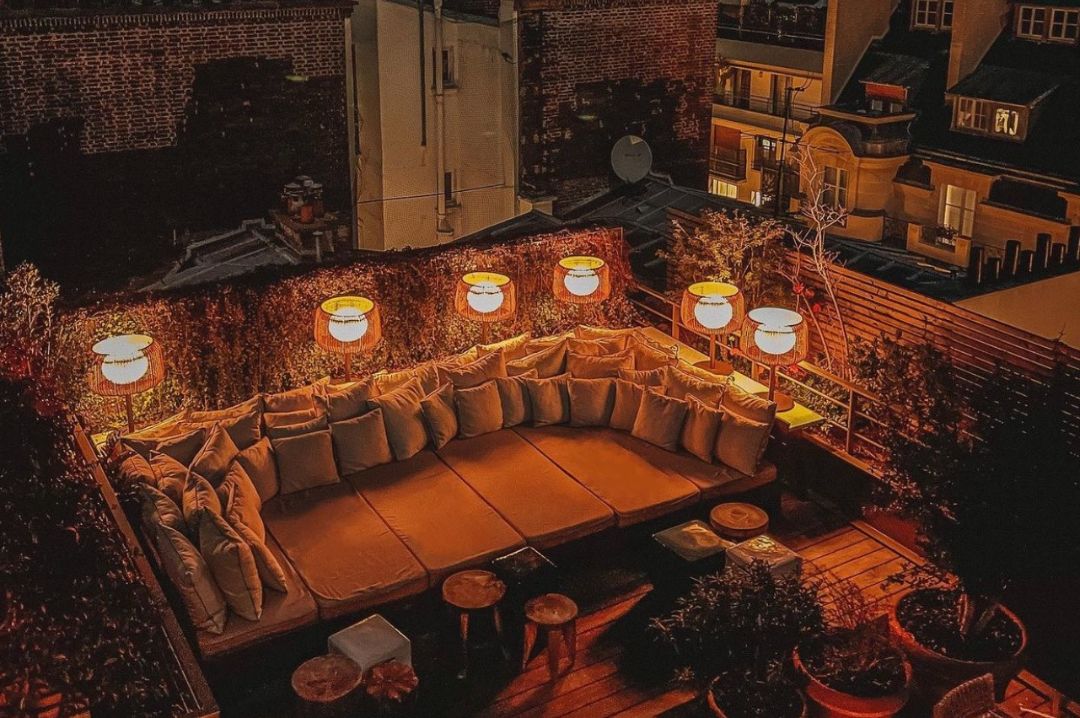 Image Source- Kitchen Garden Rooftop at Brach
While many pubs offer a break from the hustle and bustle of everyday life, Brach's rooftop bar is a sure getaway from it. At day, the rooftop serves as the hotel restaurant's "potager" (herb garden), but by night, it transforms into a sleek and relaxing bar. Every minute detail is important at Brach (as one can expect, having been designed by Philippe Starck).
Wafts of lavender from the garden flow through the crowd on breezy evenings. While the cocktails can be a bit heavy on the pocket but they are worth it. All the cocktails are innovative twists on classics: the Aperol spritz includes French Champagne instead of regular prosecco, and the mojito has premium aged rum. The tuna belly and Iberian jamón are sleek, elegantly presented, and delightful bar snacks that you cannot miss.
Address:
1-7 rue Jean Richepin
750016 Paris
Bar Rochechouart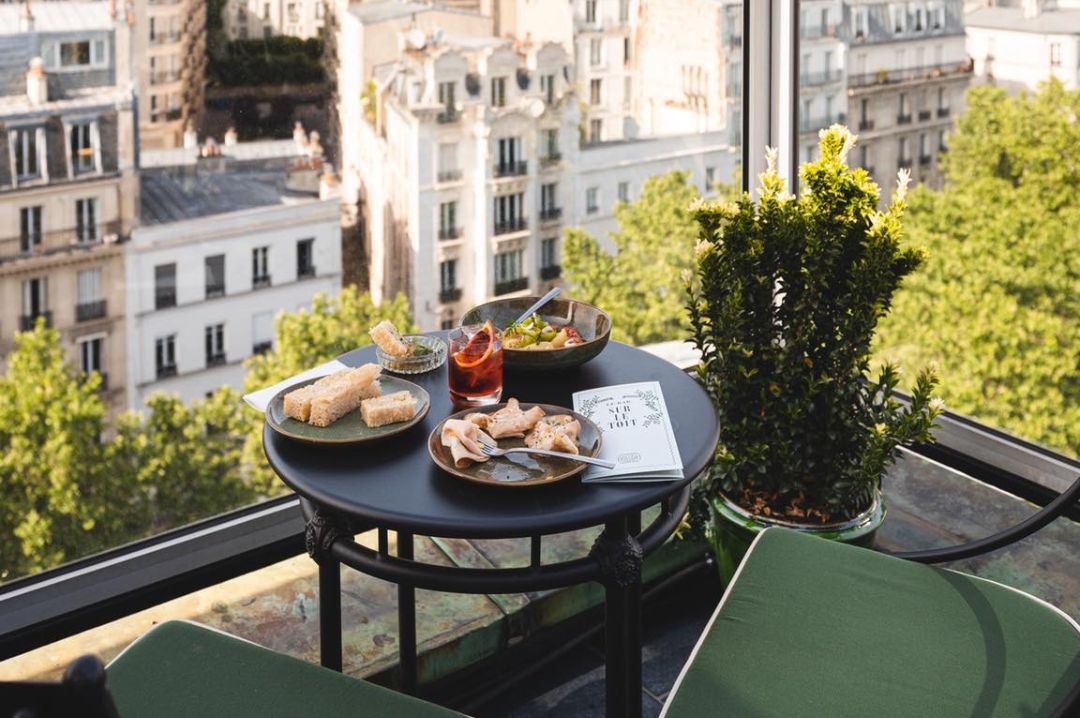 Image Source- Bar Rochechouart
This glass-walled rooftop bar in central Pigalle is one of Paris' best-kept secrets, placed atop the sexy boutique Hôtel Rochechouart. A mesmerizing spotlight shines on the Sacre Coeur Basilica, just north of Bar Rochechouart, giving the bar a panoramic sight of Paris.
You can also enjoy innovative classic cocktails at a reasonable price like the Week-end à Rome a reimagined Aperol Spritz made with prosecco, tonka bean essence, and blood orange juice. Visit with your friends and share your plates of olives, focaccia, and mortadella with your drinks. But if you are too hungry you can dig into their well-portioned bowls of pasta and grilled octopus.
Address:
Bar Rochechouart
59 Boulevard de Marguerite de Rochechouart, 75009 Paris
Rooftop Le Molitor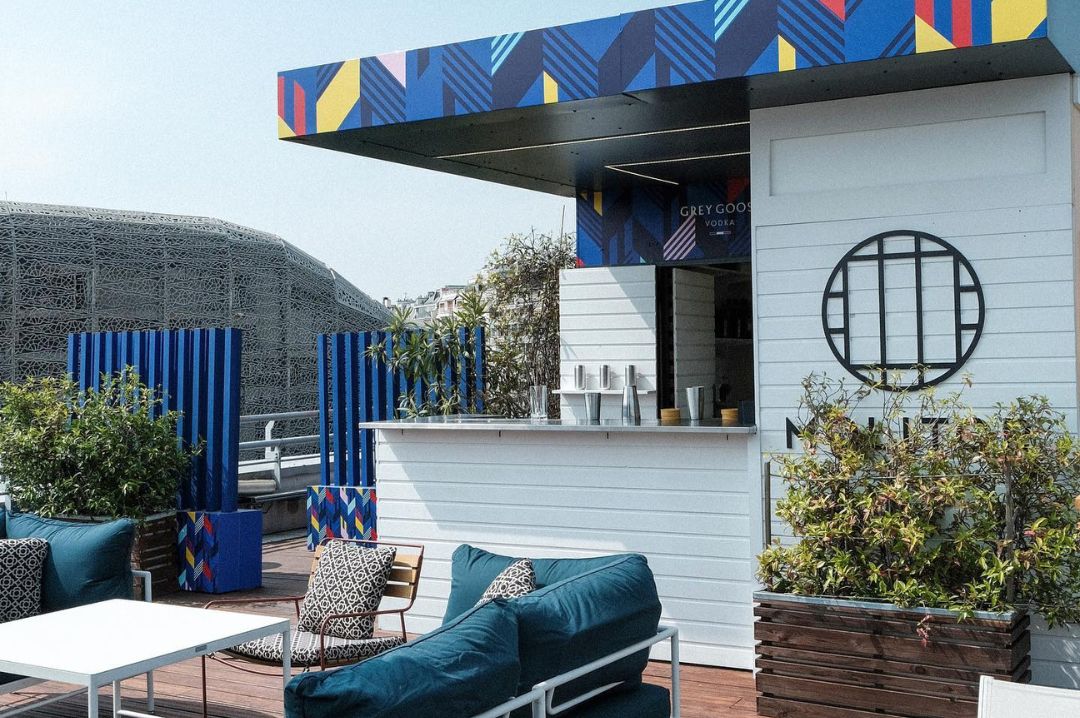 Image Source- Rooftop Le Molitor
Do you want to sip a cocktail at a classic Parisian institution? The Molitor originally opened its doors in 1929, allowing the most fashionable Parisians to swim, drink, and mingle in a magnificent aquamarine pool. The Molitor is now a wonderfully restored relic of Paris' Années folles, with its rooftop cleverly built to resemble the luxury cabanas below.
You are welcome at Rooftop Le Molitor to taste their delightful cocktails or delicious meals while viewing the iconic blue pool and the Eiffel Tower. You must definitely try the Balle de Match, a vodka-based cocktail inspired by the nearby Roland Garros tennis stadium. The Rooftop hosts DJs and artists whose music ranges from reggaeton to techno to soul on Sunday evenings all through the summer. Reservations for meals are requested, although walk-ins are welcome in the rooftop Solarium.
Address:
Rooftop Le Molitor
6 Avenue de la Porte Molitor, 75016 Paris
Written by Aparna Dutta, Beverage Trade Network