Must Dine Destinations in Paris for a Film Buff
Gourmet spots in the French capital that have transitioned to the big screen as part of some of the finest and most memorable flicks and shows.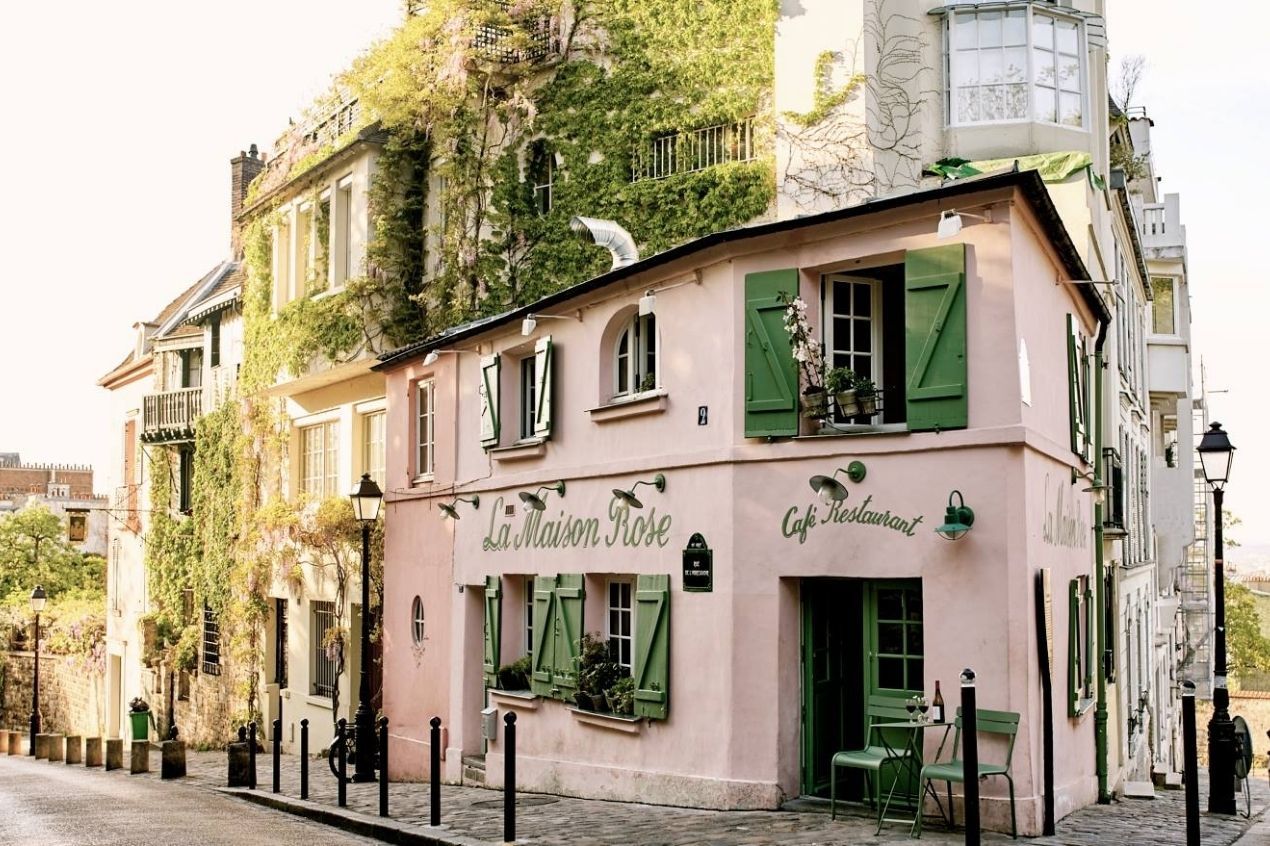 Paris has served as an inspiration for artists for centuries. The culture, setting, history and everything in between give Paris some sort of magnetism. Filmmakers have been no exception to the list of artists who have flocked to the city through the years. The likes of Quentin Tarantino and Damien Chazelle have all shot in the city, more importantly in some of the city's top dining and drinking locations.
From spots that have welcomed some famous writers and philosophers during their heyday, to restaurants and bars that grew in popularity upon their inclusion in a film, here are Parisian food and drink staples showcased in films through the years.
La Renaissance Bistrot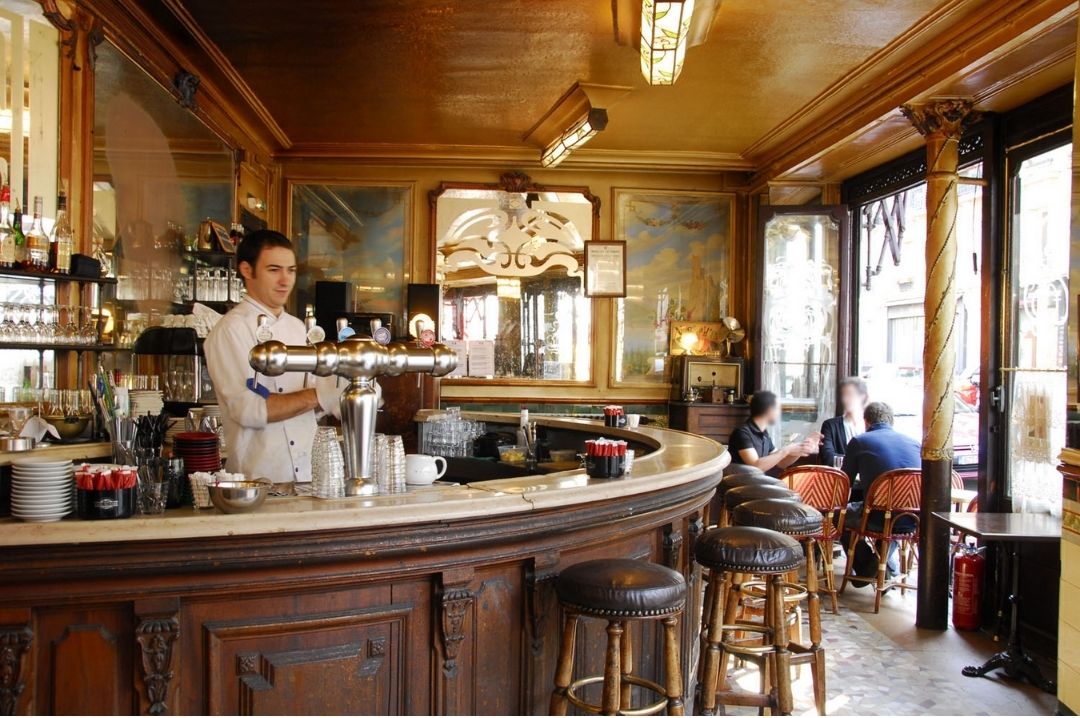 The Bar at La Renaissance Bistrot, Source Website
It is common knowledge that Quentin Tarantino loves a diner or bar to shoot pivotal scenes in his films. Whether it is Jules and Vincent's breakfast scene in Pulp Fiction, Mr Orange's back story in Reservoir Dogs or the diner scene from the same film, restaurants and bars have been an important location in Tarantino films. His direction has taken him across the world and one of his film's scenes took place in Paris' La Renaissance Bistrot.
Inglourious Basterds was a revelation when it came out in 2009, putting yet another star in the storied career of the director. The film was elevated because of the beautiful chemistry between all the stars of the film. In the scene shot in La Renaissance Bistrot, Daniel Brühl's character Fredrick Zoller finds Mélanie Laurent's Shosanna Dreyfus sitting and comes down to chat with her. She insists she isn't looking for a German army officer as a romantic interest before understanding that Zoller is a German officer's son.
La Renaissance Bistrot was established in 1904. The marble countertop and wood mesh with the layout and decor of the bar perfectly. The baroque columns, gilded ceilings and romantic landscapes from a bygone time make La Renaissance Bistrot a time machine of sorts. A reason why Quentin Tarantino turned to it for filming Inglourious Basterds.
Le Caveau du Huchette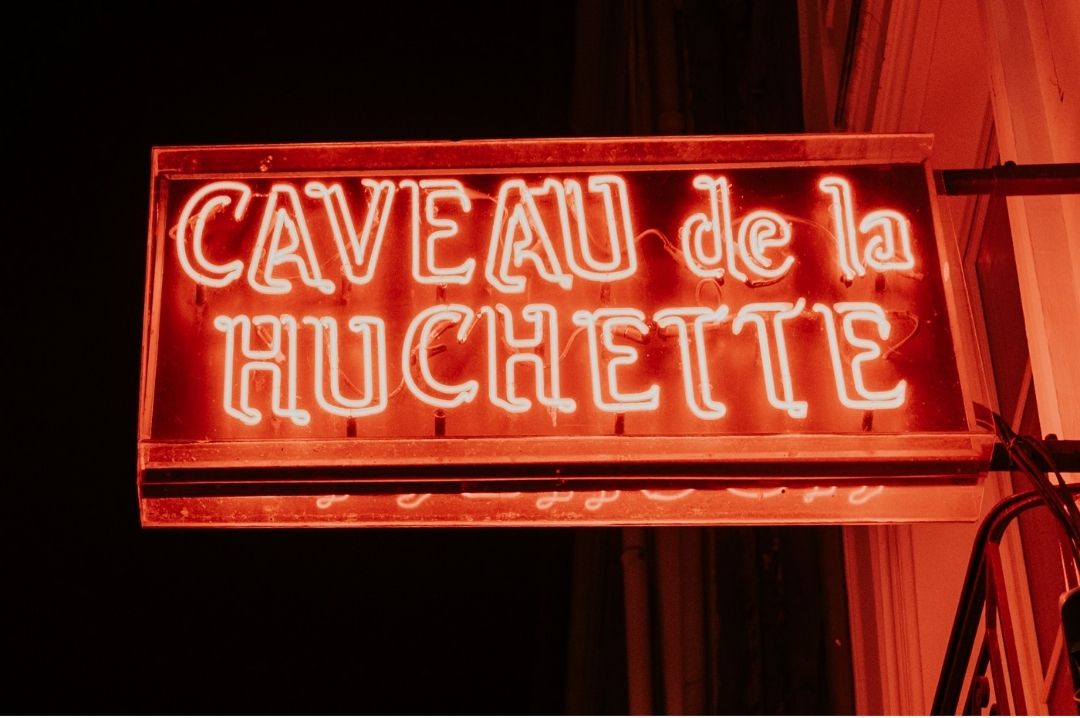 The neon sign at Le Caveau du Huchette, Source Facebook
It wasn't just the music in La La Land that was exquisite. Emma Stone and Ryan Gosling's chemistry was dreamy and Damien Chazelle's wonderful direction made La La Land one of the (if not the) most sensual musical films in recent memory. Mia and Sebastian's journeys and their time together had multiple focal points in the show.
In a brief scene in the film, Le Caveau du Huchette is shown as an underground jazz bar where Sebastian (Ryan Gosling) performs. The red neon signed name also features in the scene. The place itself has an electric atmosphere which could have been why Damien Chazelle decided to shoot a scene in the bar in the first place. As fate would have it, the global popularity of Le Caveau du Huchette has soared ever since the international success La La Land garnered.
La Tour d'Argent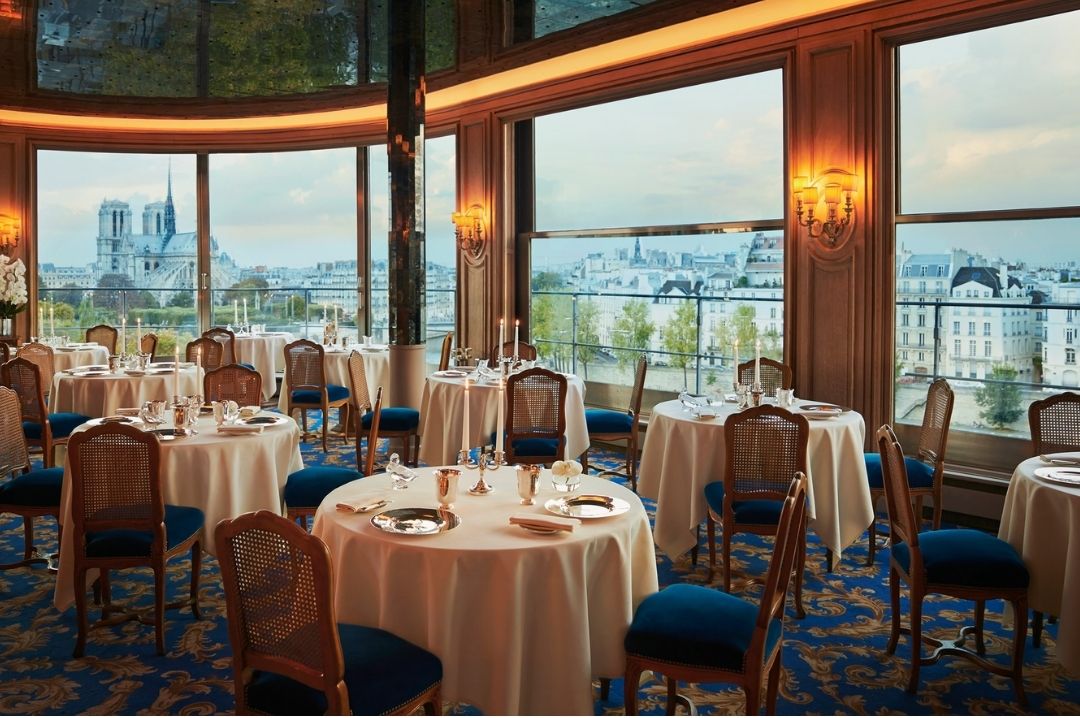 The Tour d'Argent Paris, Source Facebook
When Ratatouille came out in 2007, Remy's tale (excuse the pun) became a household name. His aspirations of becoming a chef and his yearning to work at The Gusteau's was lovely and at times overwhelming to watch. The film about how a rat runs the food show at The Gusteau's still stands as one of the best-animated films ever made.
The restaurant that is shown as The Gusteau's in the film is one of the most expensive restaurants in Paris. La Tour d'Argent is draped in history, growing in the name along with Paris' rise to the top of the most travelled cities in the world. Today, the restaurant is led by André Terrail, whose grandfather, also named André Terrail, was the one who contributed to the legend of this restaurant. A place that will bring you delicacies just like Remy did, minus the fountain and the glowing neon sign at the entrance.
Café des Deux Moulins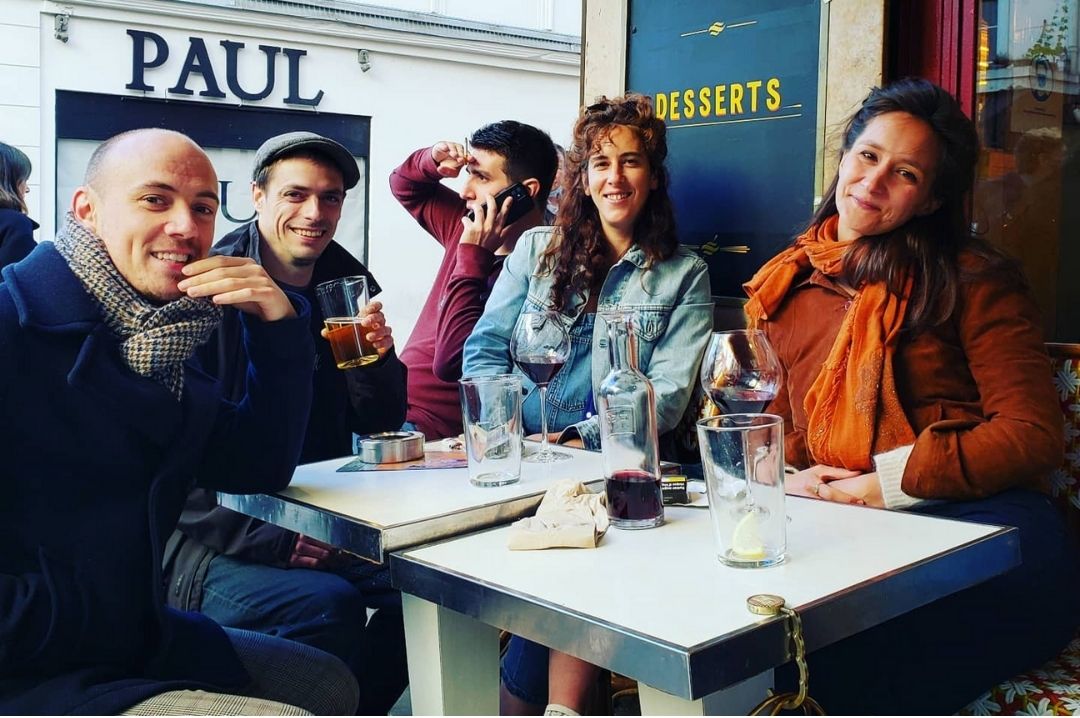 Dine and drinks at Café des Deux Moulins, Source Facebook
Audrey Tatou's iconic role of Amélie Poulain has become a darling of Parisian cinema, with Amélie becoming a big hit overseas as well. In the film, she calls Montmartre her home, with the scenes taking viewers through the area and Paris at large. In the film, Amélie plays a waitress who works in a café. The café where the filming took place is Café des Deux Moulins.
Located on 15 Rue Lepic, Café des Deux Moulins is at times a neighborhood bar or café home to locals. At times it is a bistro that serves traditional homemade cuisine championing fresh produce. If you have watched the film, it will be difficult to look at the café from any other perspective apart from that of Jean-Pierre Jeunet, the film's director. A place one should turn to for understanding why restaurants, bars, and cafés are criminally underrated in the reel world.
On their drinks menu, visitors can find a selection of wines, reds and pinot noirs and chardonnays with a few local varietals to choose from. Their beer menu consists of six suds available in two different sizes and at lower rates during happy hours. The drinks menu is completed by Café des Deux Moulins non-alcoholic drinks are available throughout the day.
La Maison Rose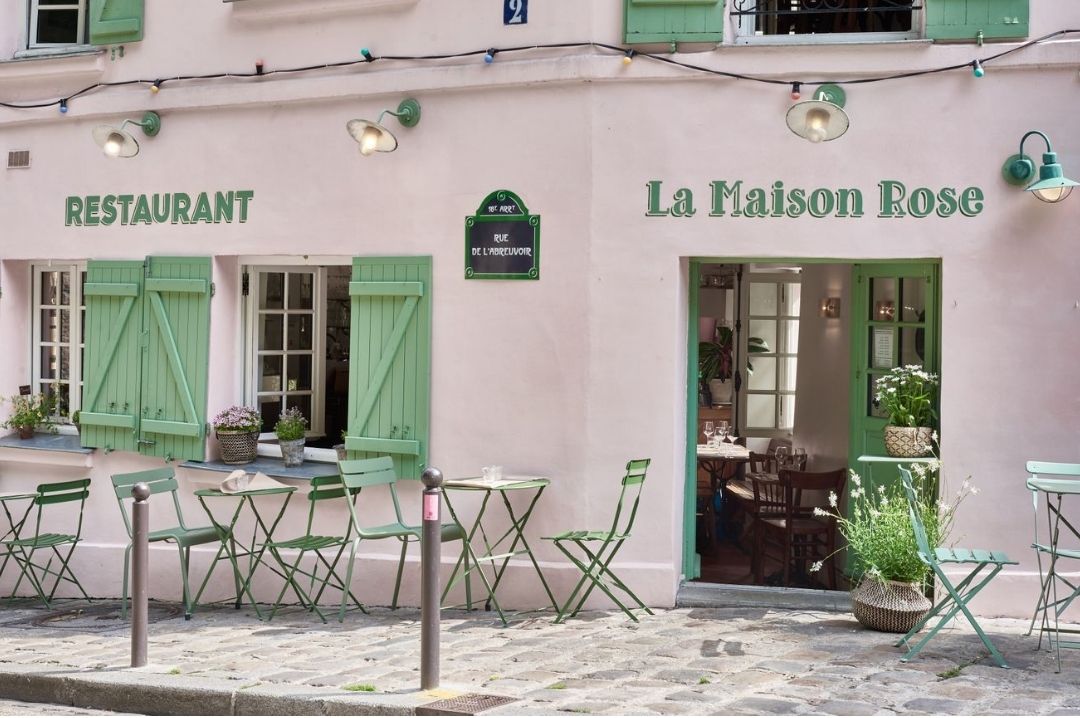 The Pink and Green of La Maison Rose, Source Facebook
The most recent addition on this list in terms of the time it was made, La Maison Rose featured in Netflix's comedy-drama series Emily in Paris. The show revolves around Emily, a Chicago based marketing executive who moves to Paris to bring an American perspective to her French marketing company. The cinematography is stunning and shows Paris in all its grandeur.
Shot across the city, including sequences at the Seine and iconic locales, the series has one of the most beautiful looking backdrops. La Maison Rose plays a small part in making it that way. The French restaurant is the place where Emily and Mindy dine. Known for its iconic pink and green architecture, it is a spot where you can take your Instagram-worthy shots. Enjoy artisanal beers, a nice range of wines with appetizers at one of Montmartre's finest looking buildings.
Café de Flore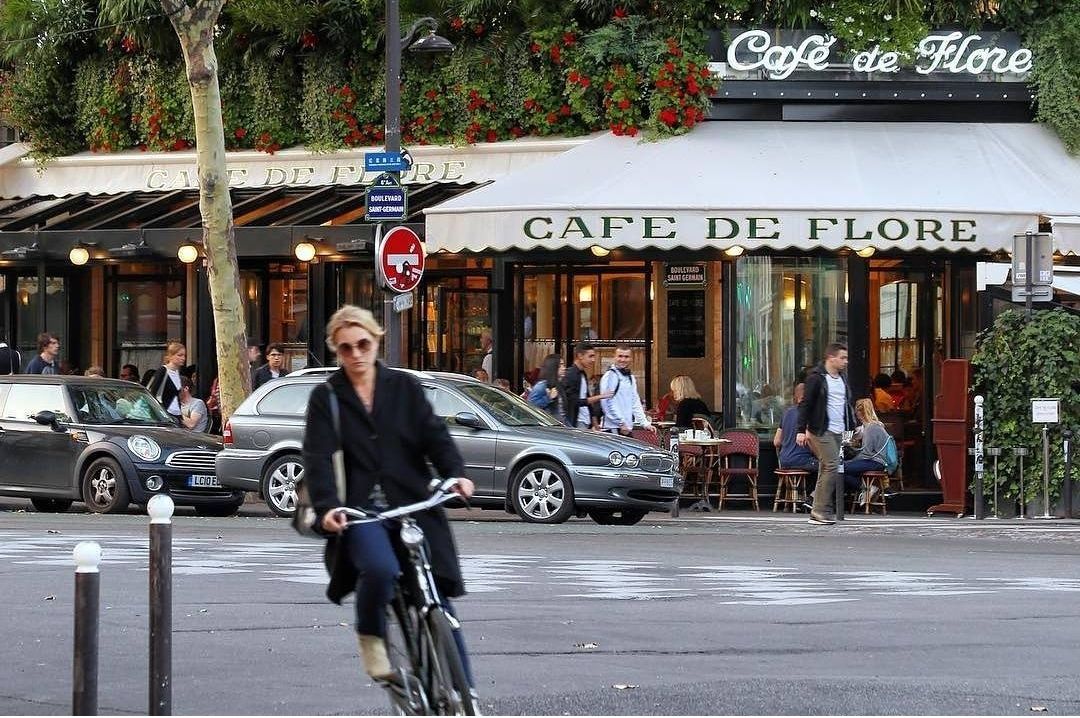 The front of Café de Flore, Source Facebook
It seems Emily in Paris' love affair with French cafés wasn't just limited to La Maison Rose. Also featured in the series is Café de Flore, located in Saint-Germain-des-Prés. Another Parisian dining spot that has a tremendous history dating back to the early 1900s. In Emily in Paris, it is the place where Emily is joined by Professor Thomas as she's dining alone in a scene from episode six.
The café has been a tourist hotspot for decades, calling people of all ages, sometimes snobbish but often chic, who come through the doors asking for a coffee pot. It is the place Robert De Niro comes to dine when he is in the city. Sip on a juice while eating a croissant right on the street as you enjoy the building's marvellous architecture or enjoy their selection of champagnes, cocktails and more inside the café. An all-day café that looks beautiful in the evening.
Header Image- La Maison Rose, Source Facebook