Unveiling hidden bars of Paris
Jump aboard as we uncover secret bars in the French capital. They may be hidden, but not for long.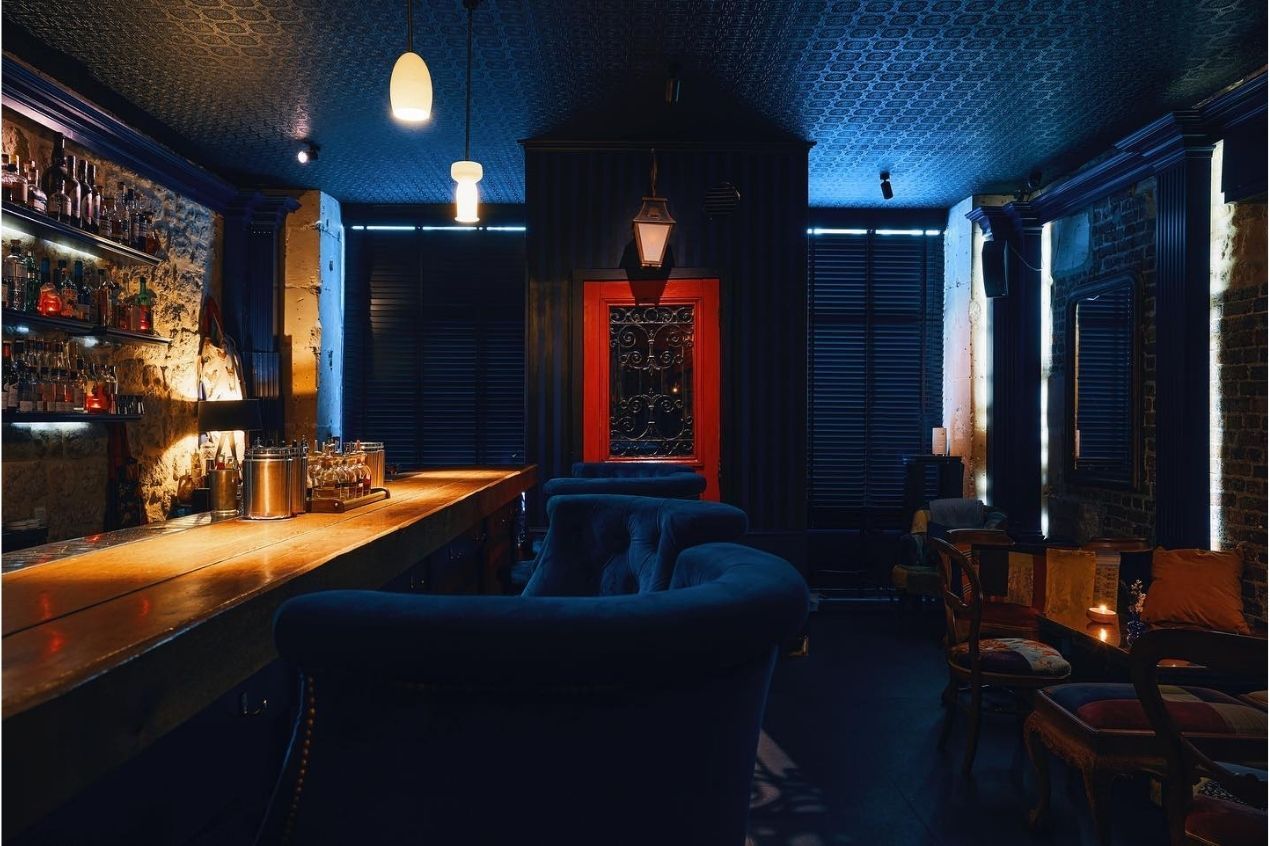 As you search for new places to drink in the city of love, we shed light on those submerged underground, camouflaged in light, hidden behind kitchens, and secluded in tight places.
No Entry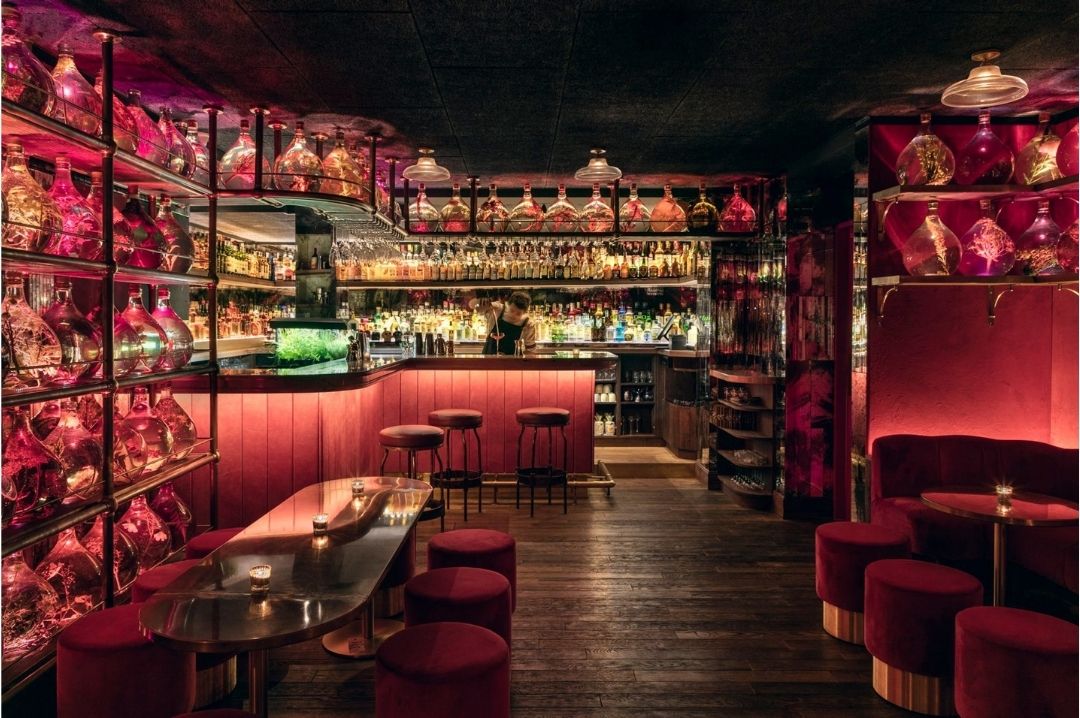 No Entry bar, Source: Facebook
The first step into getting into No Entry is heading into the city's prime Italian spot - Pink Mamma. Go ahead and ask one of the hostesses for a cocktail, and they'll lead you to the speakeasy you've been waiting to get into. Once you enter, you will find demijohn pots set up all around the cozy bar, with over 3000 liters of alcohol in them. The bartending team is known for mixing up some delicious drinks in the suave interiors. If you're a lover of gin, then ask for the Te Amo, made with Ceylon tea infused Tanqueray gin, topped with Peychaud's bitters, mango, lychee, passion fruit-infused cream, cumin soda, and egg white.
Location - 20 bis Rue de Douai, 75009.
Timings - 7 pm to 1 am (Monday)
7 pm to 11.30 pm (Tuesday to Sunday)
La Mezcaleria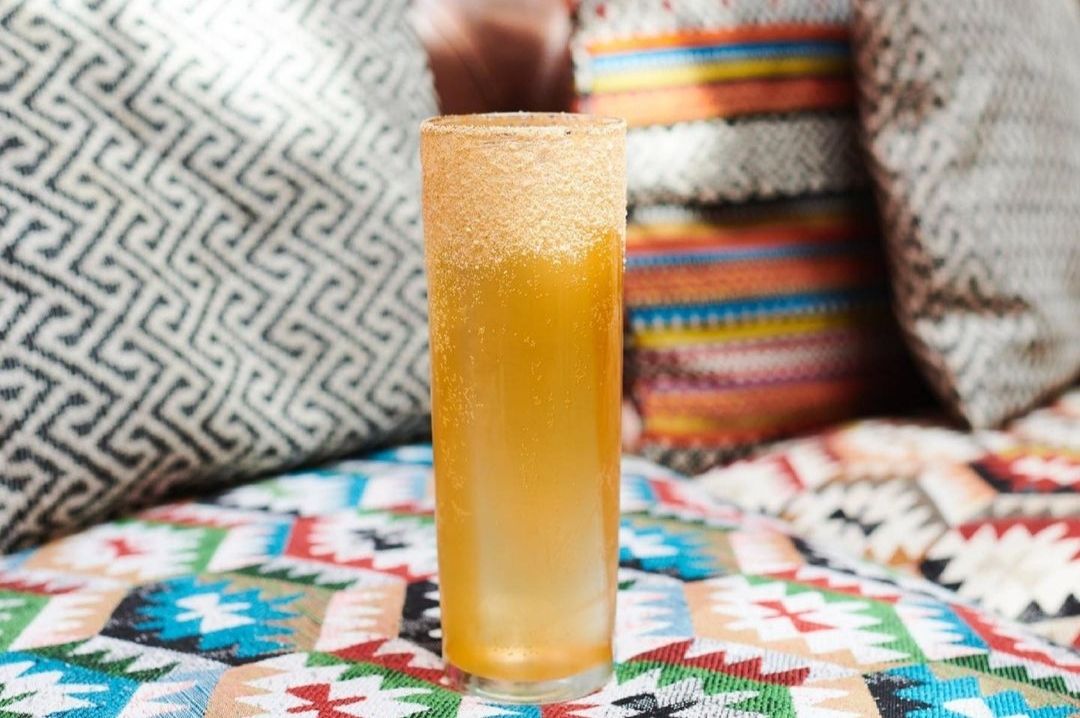 Oh My Gode cocktail, Source: Instagram
Hunting for mezcal cocktails? Walk into the 1K Hotel and make your way to the backdoor of Inka restaurant to find this hidden gem. Once you hit the La Mezcaleria, the bartender will treat you with colorful mezcal cocktails like the sweet and strong Oh My Gode, fiery Swinger's Delight, prickly Eat & Run, pinky Juicy Amy, and others. The bar is known for creating drinks based on personality and color. If your favorite color is pink, check the menu for the 'pink' drink - and you will not be disappointed. And while the mezcal kicks in, indulge in the Peruvian cuisine and old-school R&B music that adds to the Hispanic decor.
Location - 13 Bd du Temple, 75003.
Timings - Closed (Sunday to Thursday)
7 pm to 2 am, (Friday)
7 pm to 12 am (Saturday)
Blaine Bar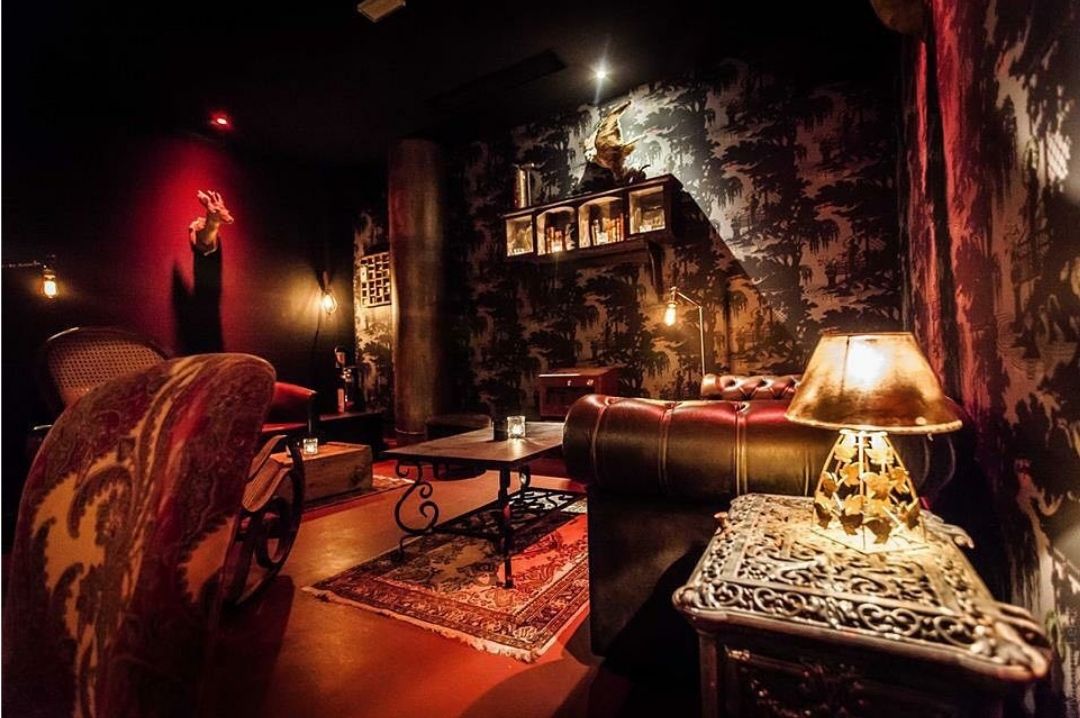 Prohibition themed setting at Blaine Bar, Source: Instagram
Located at the heart of Le triangle d'Or, Blaine Bar is themed on the Prohibition of the 1930's, for which you will need a password to enter. Note: the password changes every week and the only way of getting one is contacting them on Facebook and requesting for it.
The clandestine bar is a hard find, but don't worry because we have cracked it. All you need to do is whisper the password to the man standing behind the big black door at the bottom of a neglected staircase on the Rue Pierre Charron street in 8th arrondissement. Once you step in, the bar will take you back in time with its Normandy country house setting. Relax on the velvet armchair and sip on the Kuma As You Are cocktail made with Kuma Turmeric Liqueur, Chuckanut Bay Vodka, lemon juice, and simple syrup.
Location - 65 Rue Pierre Charron, 75008.
Timings - Closed (Sunday to Monday)
9 pm to 3 am (Tuesday to Thursday)
9 pm to 4 am (Friday to Saturday)
Moonshiner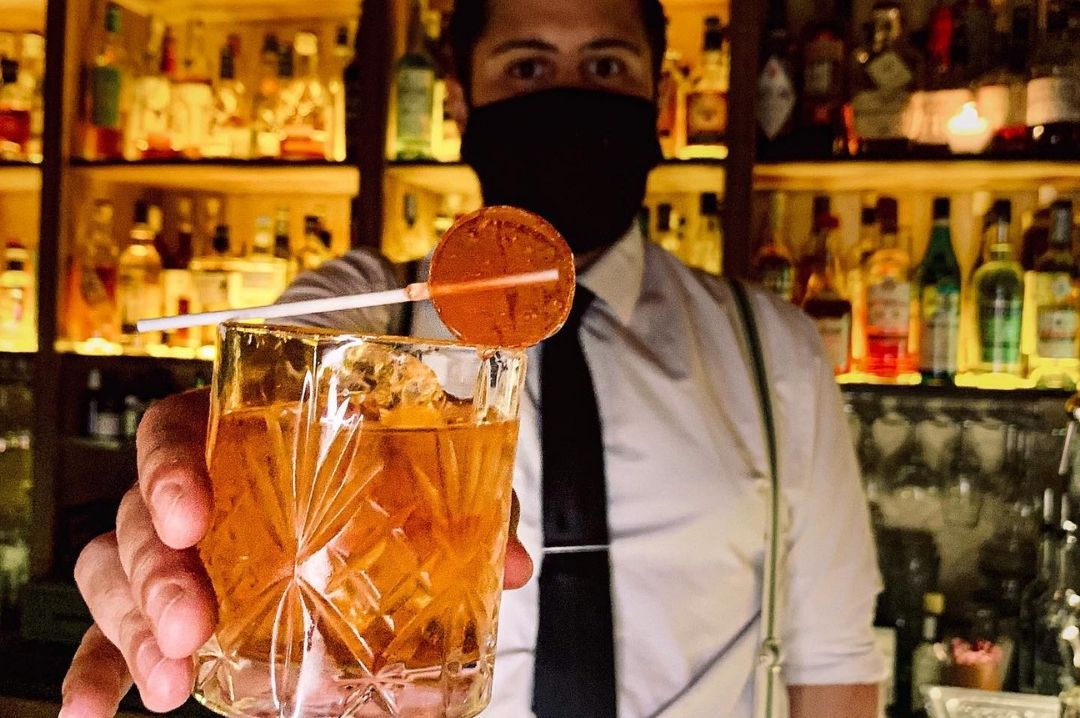 The Fashioned Pop cocktail with lollipop, Source: Facebook
Hiding with great effect behind the Da Vito pizzeria, the Moonshiner can only be accessed via the metal door of the walk-in fridge. Enjoy from their range of signature cocktails like The Fashioned Pop made with Buffalo Trace Whiskey, syrup, and a homemade acidic lollipop. Relax on one of the leather chairs as vintage jazz music plays in the background. Add some pizzazz to your trip there and look for a locked safe around the bar. Go ahead and try opening it, we couldn't, but maybe you might be able to!
Location - 5 Rue Sedaine, 75011.
Timings - 6 pm to 2 am (Sunday to Wednesday)
7 pm to 3 am (Thursday to Saturday)
Little Red Door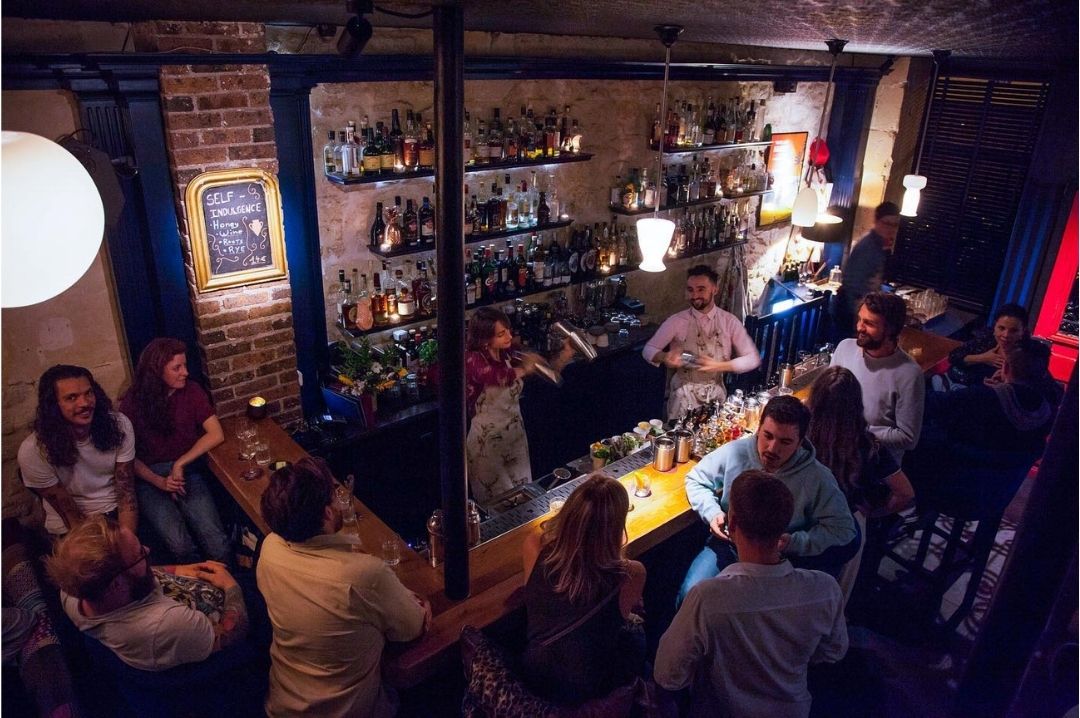 A lively bar counter at Little Red Door, Source: Facebook
The Little Red Door is a great clue to finding the bar, but the entrance is actually from a grey door beside it. The secret bar in the Marais district will hug you with a warm and cosy interior highlighted by pop up brick walls. Sip on Parisian styled cocktails like Déjà vu made with Farmily Vodka, Baldoria Dry, olive brine, and Nocellara olive that will leave you wanting for more. Want something off-the-menu? Just tell the bartender what you're feeling up to and voila! magic in a glass.
Location - 60 Rue Charlot, 75003.
Timings - 6 pm to 2 am (Sunday to Thursday)
6 pm to 3 pm (Friday to Saturday)
Baranaan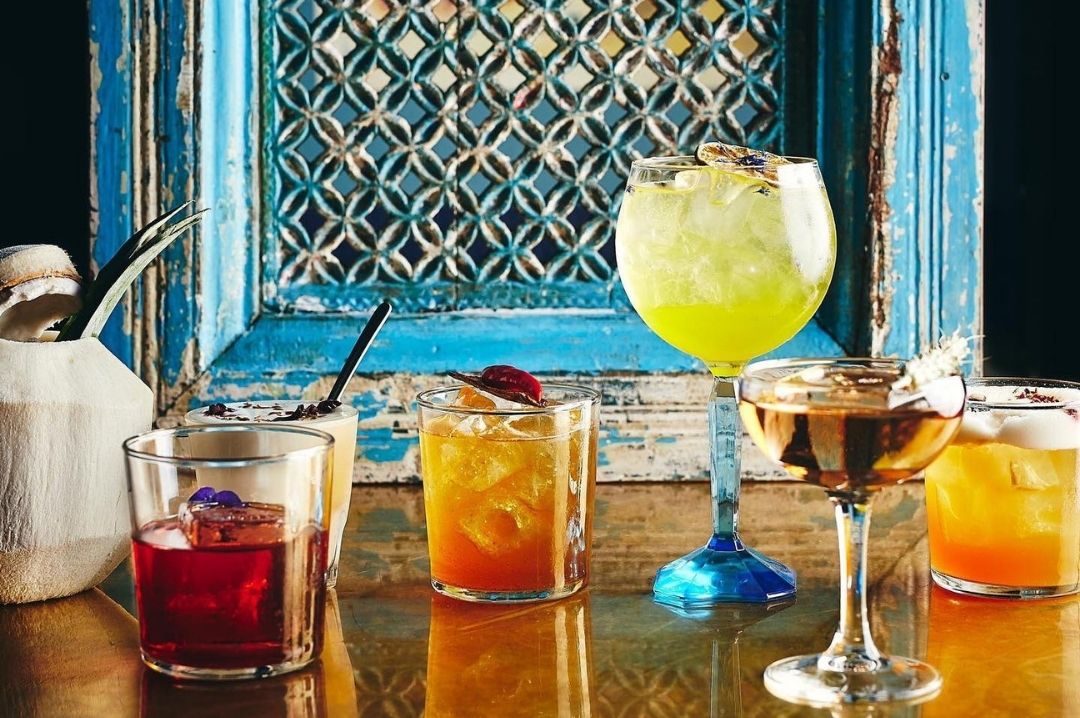 Baranaan's Indian styled cocktails, Source: Facebook
Find a secret door to enter the Baranaan behind the Elaichi restaurant in the 10th arrondissement. Get ready for spicy Indian styled cocktails like the Slumdog made with téquila, eucalyptus cordial, and thé rouge Rooibos. The decor will take you on a journey through the Indian railway stream, with leather benches and window screens displaying the movement of the rail line. We recommend the Darjeeling Spirit cocktail made with absinthe, Suze, Curcuma cordial, citron vert, and soda to go with their delicious tandoori naan.
Location - 7 Rue du Faubourg Saint-Martin, 75010.
Timings - 12 pm to 2.30 pm, 6 pm to 11 pm (Tuesday to Thursday)
Closed (Friday to Monday)
The Library Bar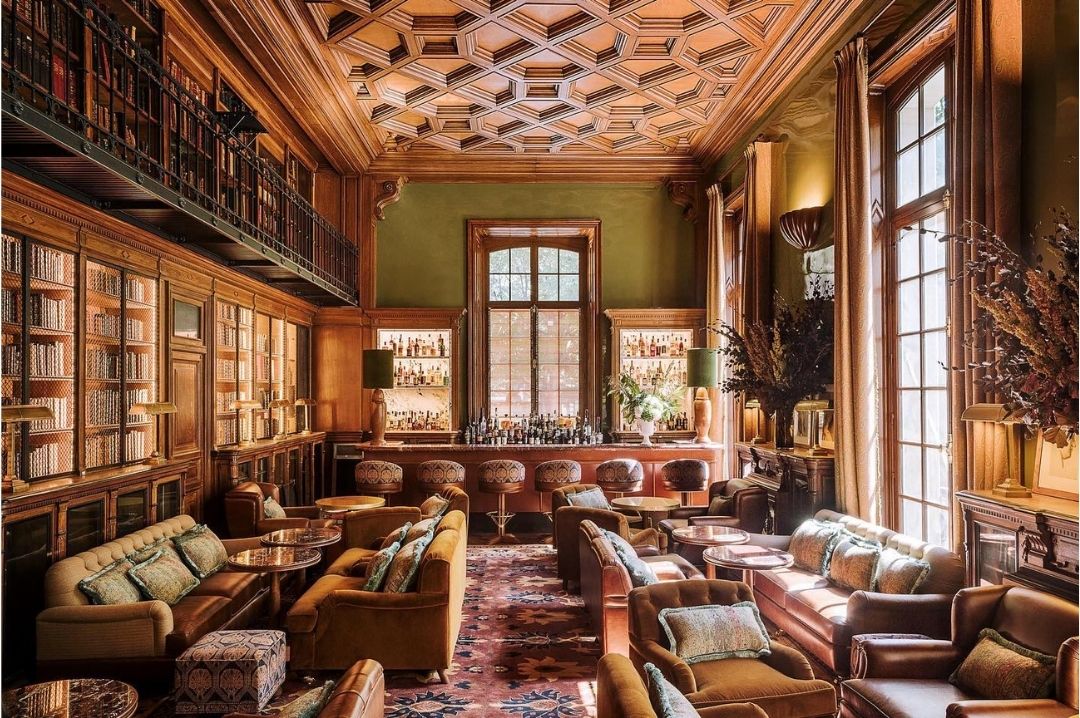 The Library Bar at Saint James hotel, Source: Facebook
As we tread a path of discovering hidden bars on the streets of Paris, The Library Bar masters the art of hiding in plain sight by containing itself in the Saint James hotel. Enjoy creation cocktails like the Highfly, made with tequila, moutai, honey, and ginger beer from barman Mathieu Le Feuvrier. Melt into the comfortable atmosphere, embossed with thick Iranian patterned rugs and Indian cashmere throws that fit seamlessly with the bar counter. It necessarily doesn't stand out but fits in the Saint James hotel with a simple yet elegant display. During the summer, a second bar is set up in the garden for a cocktail-and-chill vibe.
Location - 5 Pl. du Chancelier Adenauer, 75116.
Timings - 7 pm to 1 am (Monday to Sunday)
Mobster Bar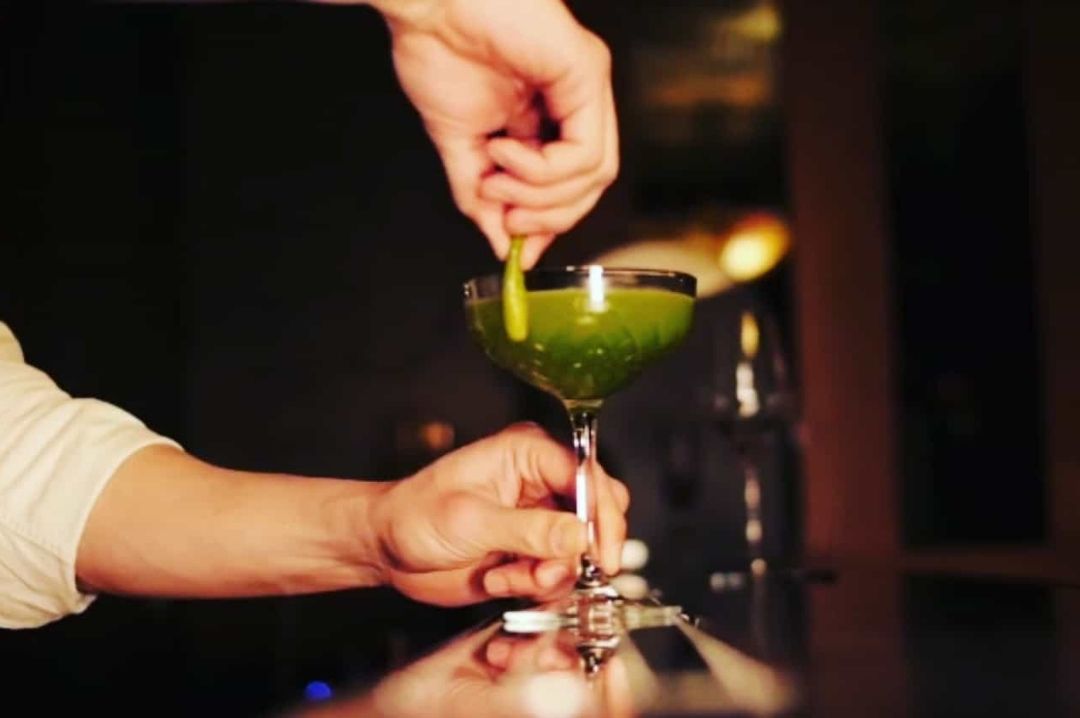 Dizzy Gillespie cocktail, Source: Facebook
To set foot in the Mobster Bar you will need to find a phone booth at the Rue de Crussol in the 11th arrondissement and type the secret code to set foot in the bar. The code will be disclosed once you pick up the phone in the booth. Set on the Prohibition theme, the bar serves cocktails like The Mob Fashioned made with absinthe, angostura, and bourbon to slurp on while grooving to jazz tunes. You can go for other cocktails like La Vallejo, A Rhum Supreme, and Dizzy Gillespie while admiring a bold art decor. The Lozano brothers have set up a 1920s atmosphere with period music and Prohibition-inspired cocktails at the bar so you can take one off from the busyness of the crowd.
Location - 8 Rue de Crussol, 75011.
Timings - 7 pm to 1 am (Sunday to Thursday)
7 pm to 2 am (Friday to Saturday)
Lavomatic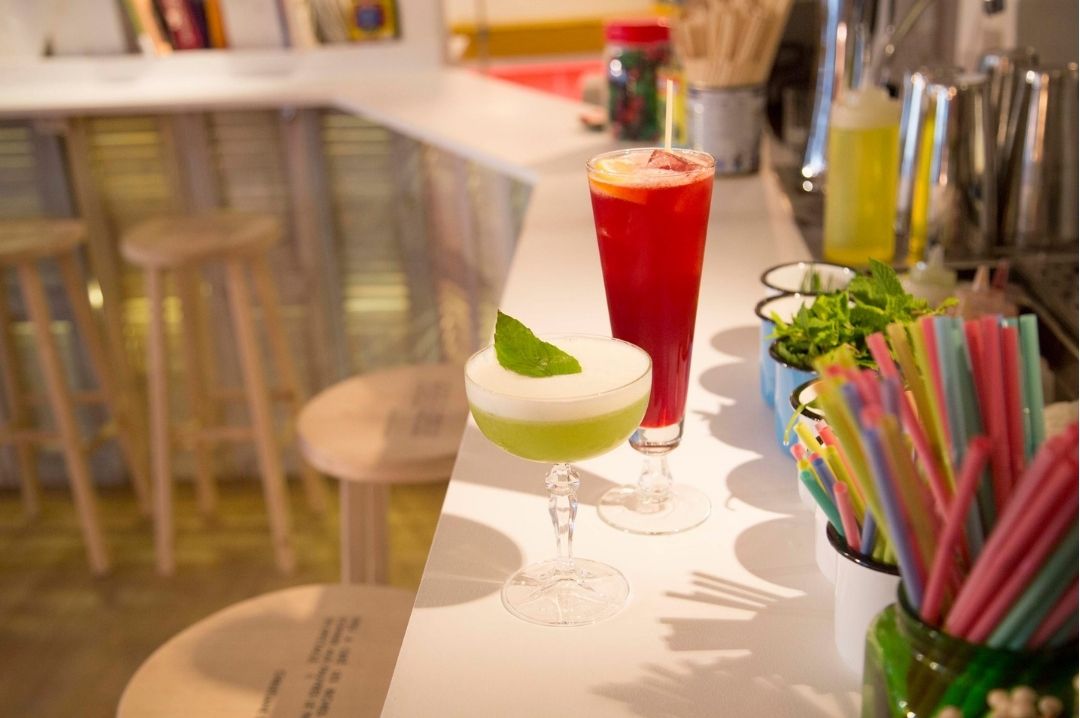 Crafty cocktails at Lavomatic, Source: Facebook
To find the Lavomatic bar, you will need to sharpen your detective skills, but let us give you a hint; it's behind the laundromat which shines in blue colors from the street. Cocktails at Lavomatic are crafted with house-made syrups and infusions with precise fruity and herbal nuances. A list of crafty cocktails includes Piña Ouh la la, Red Hot Chili Pepper, Mary's Pepper, Champagne Champêtre, Meli-Melon, Life is a Peach, Drunk in Love, American Pool Party, and more.
Tip: The washing machines on the entrance are functional so if you have some unfinished laundry business and a cocktail thirst to quench, this might be the perfect solution.
Location - 30 Rue René Boulanger, 75010.
Timings - Closed (Sunday to Monday)
6 pm to 1 am (Tuesday to Wednesday)
6 pm to 2 am (Thursday to Saturday)
Silencio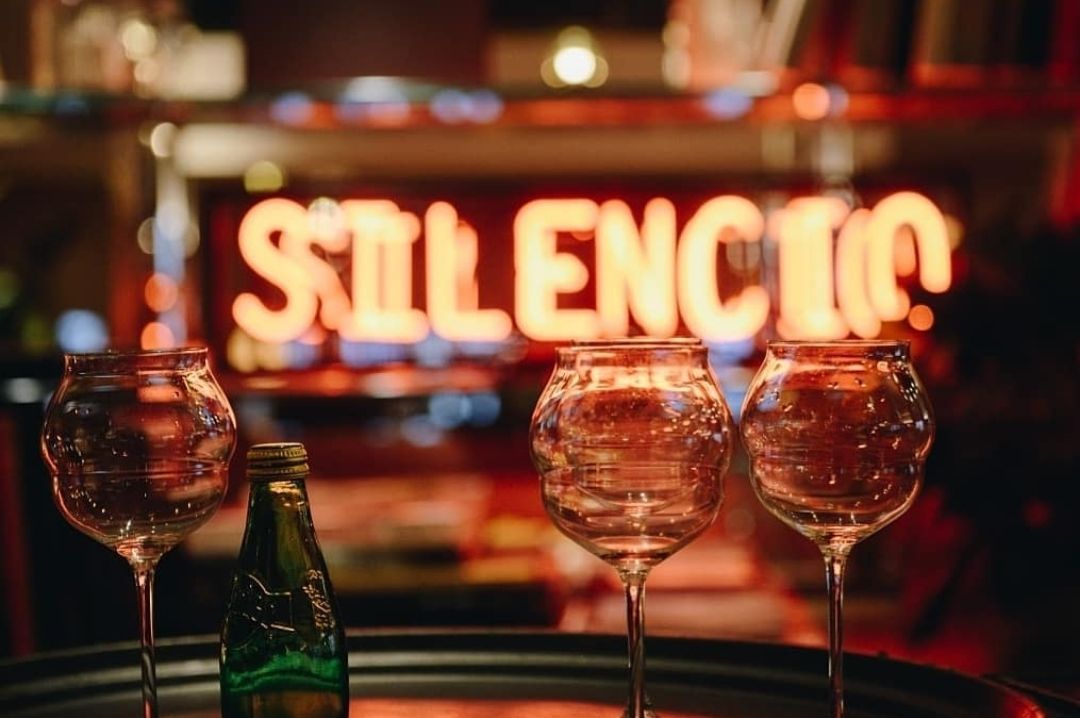 Silencio theatre and nightclub, Source: Facebook
Disguising itself as a cinema theatre, Silencio turns into a club open for the public after midnight. Come early and enjoy a movie (provided you have booked your tickets) or show up at midnight with the nightcrawlers to be a part of secret parties hosted by the American movie director, David Lynch. You may wander in Lynch's world enclosed with smoked glass walls and 1950's furniture, hitting the dance floor or applauding the art gallery as the party rages. You may opt for classics such as the Moscow Mule, Negroni, Margaritas, and more.
Location - 22 Rue Guillaume Apollinaire, 75006.
Timings - Closed (Sunday to Monday)
6 pm to 4 am (Tuesday to Thursday)
6 pm to 6 am (Friday to Saturday)
Header image - Little Red Door, Source: Facebook