The oldest bars in Paris
From world-famous Bar Hemingway to Paris' favorite Henry Bar, here are the oldest drinking spots in Paris.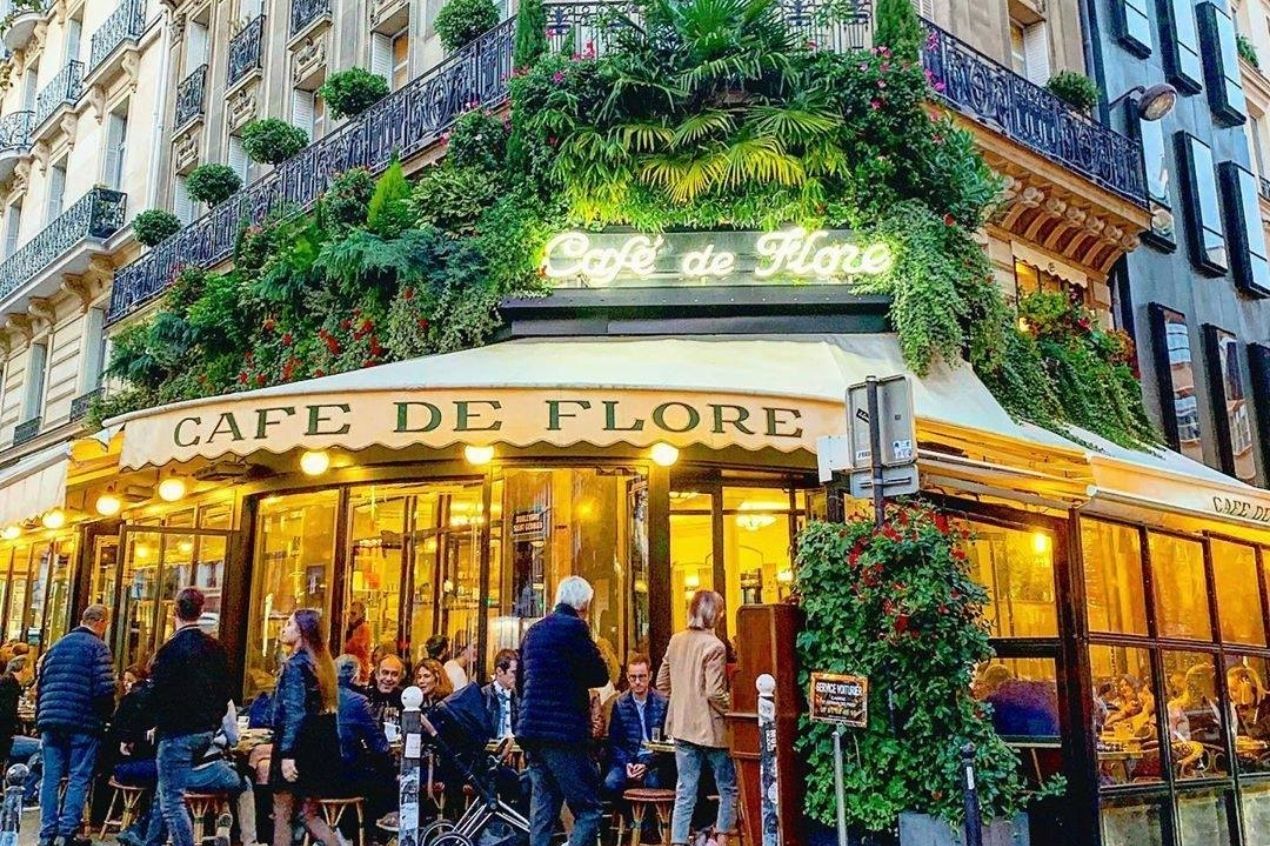 For centuries, Paris has been home to many watering holes, some famous amongst locals, some known around the world, and some hidden in the cobble-stoned streets of the city. Today we take you back in time as we round up some of the oldest drinking spots the city of love has to offer.
Harry's New York Bar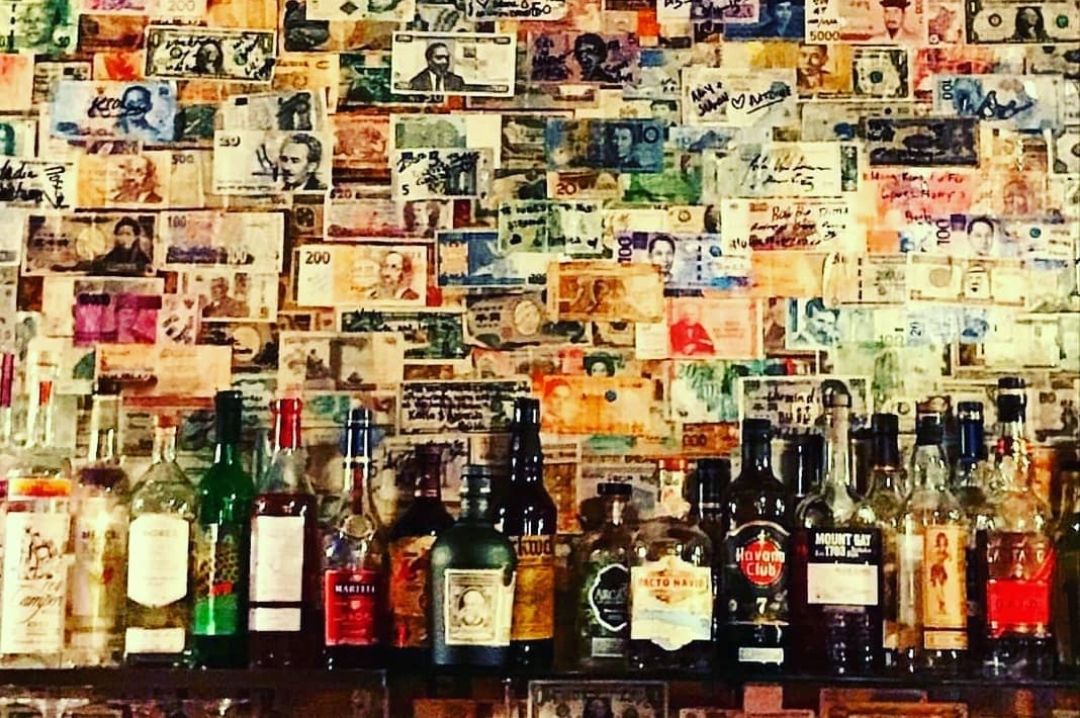 The Famous wall at Harry's New York Bar Paris, source: Facebook
Harry's Bar was born in 1911, on Thanksgiving Day. It is a bar literally dismantled from the 7th avenue of Manhattan and reassembled on rue Daunou in Paris. The decor changes every ten or fifteen years because it quickly becomes the model copied throughout Paris. With their motto to be traditionally inventive, Harry's Bar continues to invent cocktails that travel by the world and become classics like the Bloody Mary, the Blue Lagoon, or the White Lady. They offer over 400 cocktails and this is one of the hallmarks of their house. We recommend the 'James Bond', a tribute cocktail launched at the release of the film "James Bond vs. Dr. No". It is a heady mix of sugar, lemon zest, Angostura bitters, vodka, and champagne. With cocktails in the show, Harry's Bar also has the most beautiful whiskey cellar in France with more than 350 references. Your visit to Harry's will be complete only after descending the few steps and experiencing the vibe of their piano bar.
Where - 5 Rue Daunou, 75002
Hours - Mon-Sun (12 pm - 1 am)
L'Imprévu Café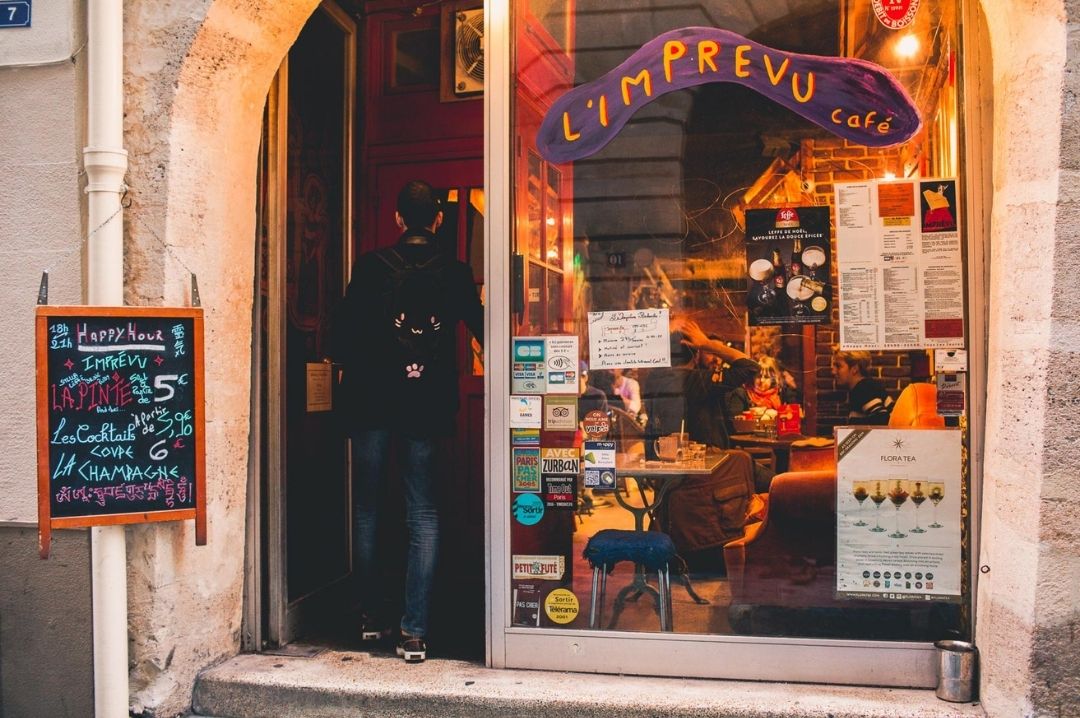 Entrance of the L'Imprévu Café, source: website
'Imprévu' in French means unpredictable and L'Imprévu Café is quite true to its name. This watering hole was established in 1997 and is known for delivering something unexpected every time. The interior is filled with Renaissance-style paintings, moldings, street art, and 1970s decor. Beyond the interior design, the bar's greatest asset is its cocktail menu, which is filled with exceptional and original concoctions, like the '700 Avant J.-C.', with whiskey, lemon, and some 'secret' ingredients. You'll also find classics like Bloody Mary and punch. They are not heavy on the beer, you will find one, lonesome lager. Happy hour finishes relatively late and those on a budget will appreciate the prices. Get cocktails at €7, pints from €5, and champagne for €6 a glass during happy hours. Take your time at this atypical bar.
Happy Hour - Mon-Sun (4 pm - 10 pm)
Where - 9 Rue Quincampoix, 75004
Hours - Mon-Thu (3 pm - 1 am)
Fri-Sat (3 pm - 2 am)
Sunday (3 pm - 12 am)
Chez Georges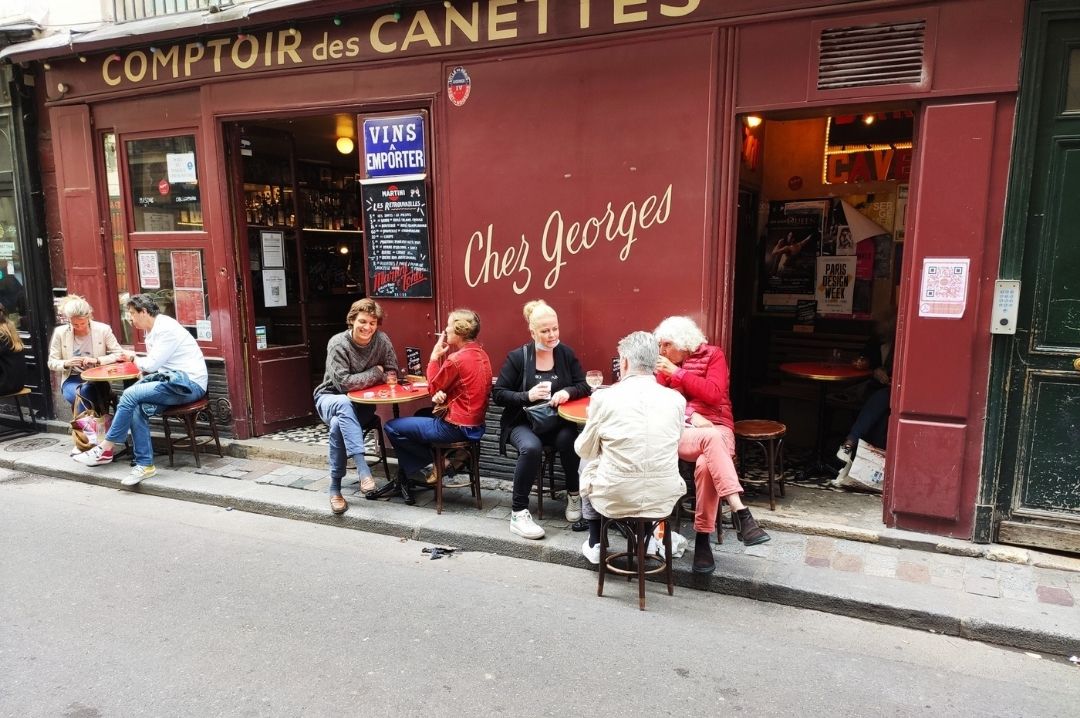 Outdoor patio at Chez Georges, source: Facebook
Established in 1952, Chez Georges is both a wine bar and a bistro hidden in the center of the Saint-Germain-des-Prés. The house wines are impressive and the tasty parfait will impress you at the first bite. The cooked tartines, cheese bread, or chicken are great accompaniments. Come here after a hard-working day and relax in the cozy atmosphere.
Where - 11 Rue des Canettes, 75006
Hours - Mon-Fri (6 pm - 2 am)
Saturday (3 pm - 2 am)
Sunday (6 pm - 1 am)
Bar Hemingway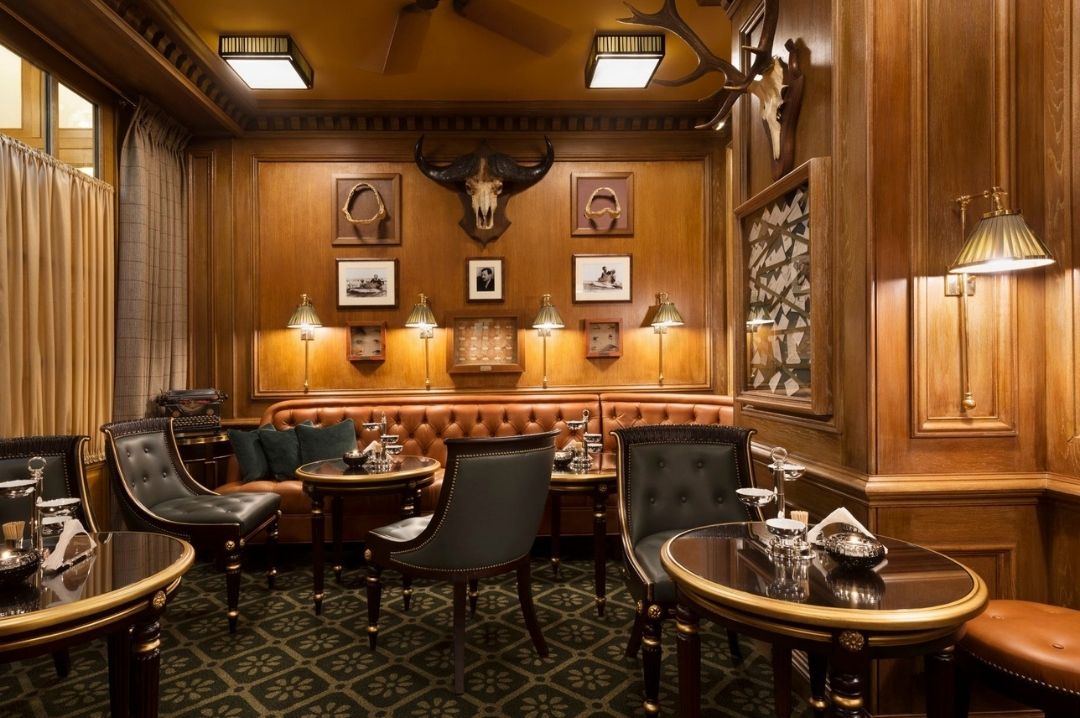 Inside Bar Hemingway, source: Facebook
Bar Hemingway, the smallest bar in the world, owes its name to the journalist-writer Ernest Hemingway, who often visited the spot. It was established in 1921 and this year marks its 100th anniversary. The decor retains its old-world charm with tufted leather banquettes, wooden walls, and bar stools. You come here for the cocktails but stay for the conversation with the longtime head barman and cocktail legend Colin Field. He has been here for the past 25 years and has a lot to share about cocktails and his experience. Despite having created the menu—which is full of twists-on-classics such as the Clean Dirty Martini, served with a frozen cube of olive juice, and the Ritz Pimms with, of course, many secret ingredients in addition to ginger ale, champagne, and fruit, cucumber, fresh mint, and griottine cherries—he'd much rather just choose for you. There are bar snacks at their best, bowls of olives, almonds, and crispy chips are regularly served by the waiters. There is not much to offer from the kitchen but the mini hotdogs and hamburgers have all the eyes. The place is pricey but you won't regret coming here.
Where - 15 Pl. Vendôme, 75001 (in Ritz Paris)
Hours - Tue-Sat (6 pm - 2 am)
La Petite Chaise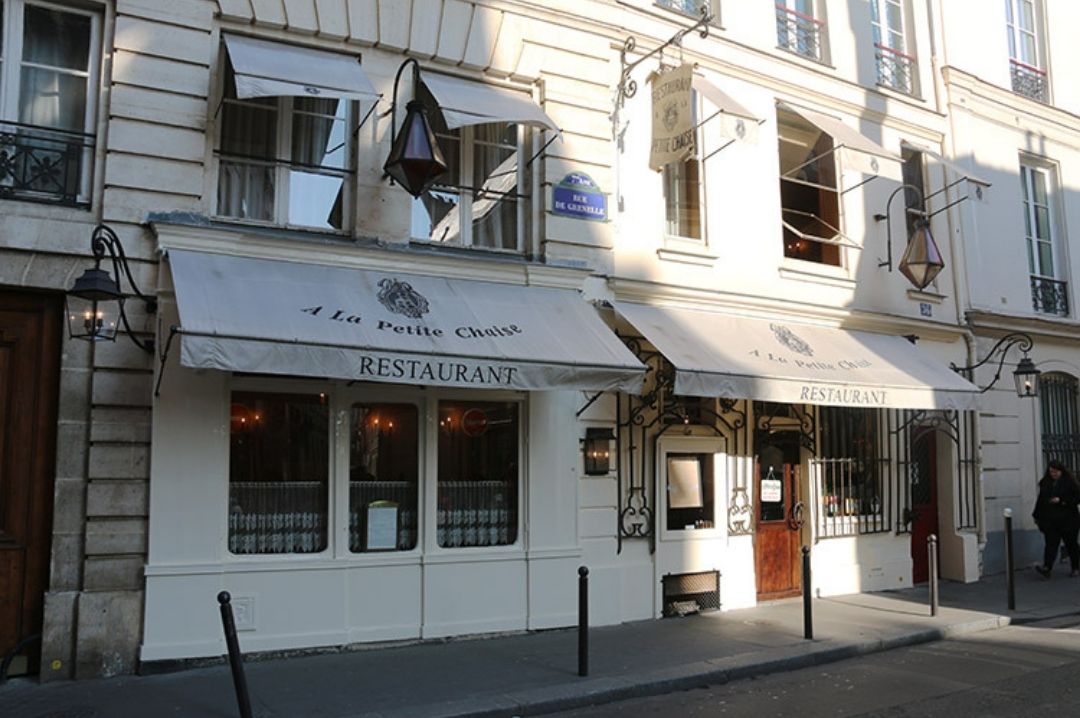 La Petite Chaise from the outside, source: website
La Petite Chaise is the oldest restaurant in Paris and has been here since its opening in 1680. At La Petite Chaise you can enjoy a meal of traditional French cuisine concocted by their chefs Christophe and Franck and can eat in one of their rooms or on the terrace when the weather permits. Start with the authentic French onion soup and salads of boudin noir with a big pile of fresh greens. For the main course, you can order seafood 'Choucroute', an enormous heap of sauerkraut with various pieces of fish, and a creamy beurre blanc sauce. Finish off in style by ordering the bitter chocolate cake assembled with custard with coconut flan, and ultra-dark homemade chocolate sauce. And of course, the wines from the M. Chapoutier winery will be the shining stroke of the night. Depending on your taste and the food you order, you can select an organic wine from the menu.
Where - 36 Rue de Grenelle, 75007
Hours - Mon-Sun (Lunch: 12 pm - 2 pm and dinner: 7 pm - 10 pm)
Extra Old Café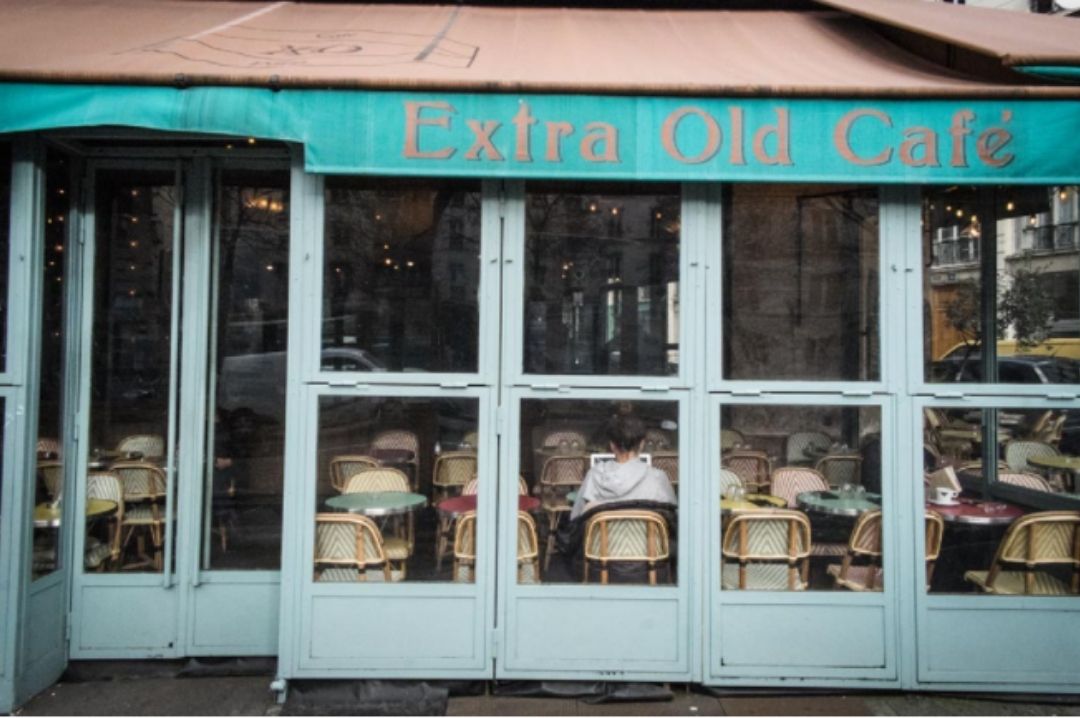 Front view of Extra Old Café, source: website
Whether you want to have a coffee, a detox breakfast, a "sandwich-croissant", drinks with friends, a nice board of cold meats or cheese, a cocktail, or dinner, Extra Old Café is the place to be. The place is one of the best spots near Place de la Nation with authentic and vintage art decor. This neighborhood brasserie & bar has a beautiful south-facing terrace sheltered in winter and a large menu offering exotic starters, main courses, and desserts. The drinks menu extends from beers on taps like Meteor, and Vedett to bottled classics like Corona and Brewdog. The wine list focuses on Italian wines, ranging from whites to reds, to rosés. You can also get your favorite cocktails like the Cosmopolitan, Old-fashioned, or the Mai-Tai in this old cafe.
Where - 307 Rue du Faubourg Saint-Antoine, 75011
Hours - Mon-Sun (7 am - 2 am)
Café de Flore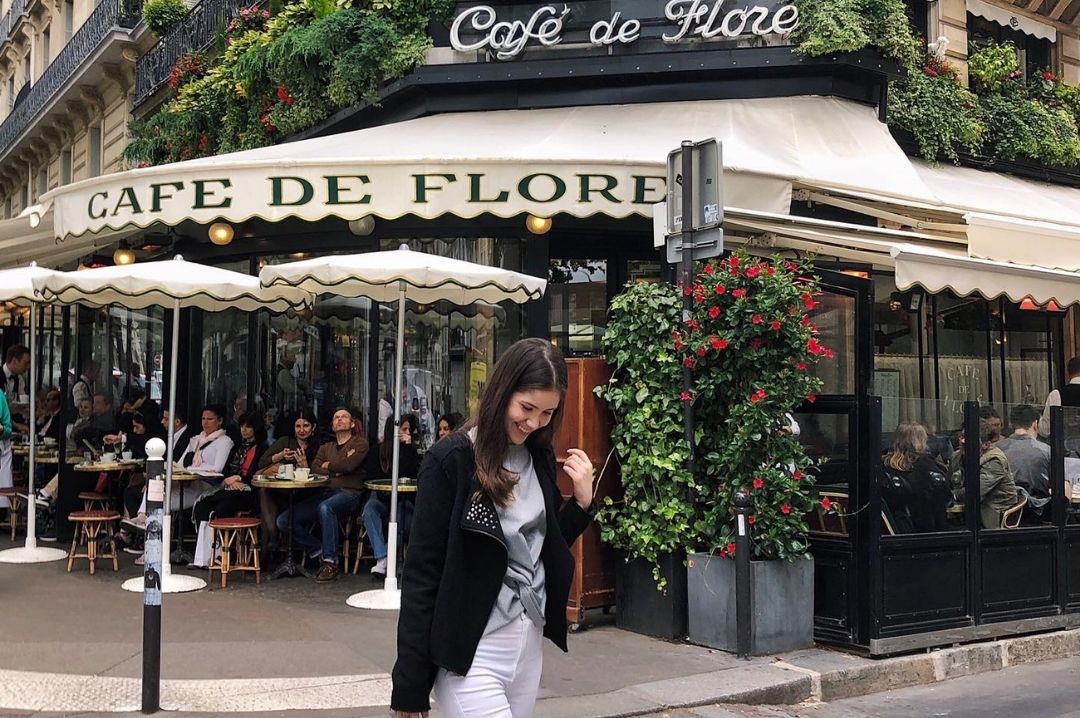 Café de Flore, source: Facebook
Café de Flore would probably not exist if it wasn't for the dozens of writers who passed through its doors. Established in 1885, this place is home to many poets and writers like Louis Aragon, André Breton (Dada founding member), and Guillaume Apollinaire. For almost fifty years, this place was the place for literary meetings, philosophical debates, and artistic daydreams. The interior is occupied with red booths, mahogany, polished brass railings and has changed little since the Art Deco period. For drinking the place purveys a large menu which includes French wines, cocktails, and beers.. Don't come home without trying their very own cocktail creation 'le Flore', which includes champagne red fruits coulis, Grand Marnier, and brandy. The kitchen offers basic french cuisine, you can go with simple quiche or a duck confit.
Where - 172 Bd Saint-Germain, 75006
Hours - Mon-Sun (7:30 am - 1:30 am)
Header Image, source: Cafe de Flore