Alcohol delivery in Paris
Get your favorite wine, beer, liquor, and any other alcoholic beverage delivered directly to your doorstep in Paris.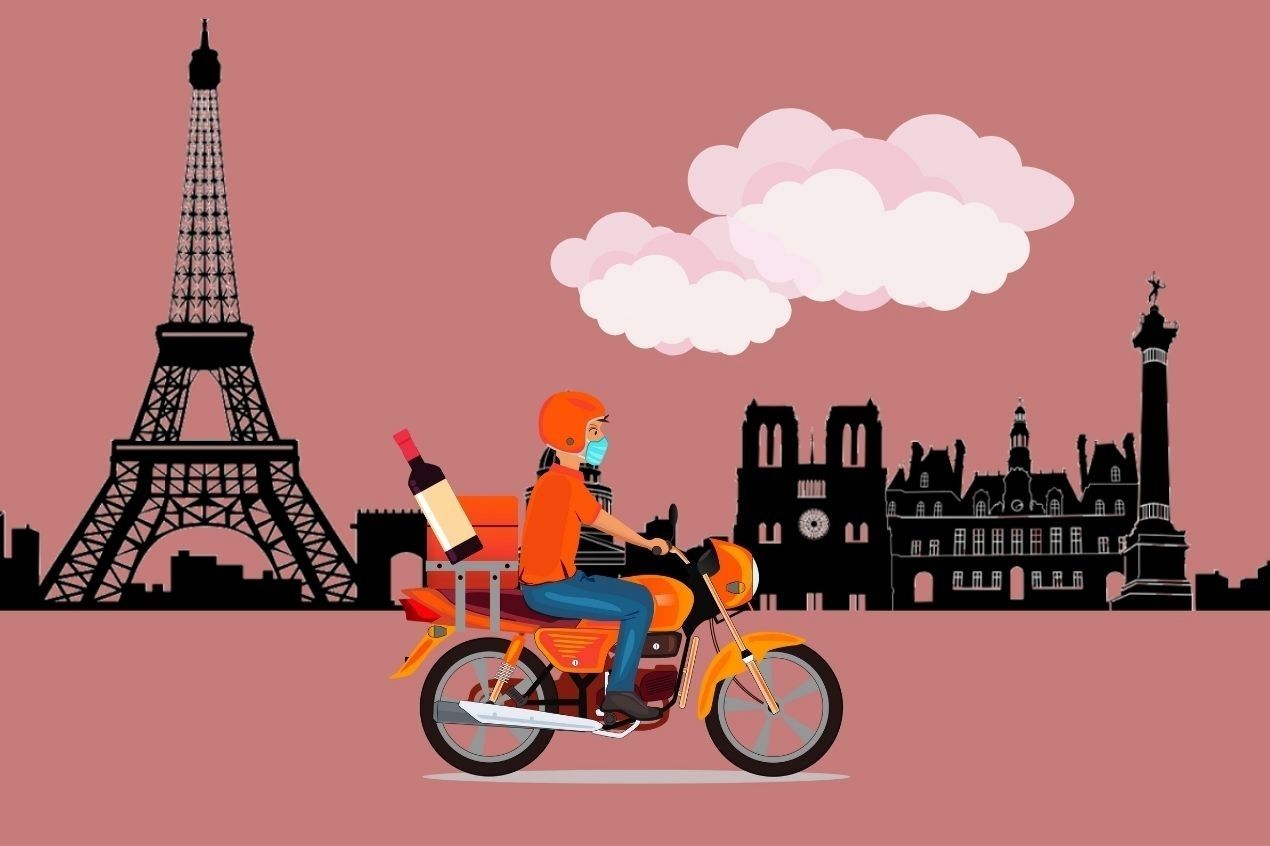 There's nothing more convenient than having alcohol delivered right to your doorstep. Whether you want to have a lazy night in with a cocktail in hand, or you've probably run out of liquor at your party, we've got you. From bars to bottleshops, to apps, here are some of our favorite alcohol delivery services in Paris.
Mabel Paris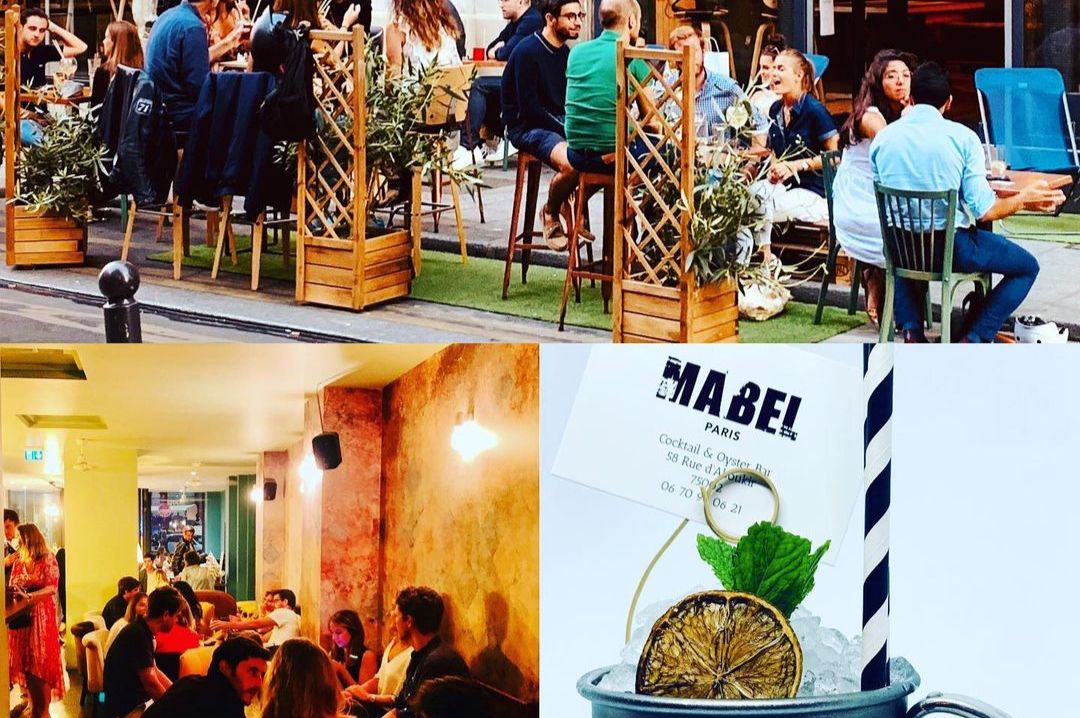 Out patio (above) and indoor seating (bottom left) at Mabel Paris, source: Instagram
In collaboration with IBDG (International Bartending Development Group) and CEO Johann Bouhard, Mabel, hidden behind the facade of a toastie shop, offers ultra-modern, precise, and premium cocktails and oysters. Mabel is known for its rum cocktails, and we've been loving the 'It Old' lately. The cocktail is made with Saint-James Old rum, Sherry Amontillado, dried fruit, and lime. Have Mabel deliver their specialty cocktails straight to your doorstep. If you want to whip up one at home, you can also e-shop their cocktail boxes from the website. Each box contains a mixing glass, a pouring spout, and a jigger, all the alcohol and juices, dehydrated fruits that are necessary for the preparation of the drink. Your order has to be placed 24 hours in advance. Call them to get your order delivered.
Call - 06 70 94 06 21
Where - 58 Rue d'Aboukir, 75002
Hours - Mon-Wed (6 pm -1 am)
Thu-Sat (6 pm - 2 am)
Opération Apéro
Opération Apéro is a specialist in night-time alcohol delivery throughout Paris. All you have to do is simply give them a call and order your Parisian aperitif! They offer spirits (rum, vodka, whiskey), wines, champagnes, beers, sodas, fruit juices, and diluents to drink until the end of the night. You can also order from UberEats and Deliveroo. By ordering directly on the Opération Apéro Paris site, you benefit from reduced prices.
Opération Apéro has a franchise in Bordeaux, Rouen, Libourne, and Ferret. If you are in a dilemma about what to order then Opération Apéro provides you with a variety of combos like the 'Whiskey Formula' which includes Ballantines or JB 70cl, 2 Softs of your choice, and chips. Or the 'Jack Daniel's or Absolut formula' which includes Jack Daniel's or Vodka Absolut 70cl, 2 Softs of your choice, chips, and many more such formulas.
Call - 06 33 78 54 03
Where - 30/32 Bd de Sébastopol, 75004
Hours - Mon-Sun (9 pm - 4 am)
La Maison du Whiskey & Fine Spirits
La Maison du Whiskey is a multi-level wine, beer, and spirits store. This boutique specializes in the world of spirits and offers more than 4000 references, including many rare bottles and most cutting-edge novelties. There is an entire floor created just for these bottles. They also have Cognac, Calvados, and Armagnac rub shoulders with more exotic agave Eaux-de-vie, cachaças, gins, beers, or fermented alcohols such as sake. Many accessories related to the world of bar and tasting are also available, allowing you to afford the complete panoply worthy of the best bartenders. You can get the delivery at your doorstep or anywhere in the world. An order amounting greater than or equal to € 130 will be delivered free in mainland France.
Where - 6 Carr de l'Odéon, 75006
Hours - Mon-Fri (9 am - 7 pm)
Saturday (10 am - 7 pm)
The Whiskey Shop Paris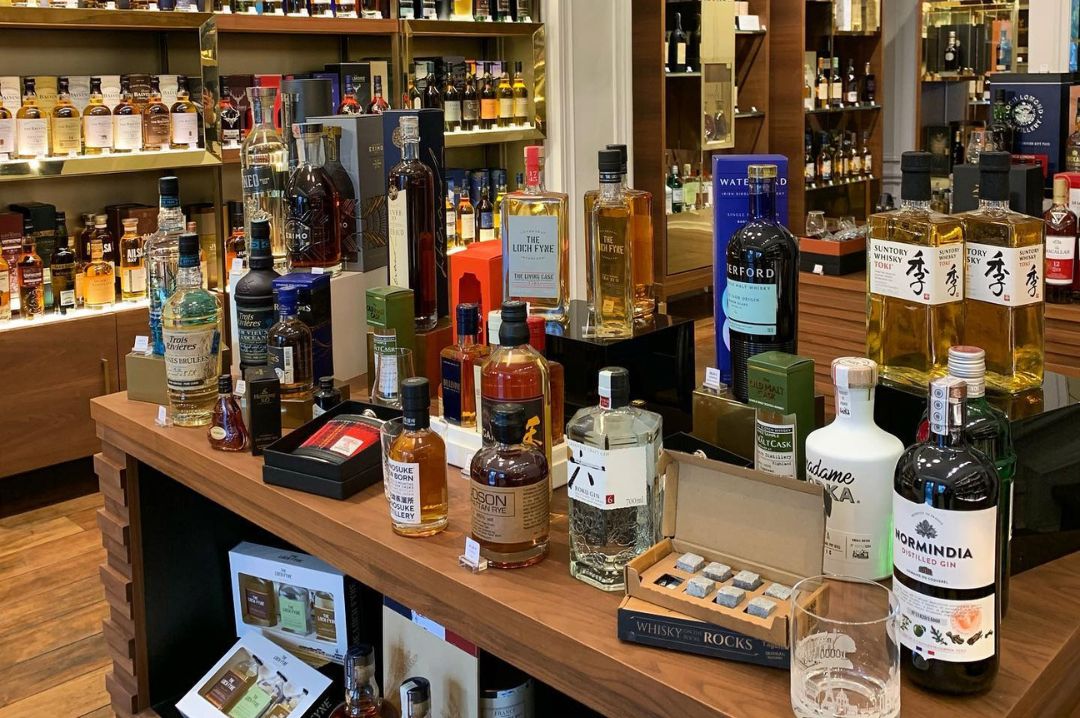 Order getting ready for delivery, source: Facebook
The Whiskey Shop is a completely Scottish and family-owned business. It was first established in 1992 when they opened their very first boutique in Edinburgh. Today, they are the leader in the UK market, with around 20 stores across the UK and a very active e-commerce site. After succeeding in the Uk market, the Whiskey Shop opened stores in Paris in 2016, with a selection of more than 350 references of Scotch whiskeys and other spirits. Throughout the year they organize various events (masterclass, private tastings, parties, and seminars for companies) which allows their customers to immerse themselves in the vast world of whiskey. They are proud of their Scottish roots and are delighted to be able to take on this role of whiskey ambassadors in France. Whether it's for a Scotch from a big brand, a Japanese whiskey, a limited edition, or simply a gift idea, come or visit them to enjoy a unique, different, and fascinating whiskey experience. Delivery costs are free in mainland France for orders amounting to greater than or equal to € 90.
Place your order here.
Call - +33 (0) 1 45 22 29 77
Where - 7 Pl. De la Madeleine, 75008
Hours - Mon-Sat (11 am - 7 pm)
La Belle Vie
La Belle Vie is one of the most reliable and renowned online supermarkets in the neighborhood. Unlike other supermarkets, they don't measure your order in terms of size and selection. What distinguishes La Belle Vie from others is their remarkable delivery window, they bring your order in just 2 hours. This online grocery shop sells top-quality products that you won't easily find elsewhere. Examples are their American, Moroccan, and Japanese goodies from their global marketplace. The list of product offerings is endless and tempting. But, what really caught our attention in their catalog is the selection of wines, beers, and ciders from all over the world. You can also use their 'gift service' to order fancy wines, flavored beers, or cider for your home or friends and loved ones. Visit the store, signup, and go through their listings, complete your order and wait for just 2 hours.
Order here
The delivery charge ranges from 3.90 – 4.00 Euros.
Where - 31 Quai Marcel Boyer, 94200 Ivry-sur-Seine
Hours - Mon-Sun (8 am - 10 pm)
KOL
KOL is a specialist in the delivery of wines, spirits, beers, and ciders, and also basic grocery items. At KOL you can easily find some of the best bottles you won't find within the wine shops or in your locality. They also offer alcoholic quivering water, Cuban cocktails, Absolut cocktails, and beverages of all types. You will love their engaging offerings and user-friendly interface. It's their one-hour delivery time that has been holding us hostage on their site. If you're living in Paris, Issy, Boulogne, Malakoff, and a few other landmarks, then there are 90-100% chances of getting your favorite wine or spirits delivered to your door in an hour. For those who live outside of Paris, KOL will deliver your ordered wine straight to your doorstep within 48 or 72 hours at most.
The delivery charge ranges from 3.00 – 4.00 Euros
Start ordering from here.
Carrefour
Carrefour is a hypermarket that comes in handy if you want to order some drinks, fruits, and vegetables, and groceries and get them delivered to your doorsteps. It is a chain grocery business with multiple stores across Paris. They are known to be one of the best in their line of business. While their average delivery fee is on the high side, plus there are days they don't deliver but we love Carrefour for their simplicity. It is the most comfortable wine and drinks delivery service in and out of Paris. Within one hour, your order should be knocking on your door. However, their wine selection is limited, but you can bet your last cent on finding some of the best wine brands there. You will see the sample prices listed, and they charge an average sum of 4-5 Euros for delivery. You may also get your order delivered on a Sunday, but that will depend on your location and the shop nearest to it. Don't wait and hit the website, just start placing your order now.
Start ordering now.
Nicolas
Since 1822 Nicolas has been a buyer of wines, champagnes, and spirits from all around the world. You can find all the new stuff, gift ideas, best vintages, and bottles that have marked the year, in any of their 500 stores. With their endless list of products to offer, you can find something for everyone's taste and desires. Discover their wide range of red, white, and rosé wines, whiskeys, cognacs, Armagnacs, and other alcohols, including champagnes and cremants for all important moments of your life. Access without further delay to the wine selection of South Africa, Argentina, Spain, Italy, and many other countries plus the gift ideas. Here you will find surprising bottles with authentic taste.