Make a daiquiri with Joaquin Malki
Joaquin Malki shares with us bizarre client requests, his favorite drinking spots, and more.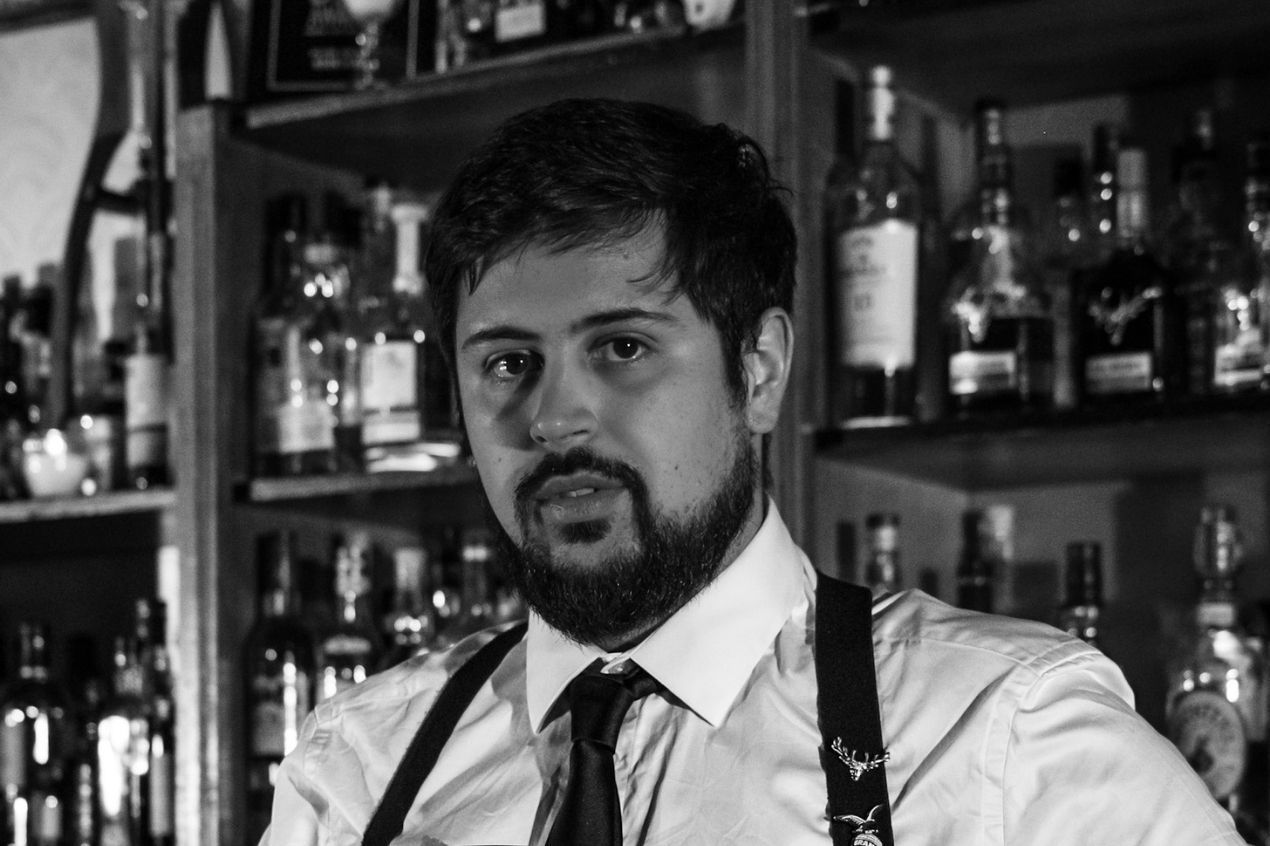 Argentinian-born and raised, Joaquin Malki has made quite a name for himself in the bar world in Paris, especially amongst whiskey-loving regulars at the Moonshiner, where he is currently the head bartender.
"When I was 17 years old I was already working in a pub in my town, where I began to discover my vocation of service and hospitality," says Joaquin Malki.
Tell us a little bit about yourself. What inspired you to get into bartending?
I am Argentinian but I have been living in Paris for three years and I have been a bartender for ten years. Since I was very young I was interested in the culture of gastronomy and hospitality. I always liked going to bars and restaurants and watch how the waiters and bartenders worked and the ambiance they managed to create.
When I was 17 years old I was already working in a pub in my town, where I began to discover my vocation of service and hospitality. One night when I was returning home, almost by chance I saw an advertisement for a bar that offered a bartender course, and I didn't hesitate to take it up. From there on it was a one-way trip to this magnificent world behind the bar. What inspires me is being able to create and generate magical moments for the people who come to the bar.
According to you, what are some of the best skills for a bartender to have?
The first and main skills that a bartender must have are a vocation of service and charisma: our job is to please and make sure our customers are having a good time.
Then, of course, creativity and good taste are also needed, but these are things that can be learned and improved over time. If you do not have the first two it's very difficult for a bartender to last in this profession.
What is one piece of barware that people should have when making cocktails at home?
One of the most important tools is the jigger or dispenser. This allows us to be precise when we elaborate a recipe. With the jigger, we are able to measure all the ingredients we use with precision, making it easier to have more balanced and flavourful cocktails.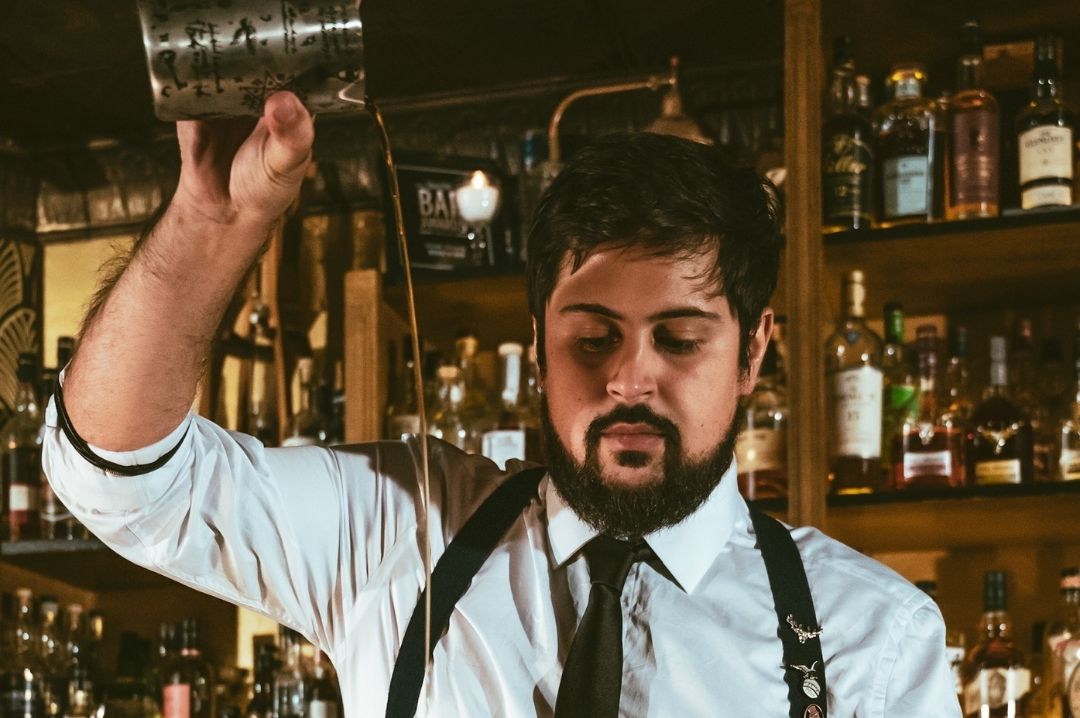 Joaquin Malki, Head Bartender at Moonshiner
What's your favorite cocktail to make?
My favorite cocktail is the daiquiri. It's a super simple and complex cocktail at the same time. The combination of rum, sugar, and lime juice is just perfect. I like to prepare it with two different types of rum, which gives it a totally different complexity and texture.
My daiquiri recipe:
30ml of white rum
20ml of overproof rum
25ml of lime juice
20ml of syrup
What are some of your favorite places to drink at when you're not working?
Some of the bars that I enjoy going to in my spare time are La Mezcaleria, CopperBay, and Little Red Door.
What has been your most weird client request?
Once a customer came to me asking for cocktails by color. Her first request was a red cocktail: she wanted a red cocktail. I asked her a few questions to better interpret her request and there was no case: she didn't really care about the ingredients or the profile of the cocktail, the only thing that she was interested in was to have a red cocktail.
Any memorable stories from behind the bar?
In 2015, together with a group of eleven bartenders from my hometown, Córdoba (Argentina), we traveled to Lima (Peru) to participate in Clase Maestra, one of the most important events in Latin America. We spent twenty-one days on an amazing gastronomic and sensory tour, visiting unique places. Many times, funny stories start behind a bar but you never know where they may end up.
According to you, what makes a good drinks menu at a bar/restaurant?
In my opinion, a good cocktail carte should have a clear and well-explained concept, letting you recognize the progression from cocktail to cocktail. I prefer to create cocktail menus with a maximum of twelve cocktails, where each cocktail complements the previous one. It must be a balanced menu where each combination is intended for different consumer profiles. As for the ingredients, it is important to use fresh and natural products, therefore, using seasonal products will guarantee the quality of your cocktails.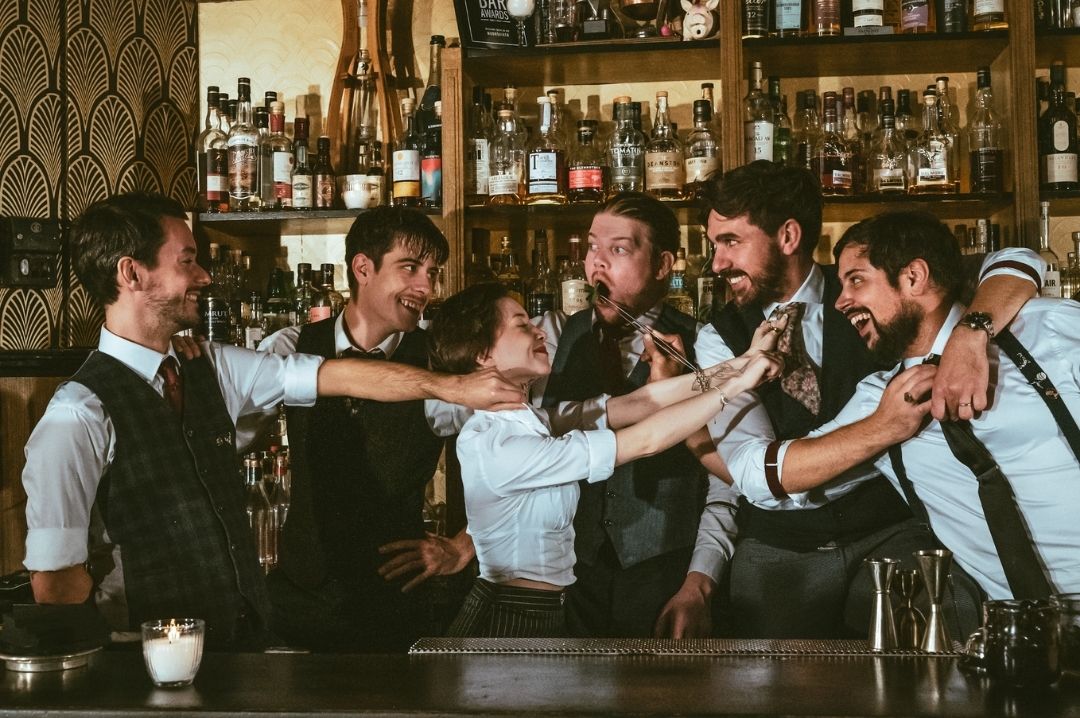 Bar Team at Moonshiner
What are the people in Paris drinking these days?
In Paris, people have very a varied taste, and at the Moonshiner, we specialize in whisky. People come here in search of complex cocktails full of flavors and with that special feature that whisky has. To my surprise, mezcal is a spirit that cocktail enthusiasts enjoy quite a lot here in Paris.
Any new drinks trends you see coming soon?
The biggest trend I notice, which is increasingly present in the world of cocktails, is low alcohol cocktails. More and more customers are asking for cocktails with less alcohol content, but with the same complexity and structure as one with higher alcohol graduation.
What drink/ingredient do you think is the most underrated?
In my opinion, Calvados is a super complex and intriguing product, which is the reason why I always want to work with them. But when I arrived here in France, I discovered that it is quite underrated by both customers and bartenders. Every time I proposed to do a cocktail with Calvados, the answer was always that Calvados is old-fashioned and that it is a distillate from another era.
Lastly, what have you been drinking lately?
Lately, I've been drinking daiquiris, which is one of my favorite cocktails and it's perfect for the summer.